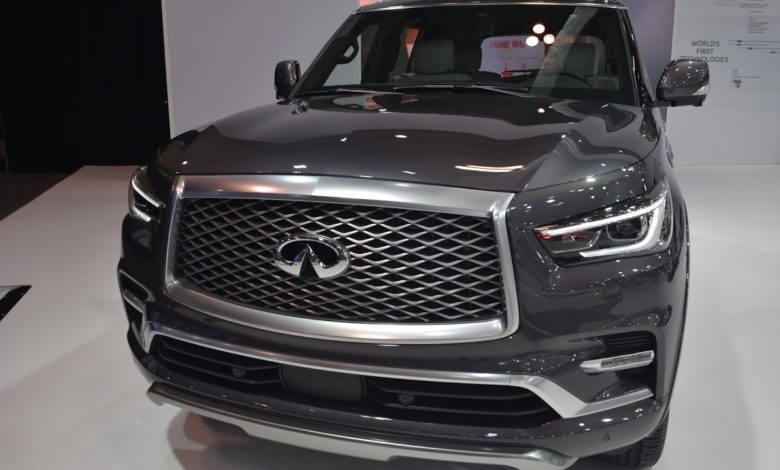 November programs continue to provide huge financial assistance to consumers amidst the COVID-19 epidemic. Most manufactures have responded by offering deferred payment options for up to 6 months on leases or finances, as well as taking advantage of 0% finance rates on most finances, and lower rates on leases.
Front line workers are eligible for $1000 discounts from brands such as Ford, GM, Acura, Honda, & Dodge Chrysler.
---
---
Browse by brand:
---
Best New Car Deals In Ontario – November 2020
Compact Sedan: 2020 Toyota Corolla L Lease, $61 weekly, $0 down, 5 years
5 Seater SUV: 2020 Honda CRV Lease, $77.69 weekly, $0 down, 5 years
7 Seater SUV: 2020 Toyota Highlander Lease, $144 weekly, $0 down, 4 years
Pickup Truck: 2020 Ford F150 Lease, $212 biweekly, $863 down, for 4 years
---
If you want to calculate other payment options with our online calculator, you can plug in savings & values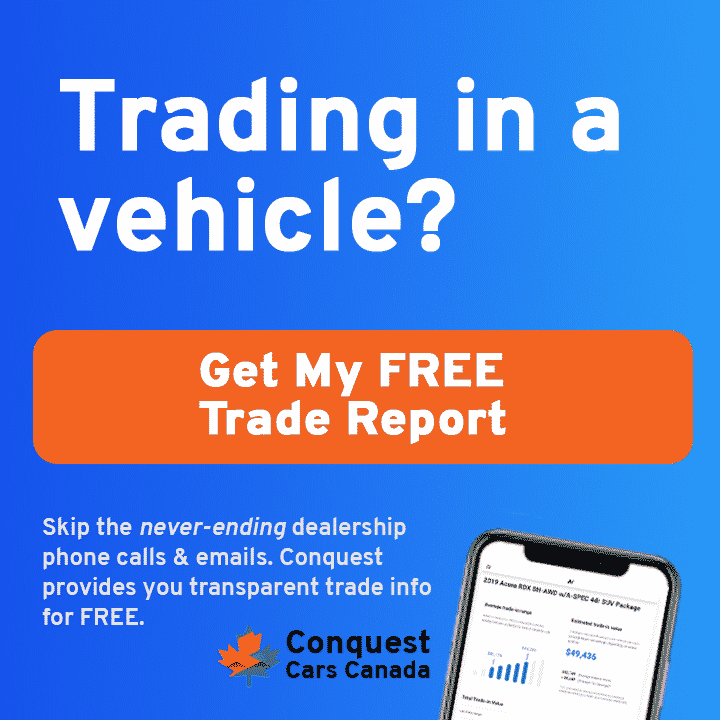 ---
Best New Car Deals From Hyundai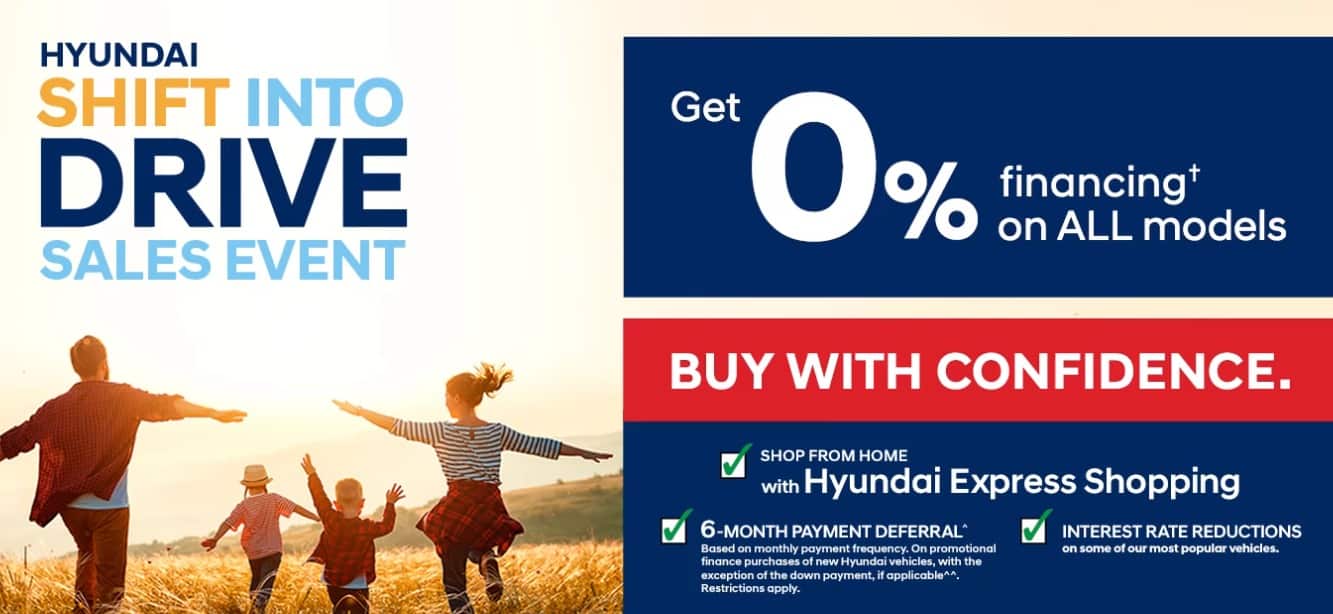 2020 Hyundai Venue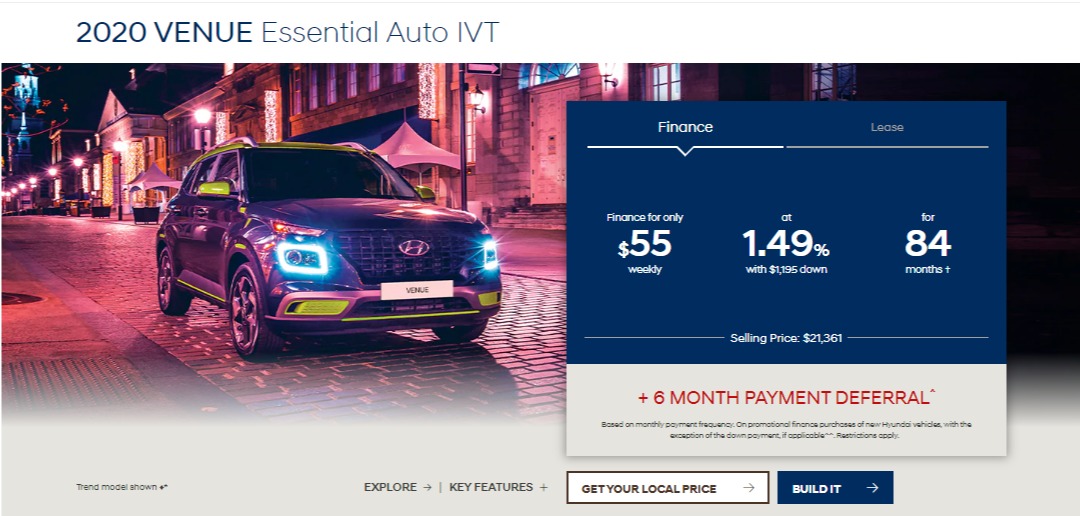 2020 Hyundai Santa Fe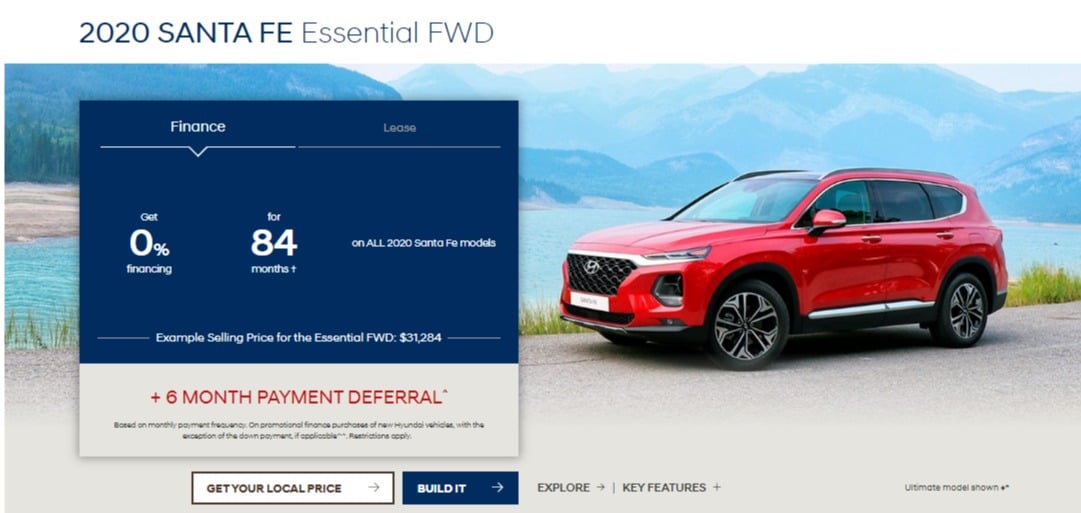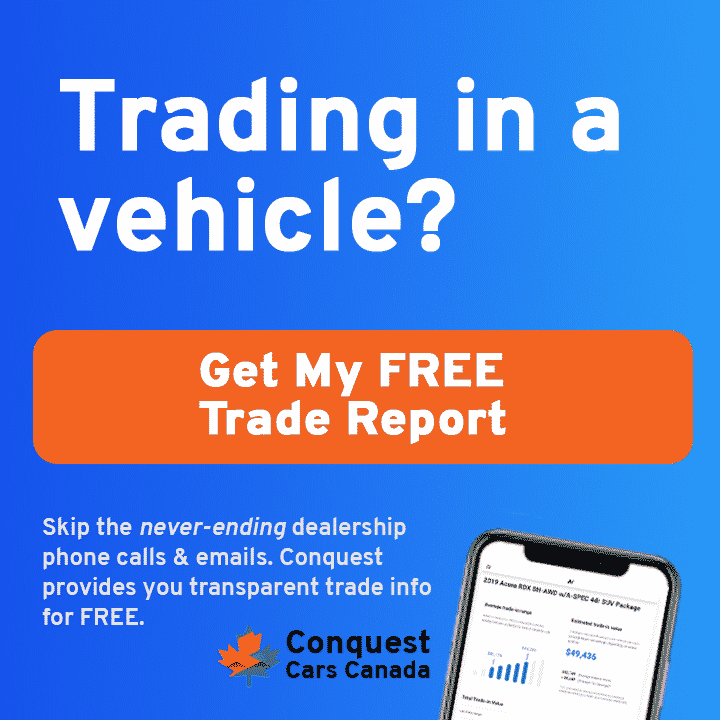 2020 Hyundai Tucson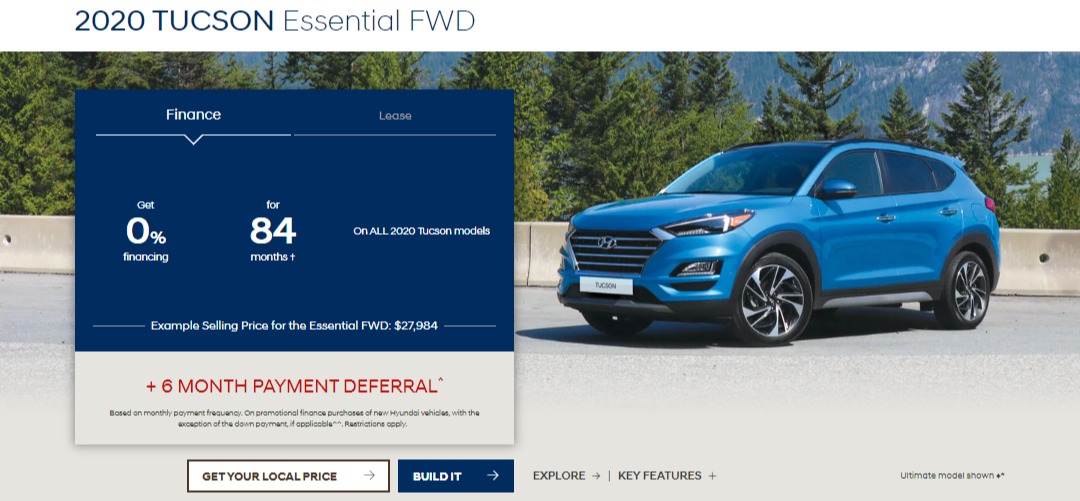 2020 Hyundai Veloster

2020 Hyundai Kona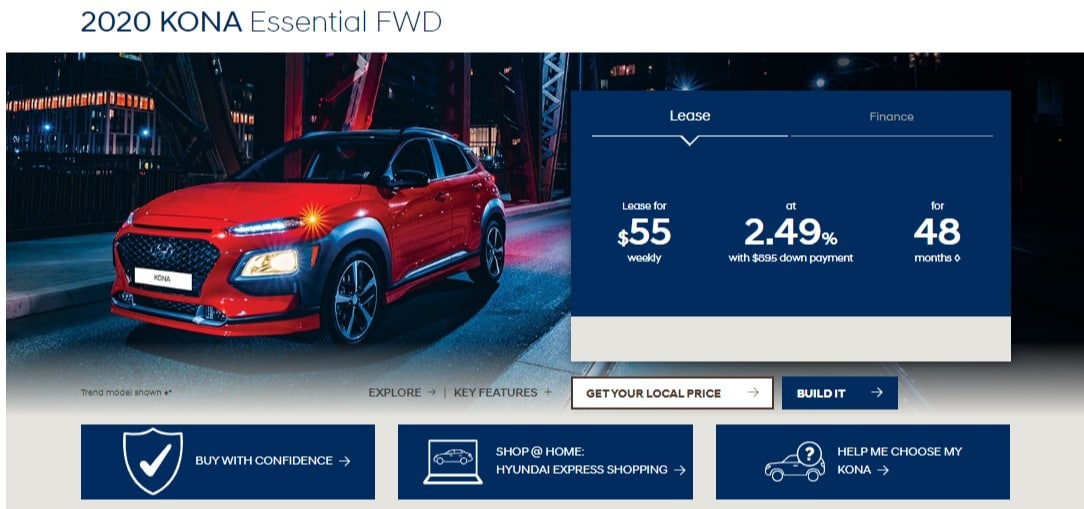 2020 Kia Sonata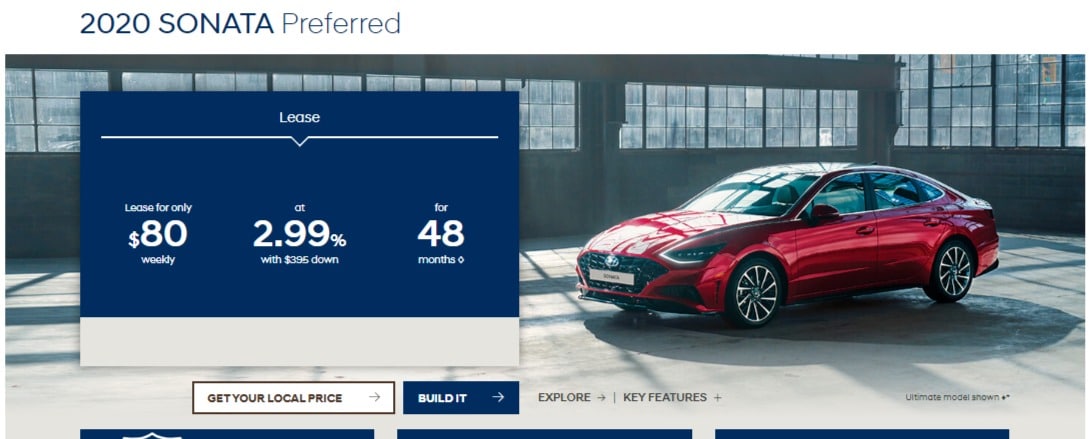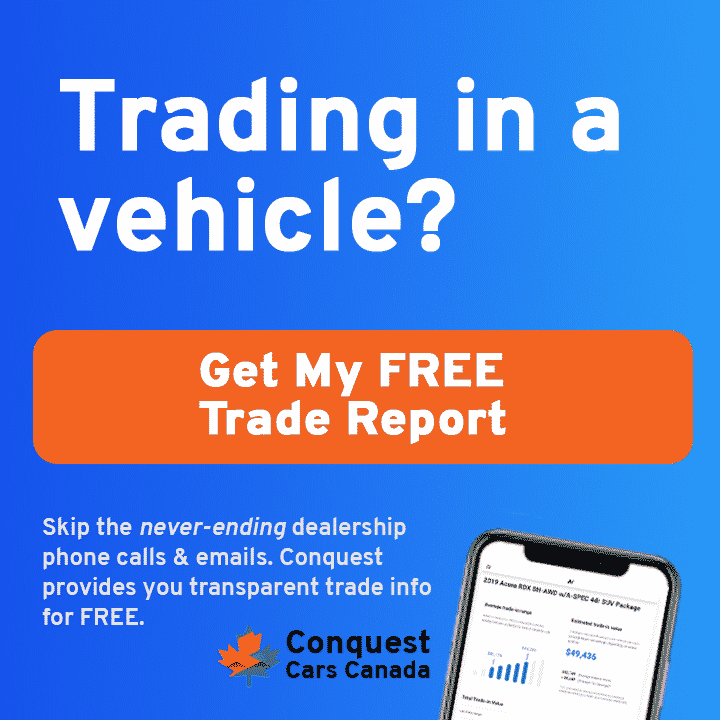 2020 Hyundai Ioniq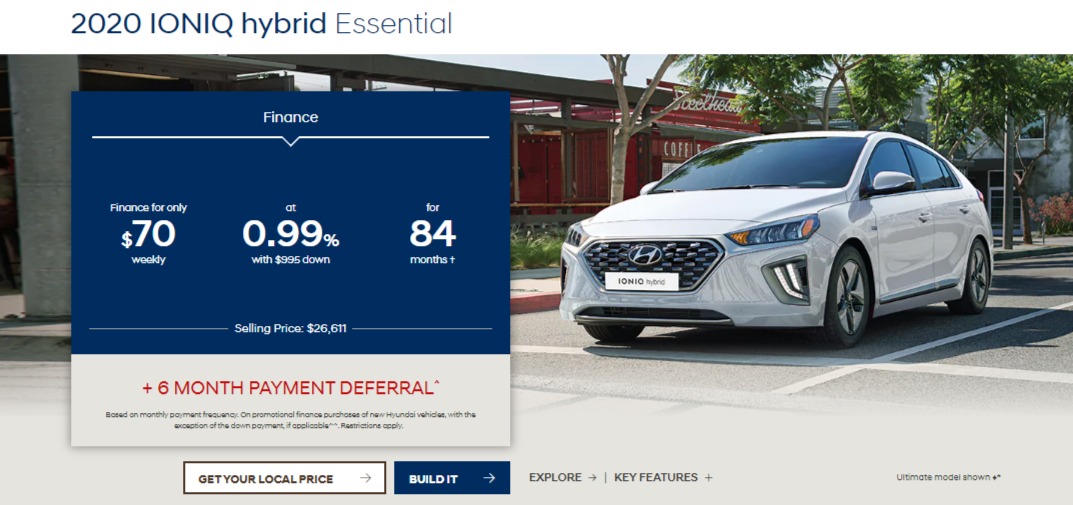 2020 Hyundai Elantra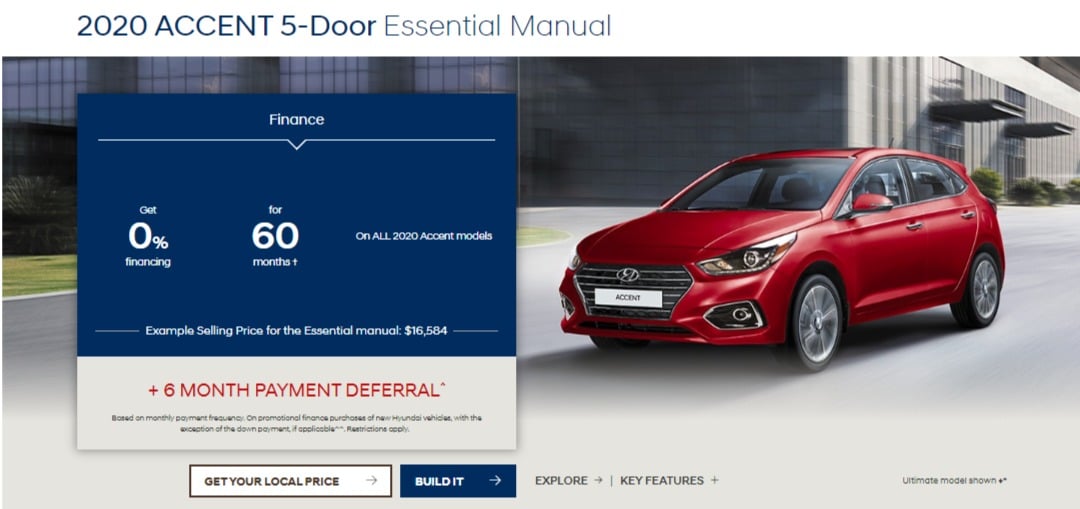 The 2019 Hyundai Ioniq hybrid is a good choice if you're looking for a vehicle that's going to be good on gas.
The 0% financing on a 2020 Hyundai Elantra is a good option if you're looking for a compact sedan. Not many manufacturers are offering zero-percent on a a sedan in this category.

The Hyundai Santa Fe has a very respectable finance interest rate of 0%, combined with a 6 month payment deferral. That means you'll be able to extend payments for another 6 months without interest, bringing the total monthly payment down over the finance!
---

Browse by brand:
---
Best New Car Deals From Kia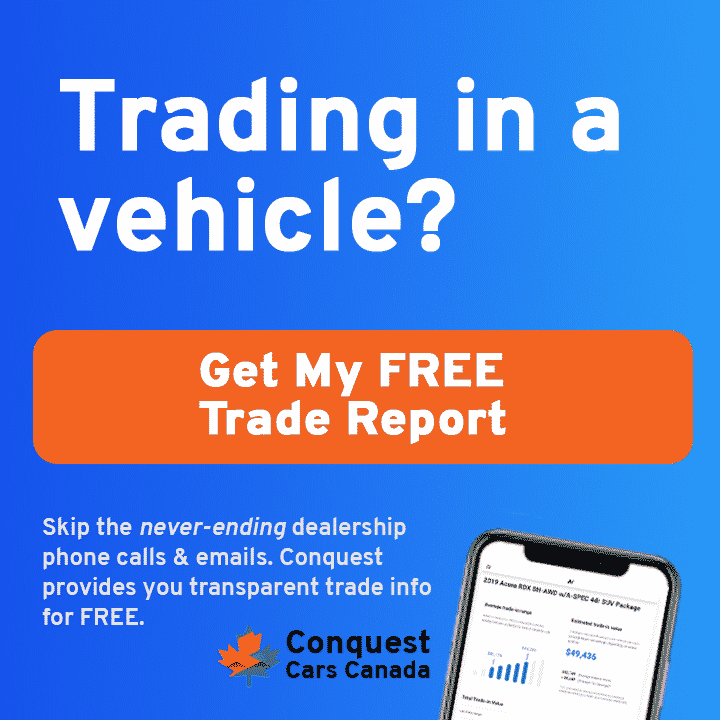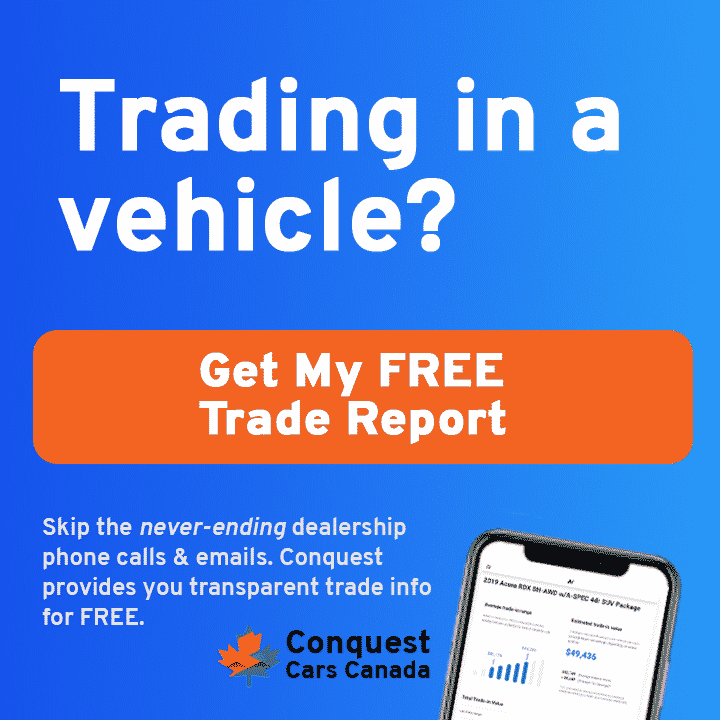 2020 Kia Forte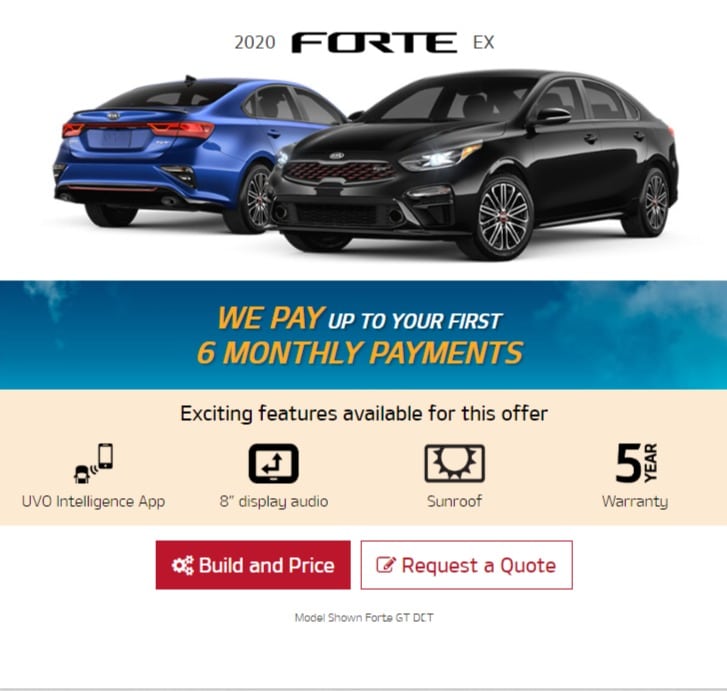 Most Kia dealerships are looking to blow out the Stingers that they have left in stock. Financing at 0% for 84 months is definitely a very good option if you're looking for a sports car on a budget.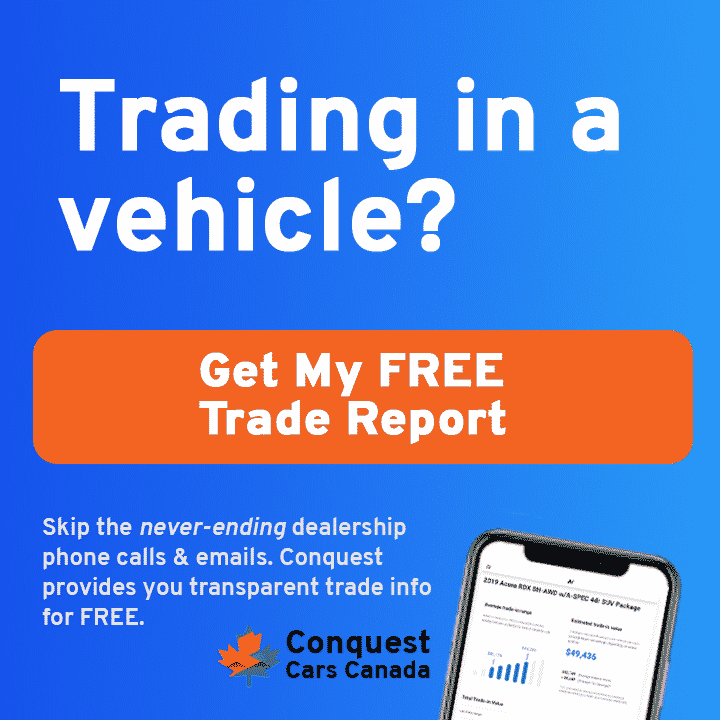 ---
Browse by brand:
---
Best New Car Deals From Honda

2020 Honda Fit
2020 Honda Civic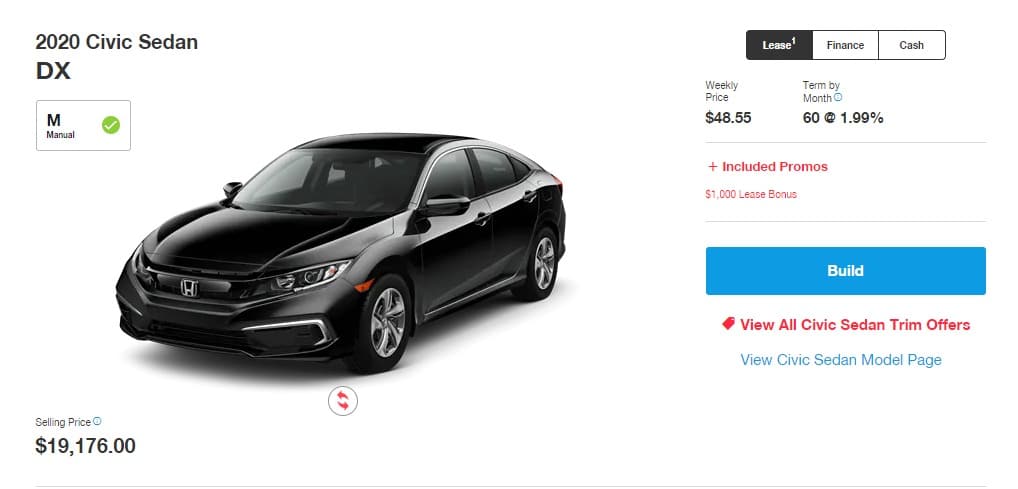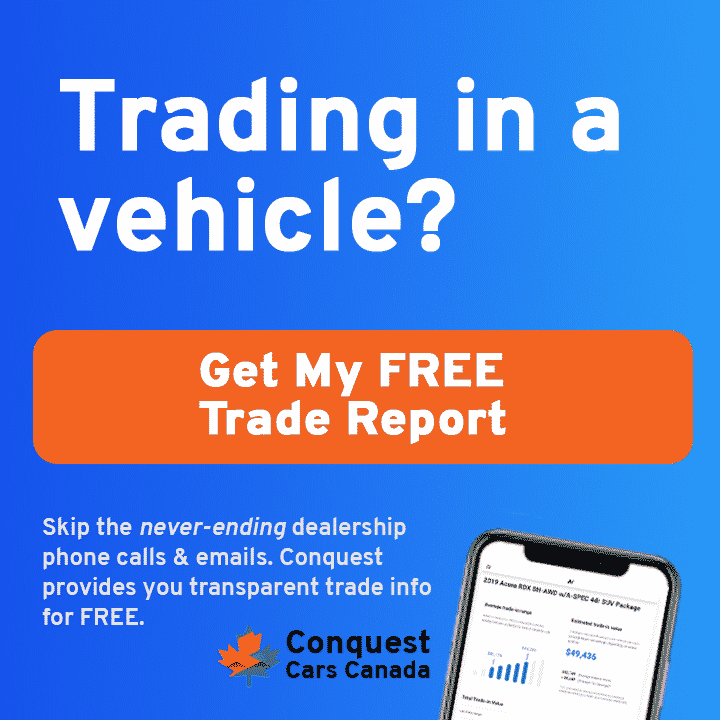 2020 Honda Insight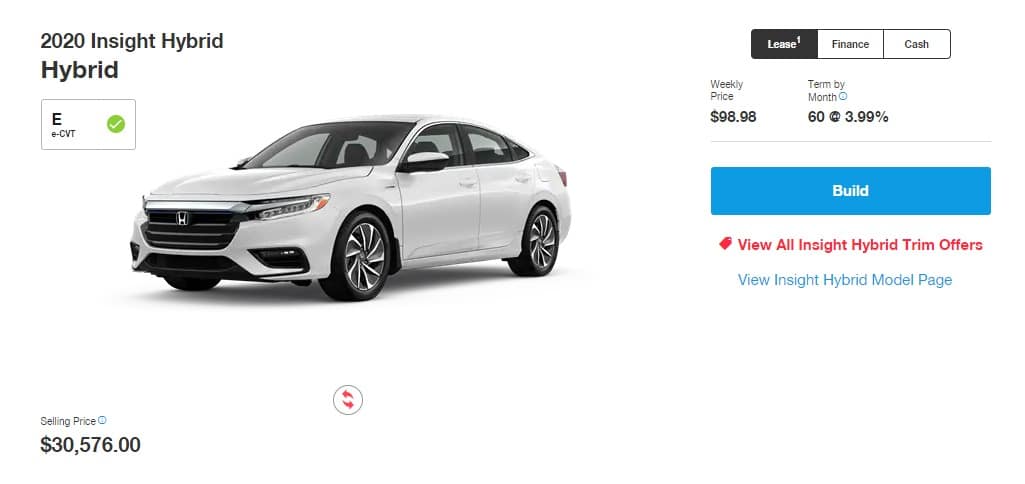 2020 Honda Clarity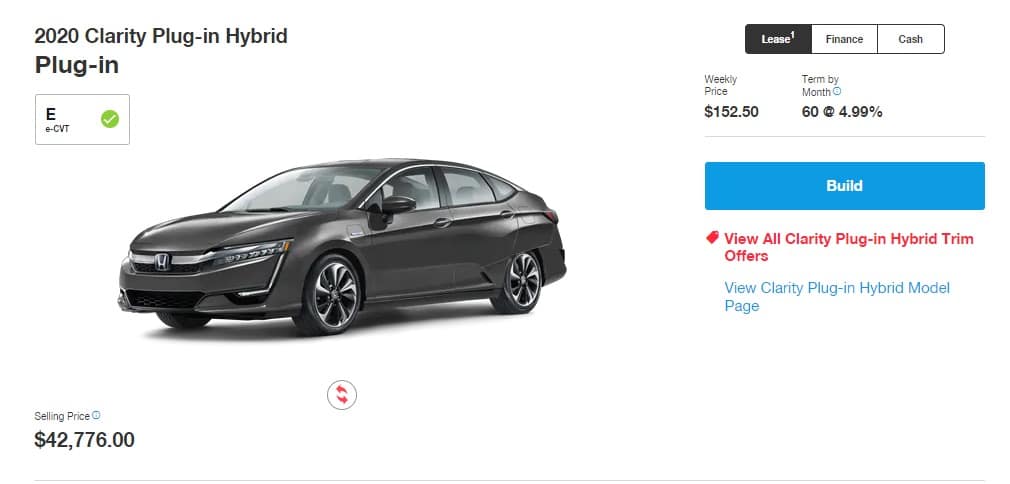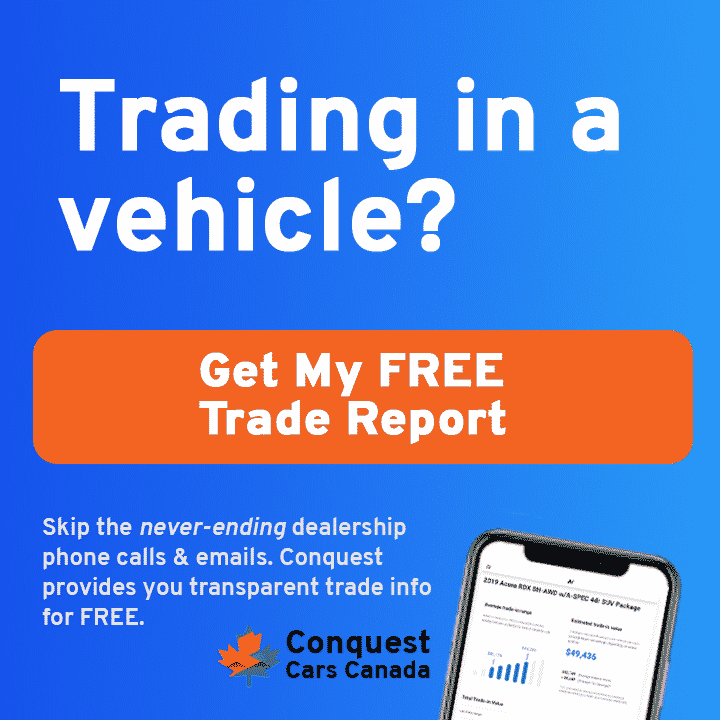 2020 Honda HRV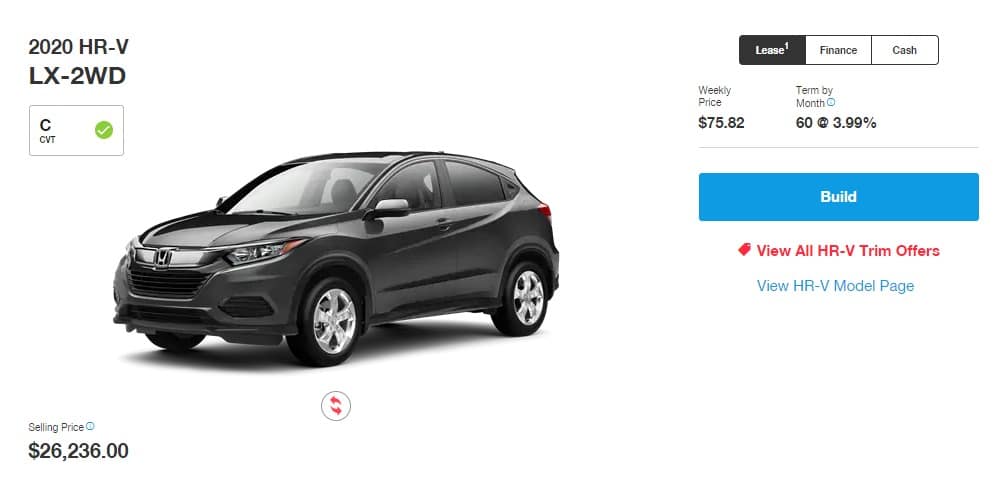 2020 Honda CRV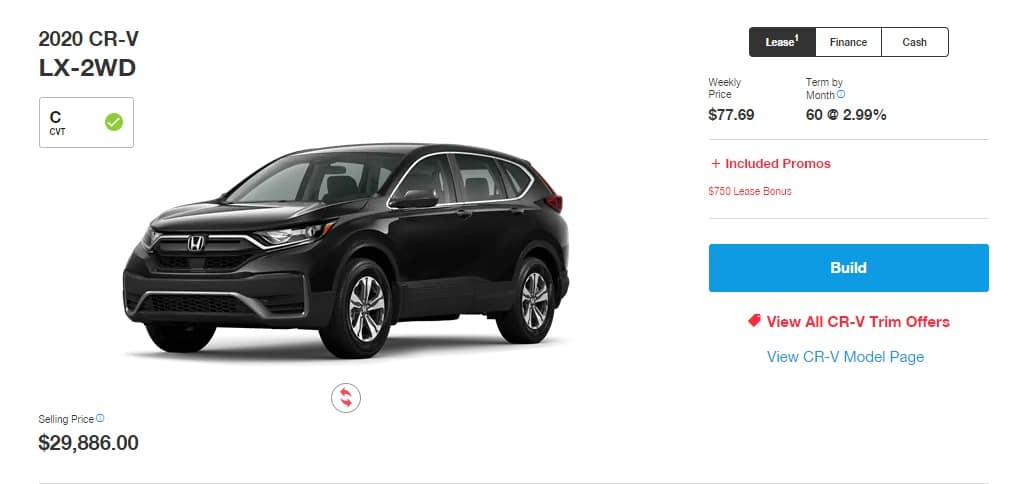 2020 Honda Passport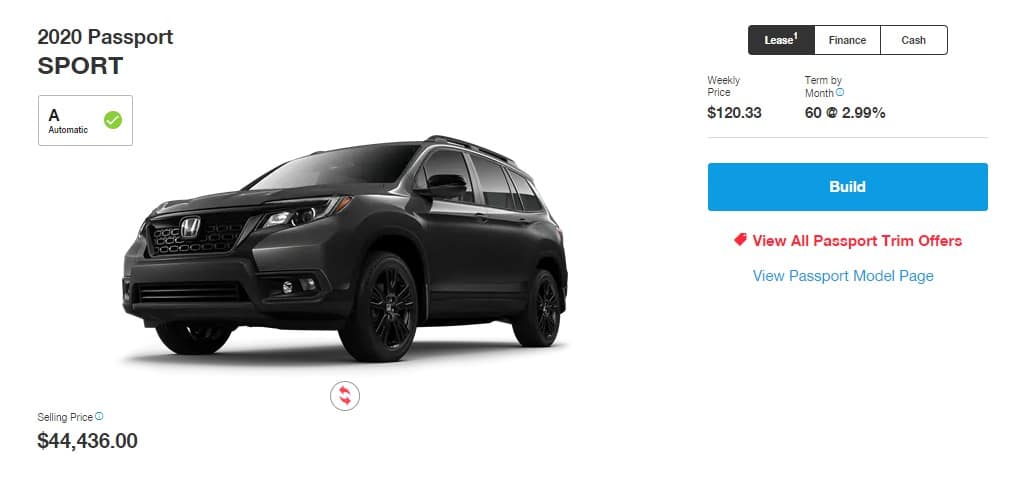 2020 Honda Pilot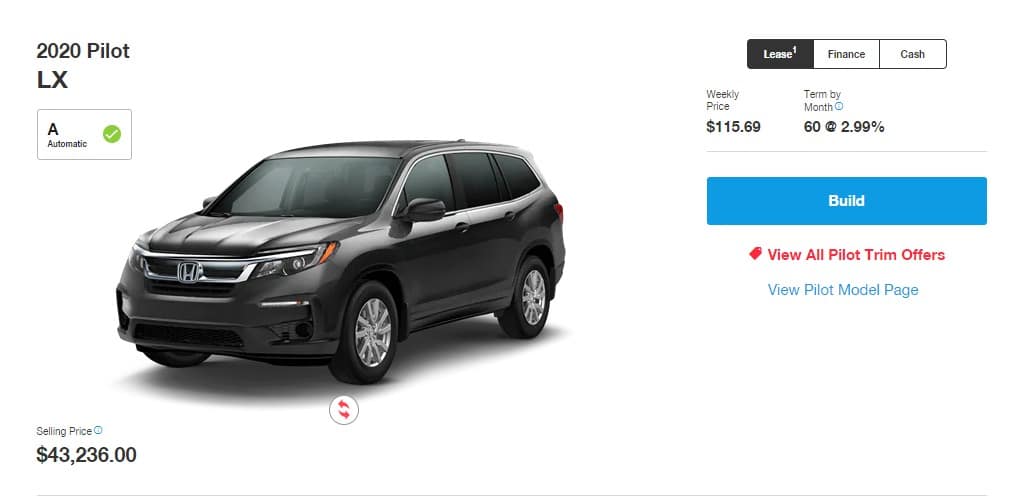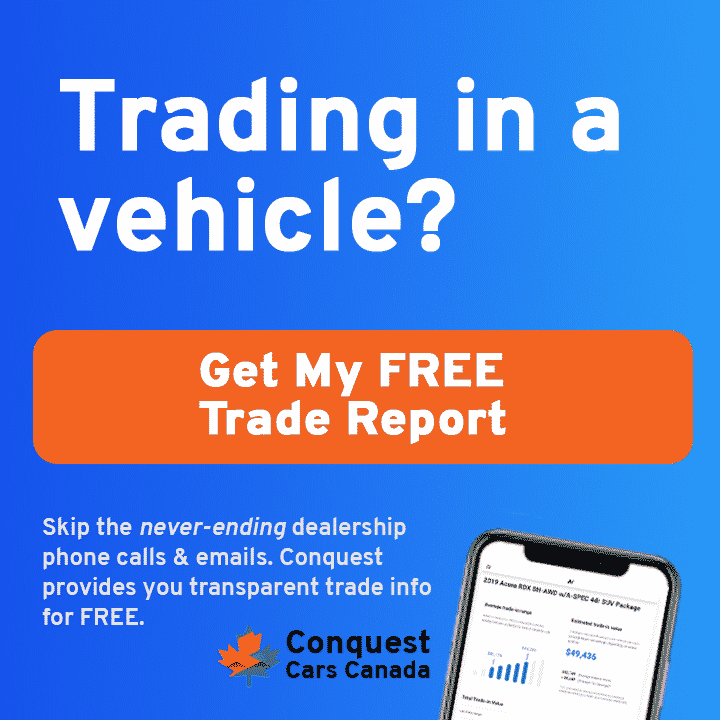 2020 Honda Odyssey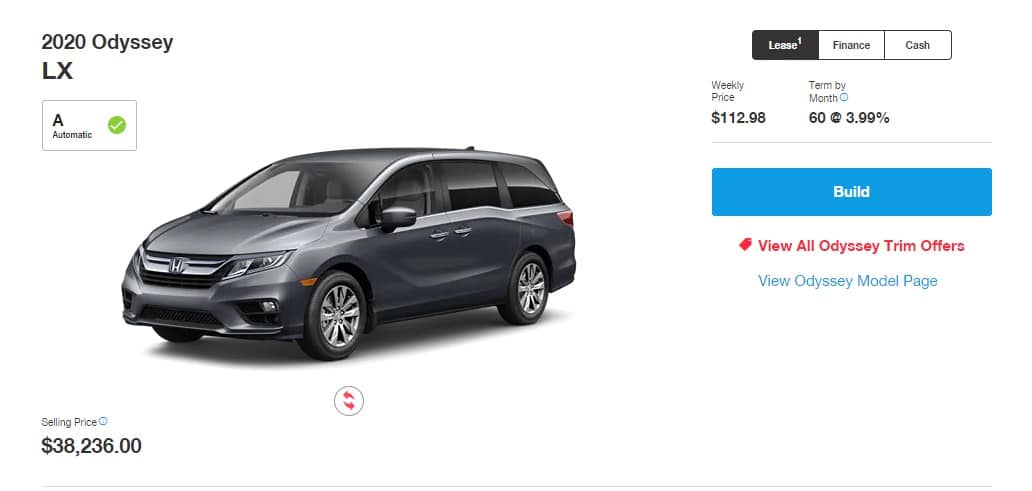 2020 Honda Ridgeline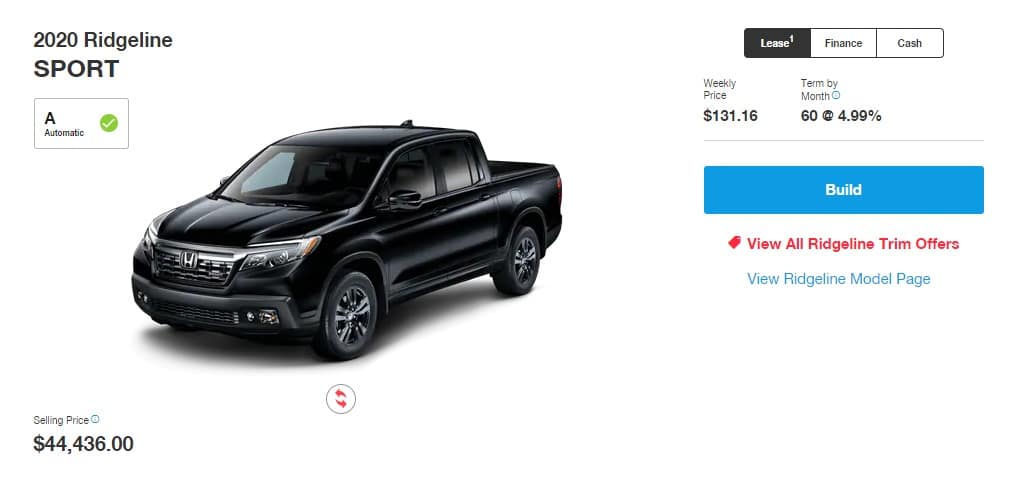 The Honda Accord is a great car deal if you can find a 2019 that's still in stock at your local Conquest Honda dealer.
Although the payment on the Honda Fit is quite attractive, you'll be kicking yourself if you don't go with the bigger model. The fuel economy is barely an advantage and you'll find yourself not having as much room as you thought you would. Not to mention you actually may find you're paying more for insurance on these compact cars then you would on the Civic.
---
Browse by brand: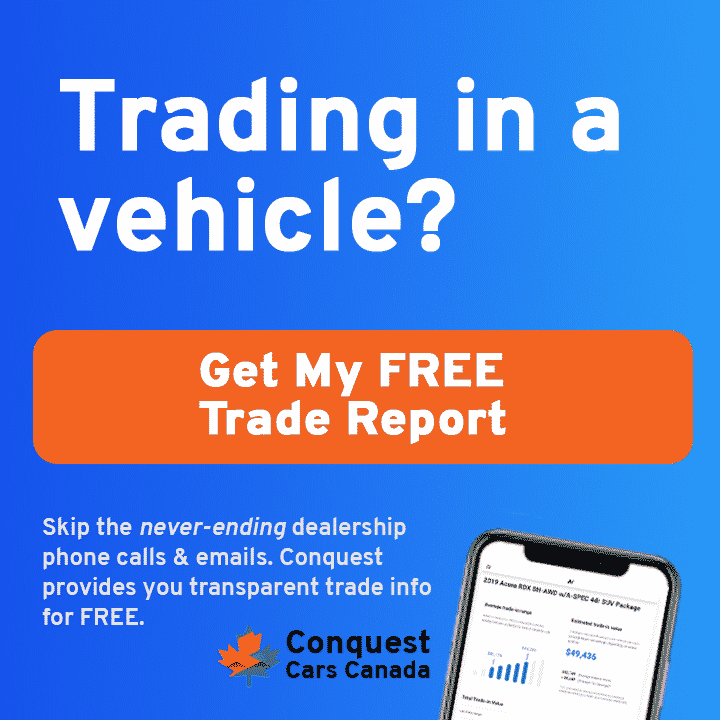 ---
Best New Car Deals From Acura


2020 Acura ILX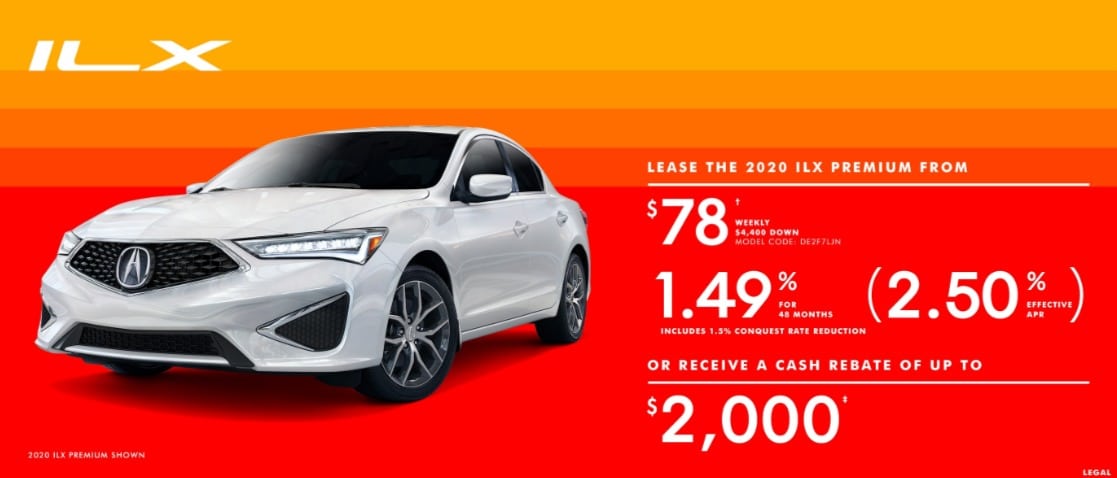 2020 Acura TLX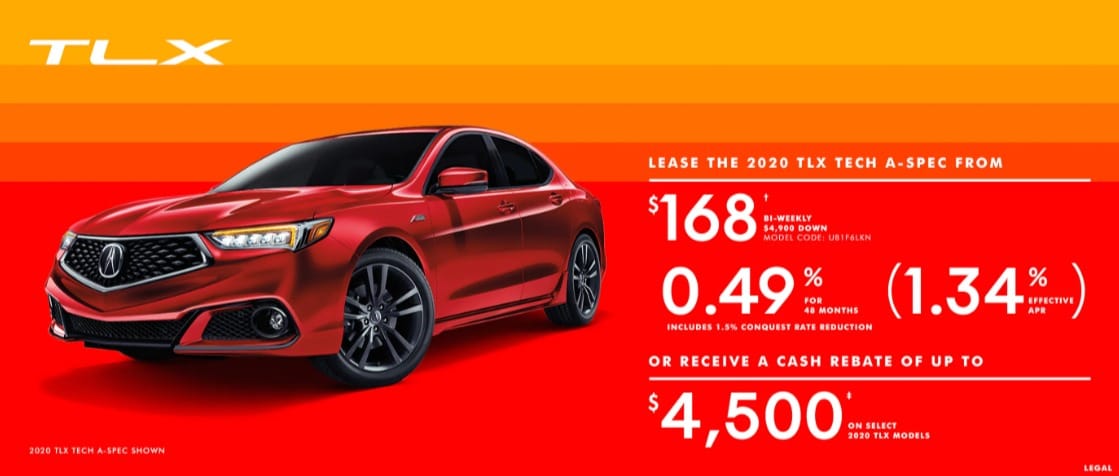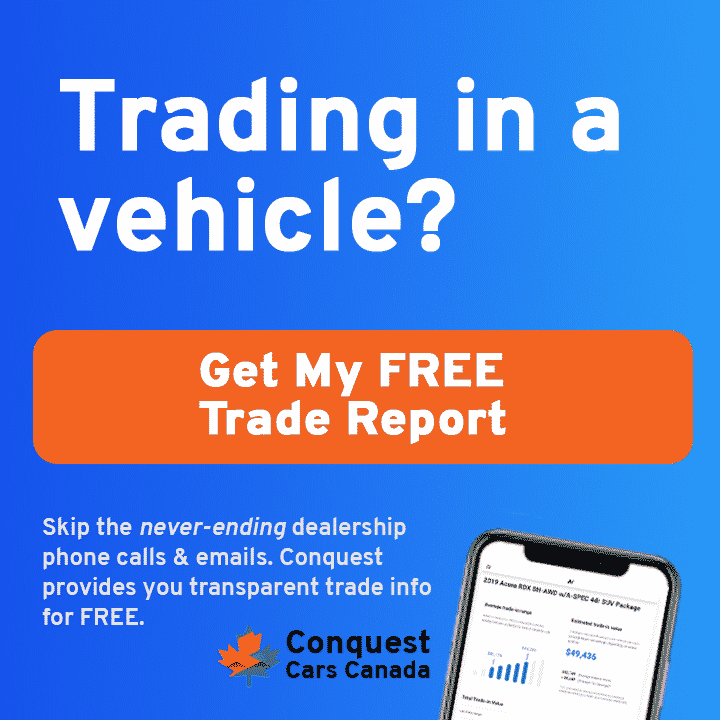 2020 Acura RDX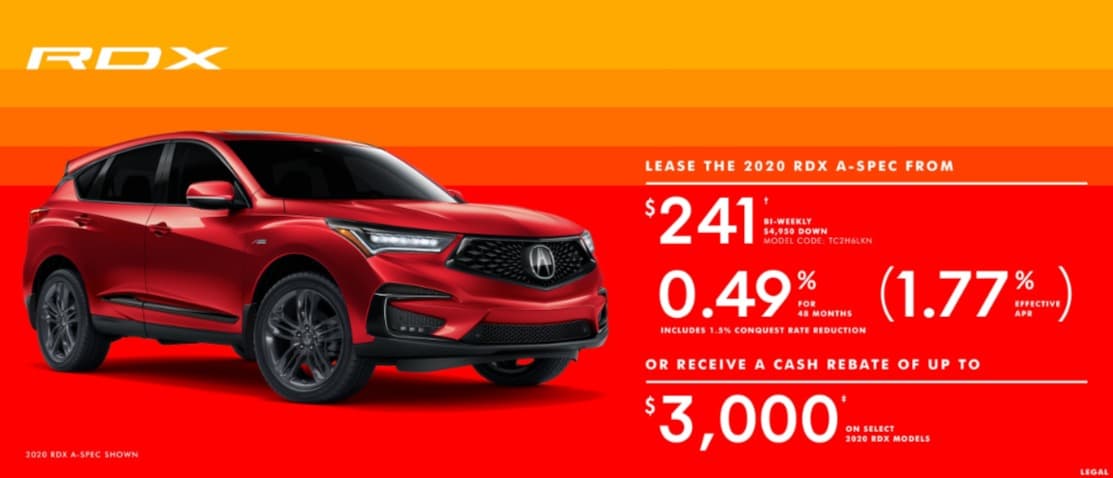 2020 Acura MDX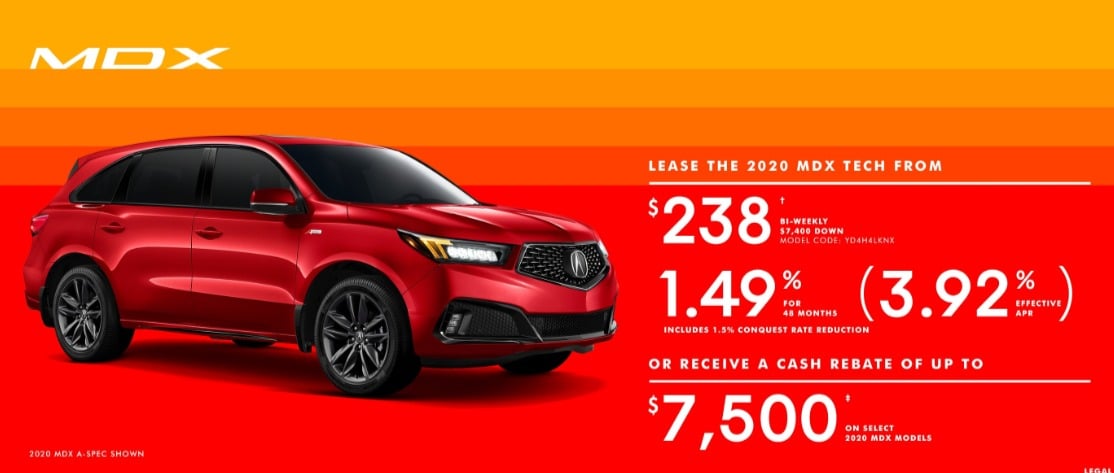 The 2020 RDX has a respectable biweekly payment of $236 with a huge amount of money down, almost $5000. That's a tall ask for a 36 month lease! This is one of the few 2020 luxury SUVs that you will find a competitive payment relative to what you can purchase a 2019 luxury SUV for.
The ILX lease is an awesome entry-level luxury sedan with a cheap payment on a four year lease term. This vehicle is one of the best lease deals on a luxury car in Canada for the month of November. Car dealerships carry plenty of these models in stock as well so you don't have to struggle to find them available.
---
Browse by brand:
---

Best New Car Deals From Ford | Lincoln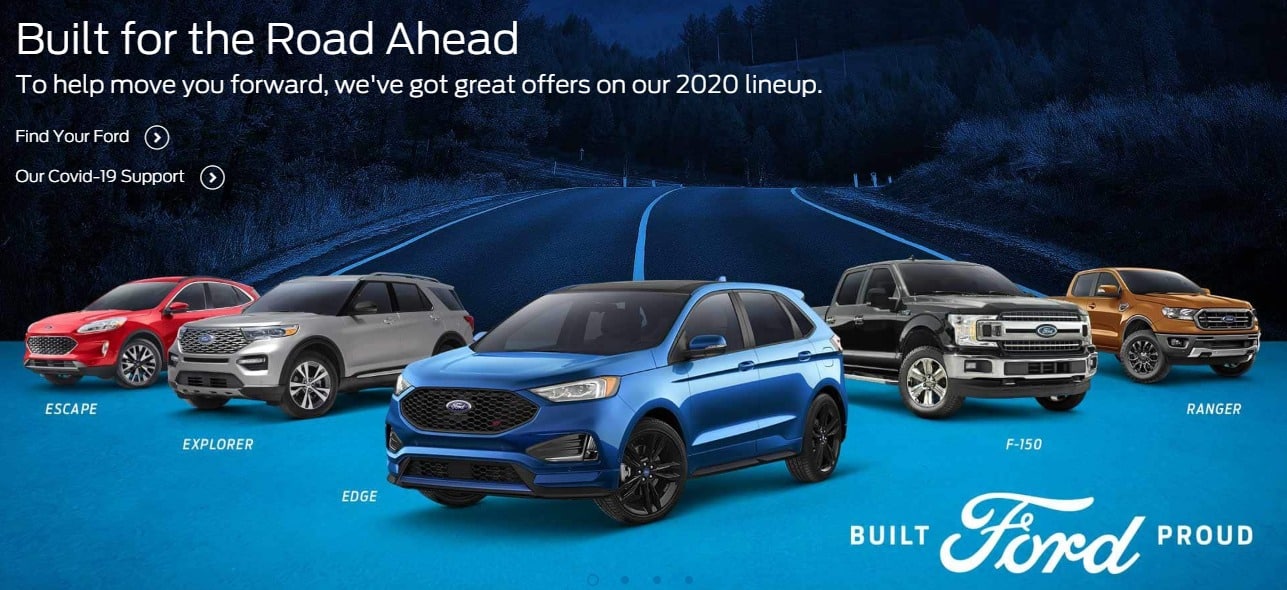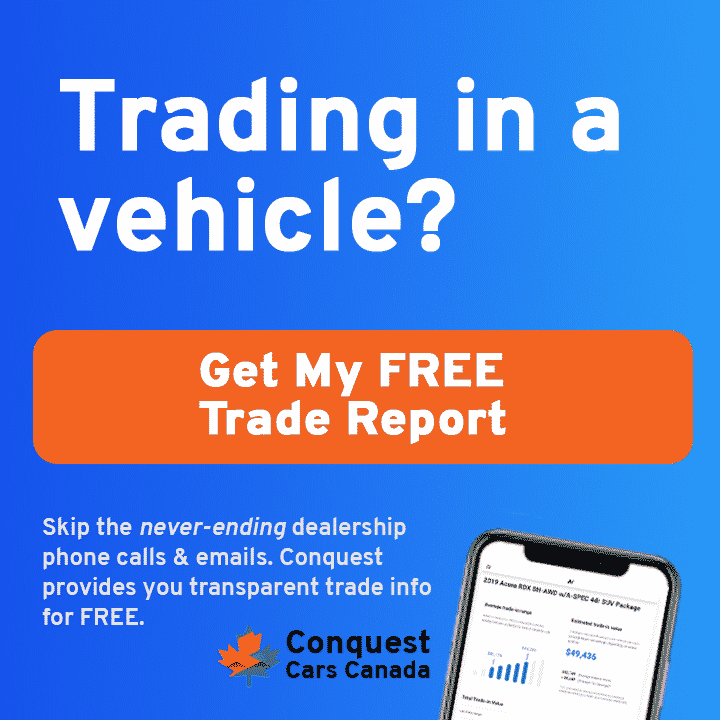 2019 Ford Flex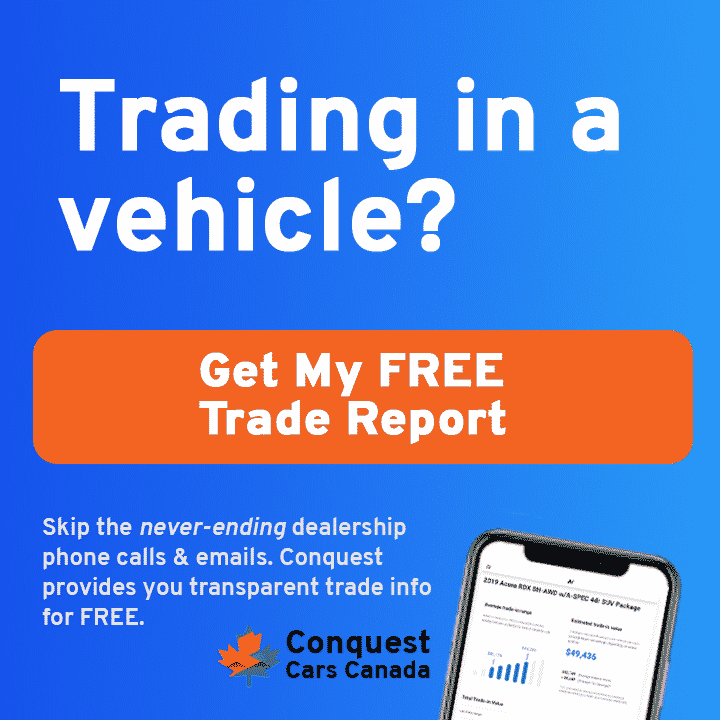 2020 Ford Mustang


Your Conquest Consultant can help review this information with you to determine what your best options may be. Use our tool to get matched with one today.
TIP: Ford has maintained a strong market share for 2020 in the truck segment, outpacing GM and Dodge on their trucks. Take advantage of this if you're interested in a Ram, Silverado, or Sierra since these dealers will be looking to catch up by providing the best new car deals in Ontario on their truck inventory!
---
Browse by brand:
---
Need the best deal on rims, tires, parts, or accessories?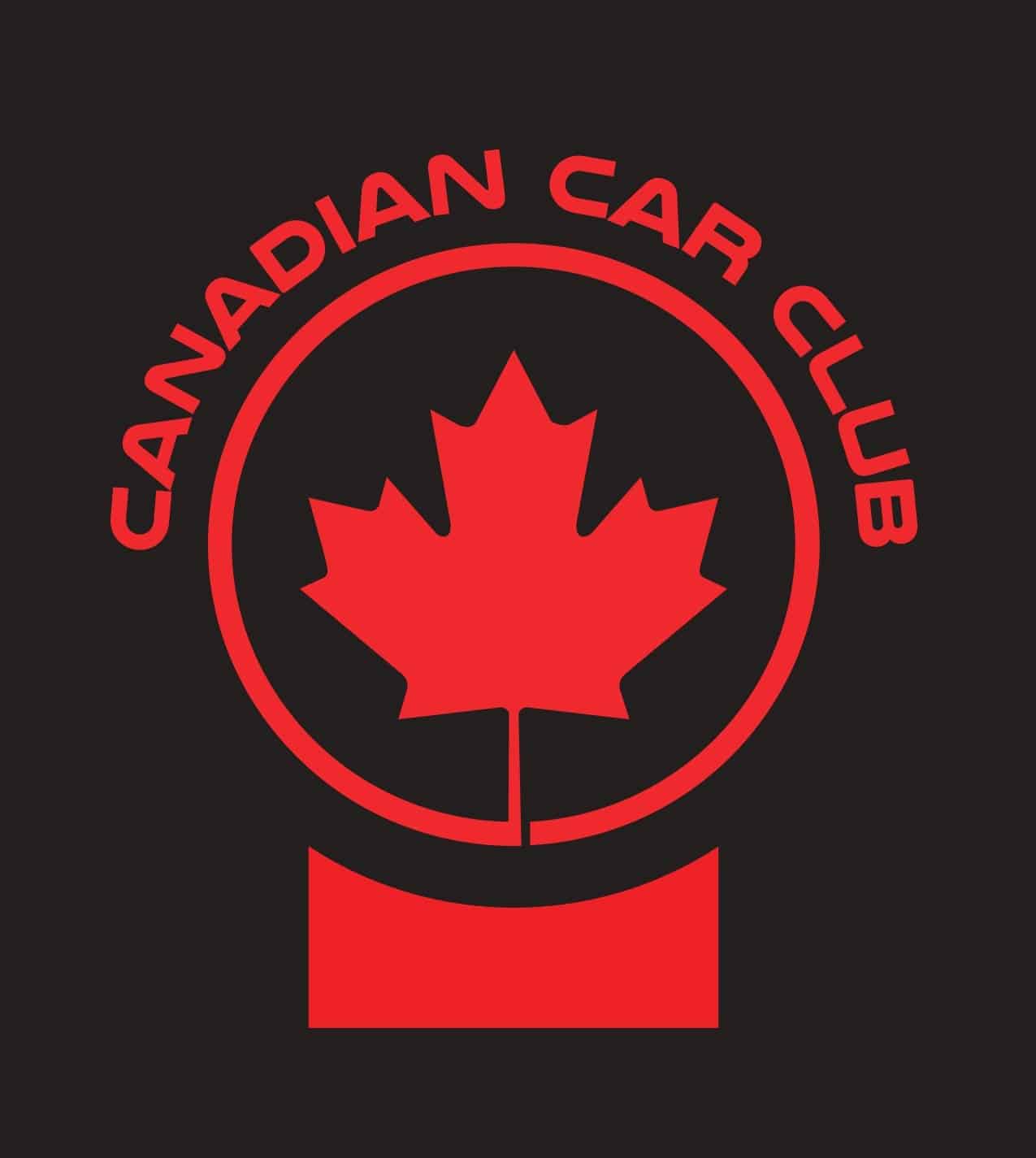 Conquest has teamed up with the Canadian Car Club to provide you the best new car deals in Ontario on cars, parts, and accessories! They offer Canadians access to fantastic prices on parts and accessories that you would find at big box stores or discount clubs. When you purchase your vehicle through a Conquest consultant you'll get a 1 year membership to their discounted services and prices.
They also offer mobile tire installation and swaps throughout the GTA at affordable prices. Don't wait at a dealership if you don't have to! To become a member, visit their website, or purchase your vehicle through Conquest Cars Canada.
---
Best New Car Deals From Chrysler | Jeep | Dodge | Ram
2019 Dodge Grand Caravan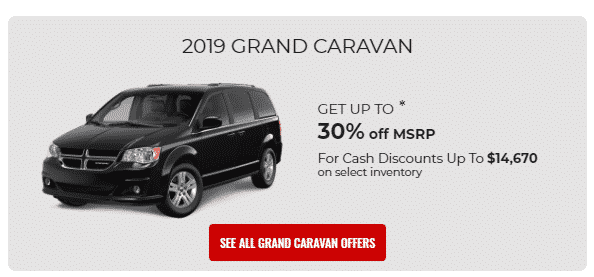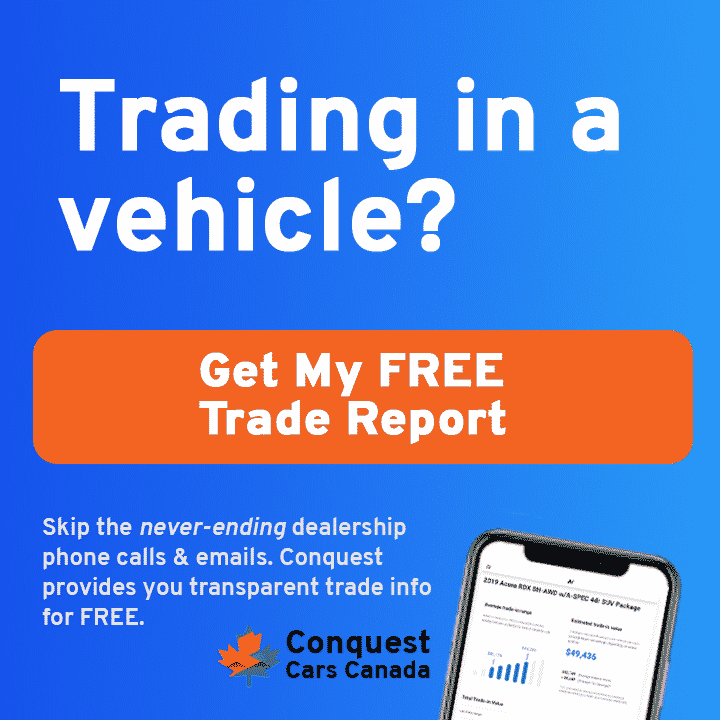 2019 Dodge Ram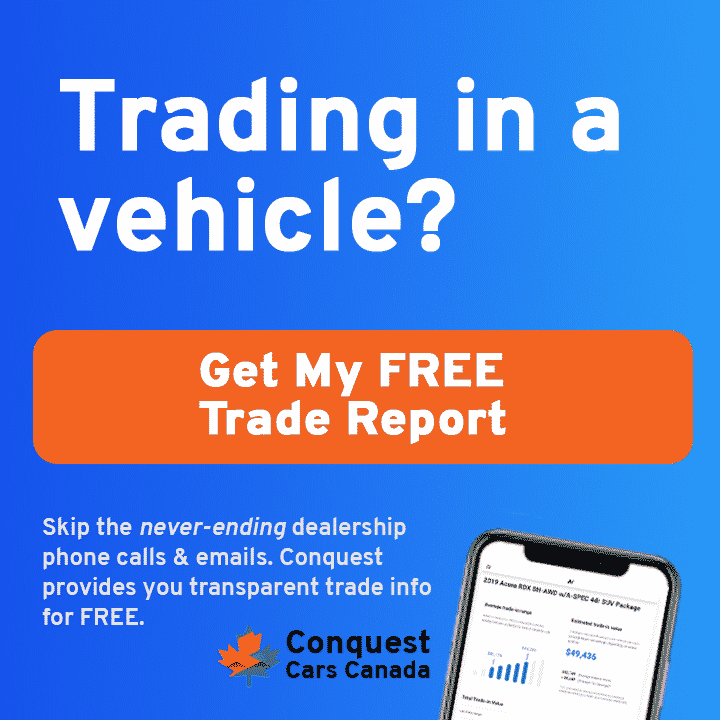 2020 Jeep Wrangler

2019 Jeep Grand Cherokee

2020 Jeep Compass

2020 Jeep Cherokee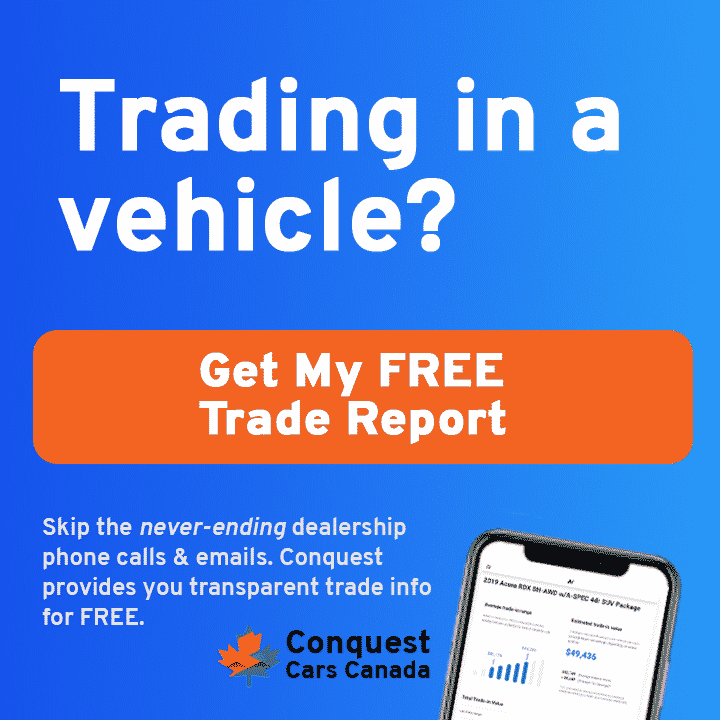 2020 Jeep Gladiator

Surprisingly, Dodge is not the only truck dealer you'll be able to find discounts on 2500 and 3500 series trucks. These are great cardeals if you're looking for a vehicle for commercial use or heavy hauling.
Jeep has kept the same programs on their trucks with a 15% discount on most of these models. If you really like the aesthetic of a 5 seater SUV that you get from a Jeep, you should consider looking at the Chevrolet Blazer this month with 0% financing on 5 years for a sporty SUV.
---
Browse by brand:
---
Best New Car Deals From Mazda

2019 Mazda CX 5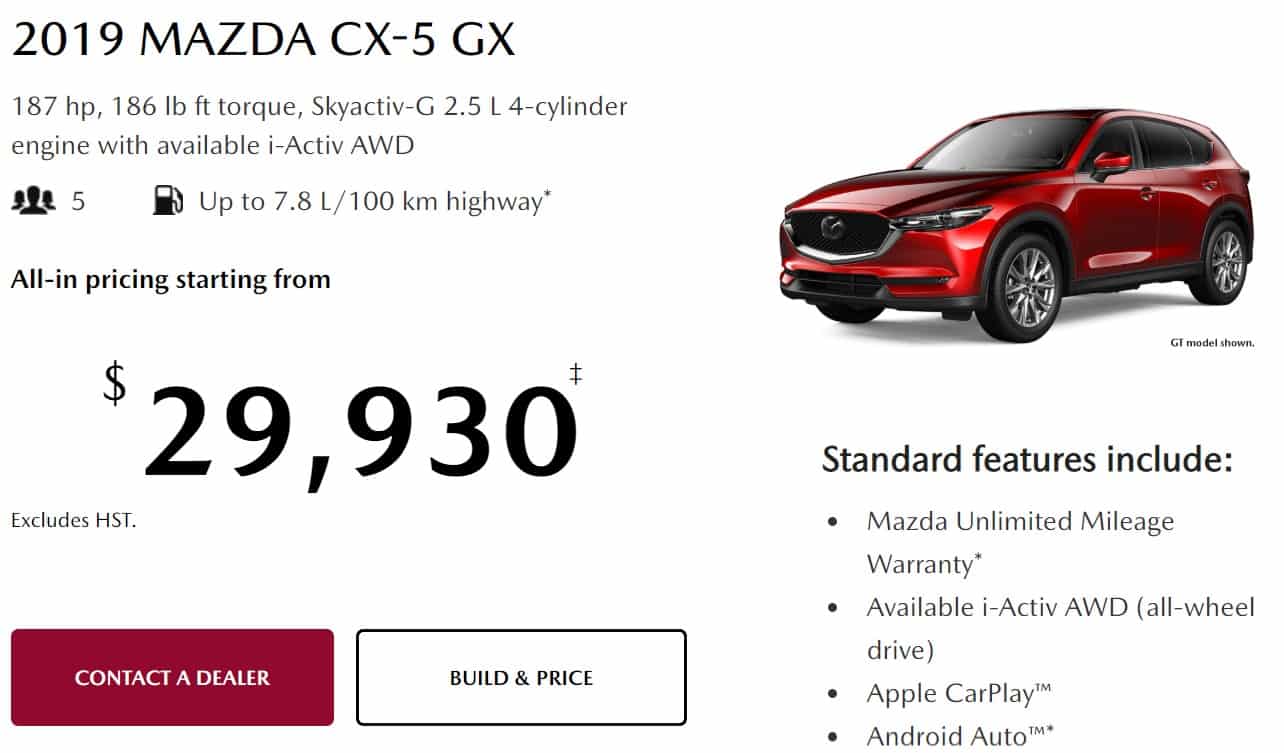 Mazda CX 3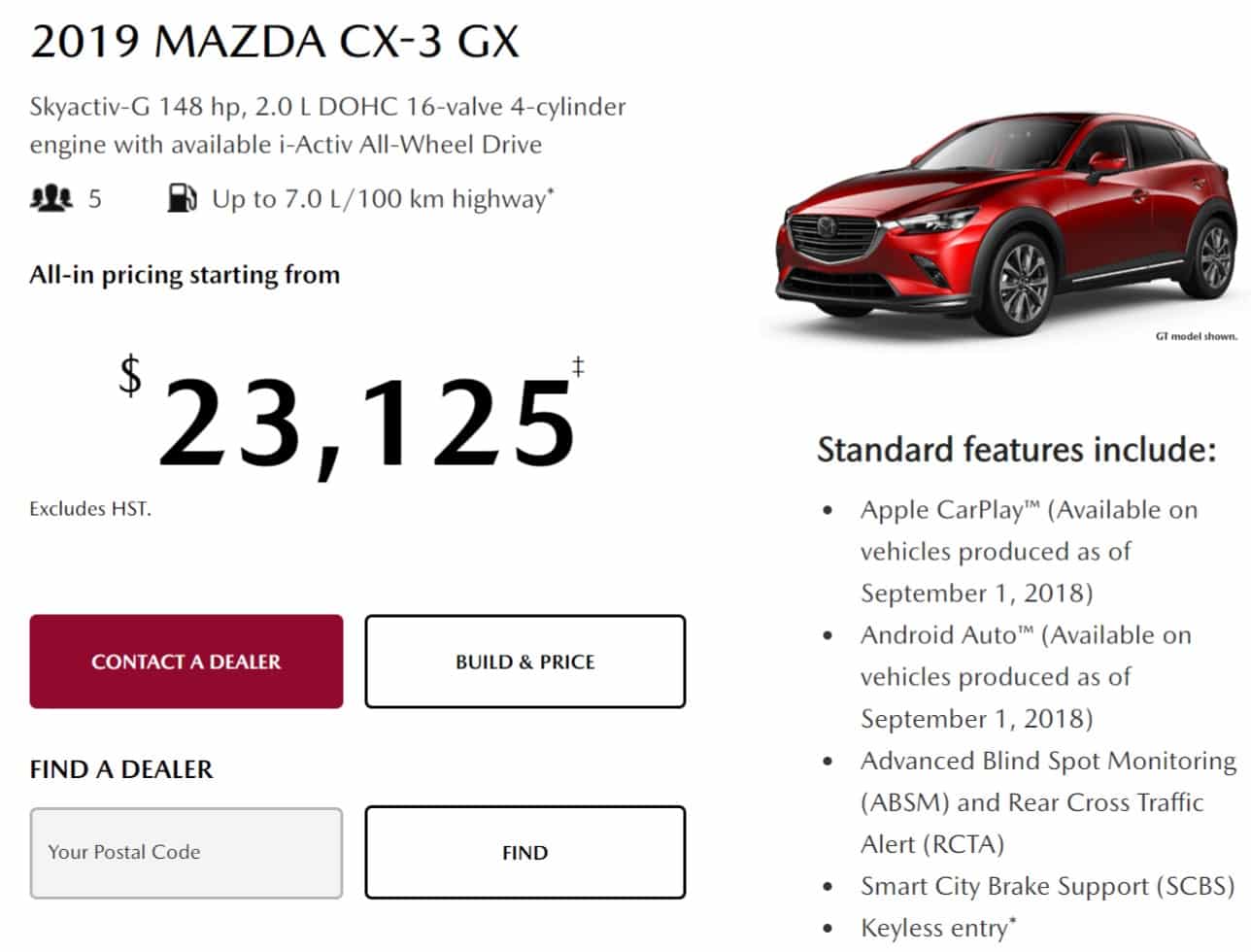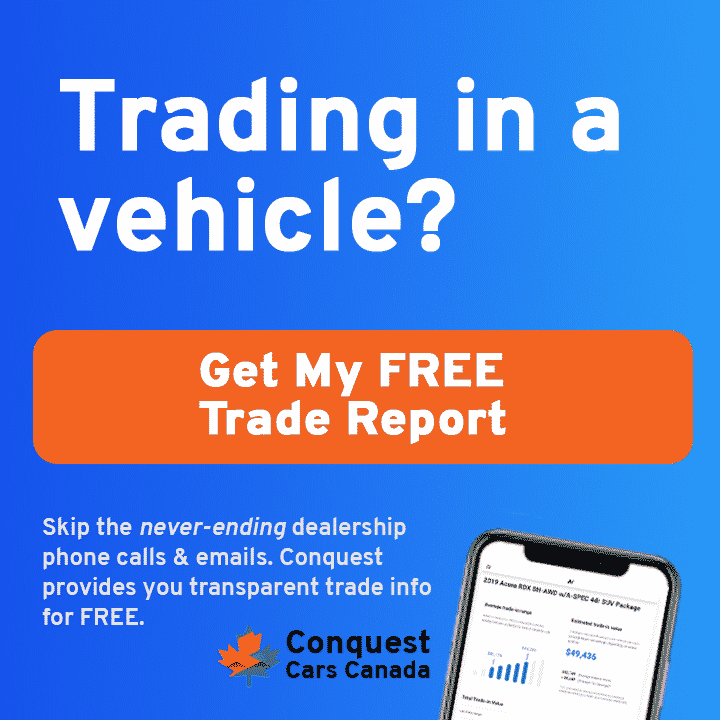 2019 Mazda CX 9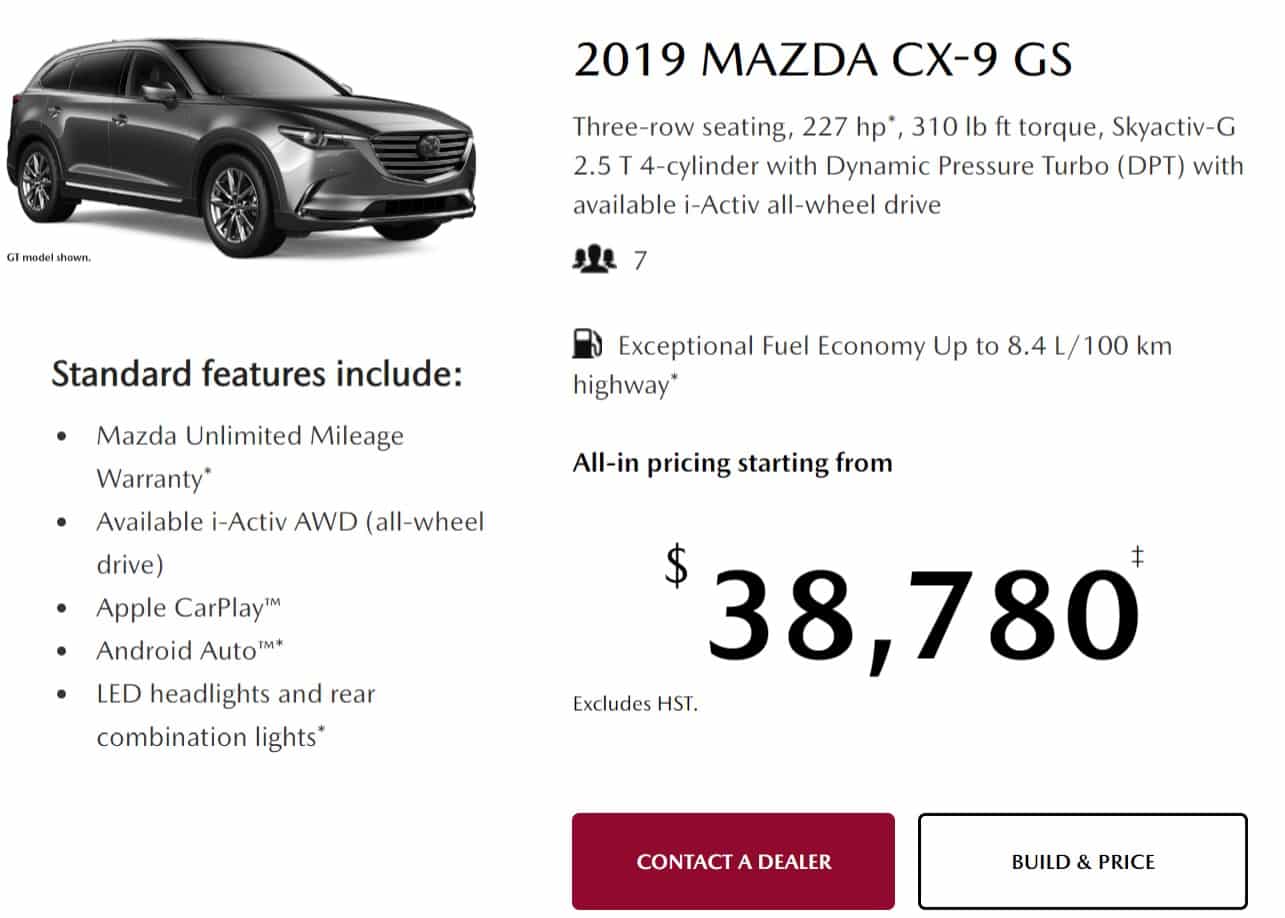 The Mazda CX-9 provides awesome value for a monthly payment around $500, and it comes on a 5 year lease. I highly recommend the Mazda CX-9 if you're looking for a 7-seater to lease. Mazda is always slow to update their monthly lease and finance payments, so reach out to a Mazda Conquest dealer for more information.
2019 Mazda 3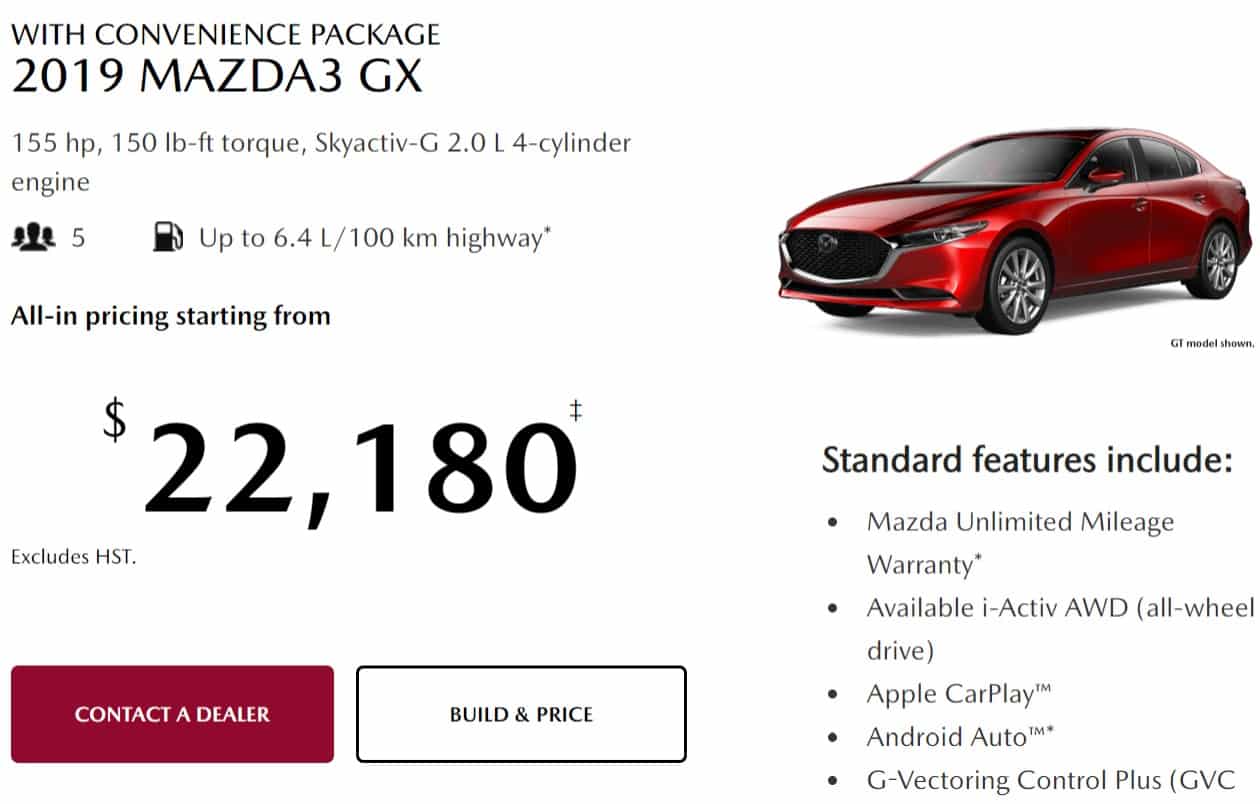 2019 Mazda MX 5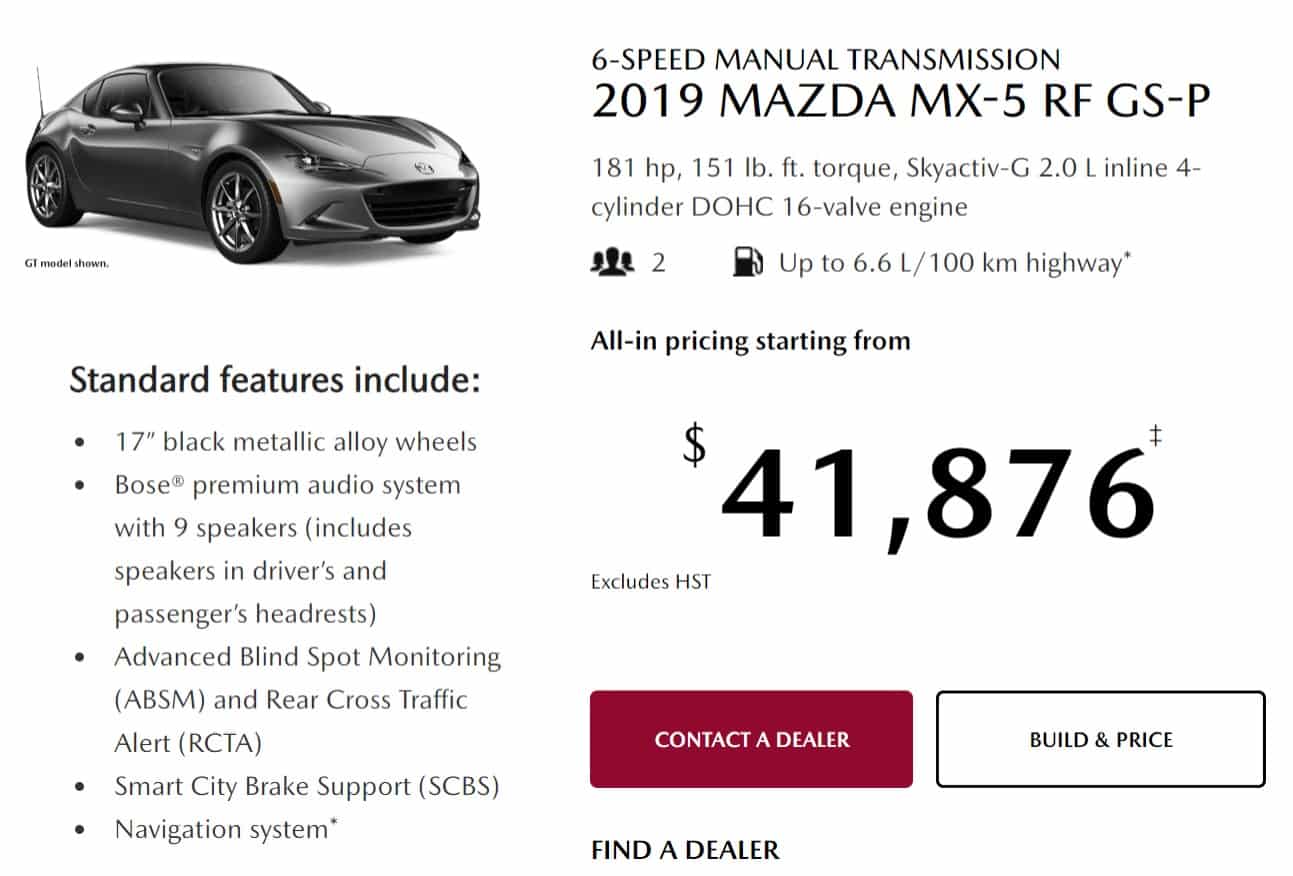 2019 Mazda 6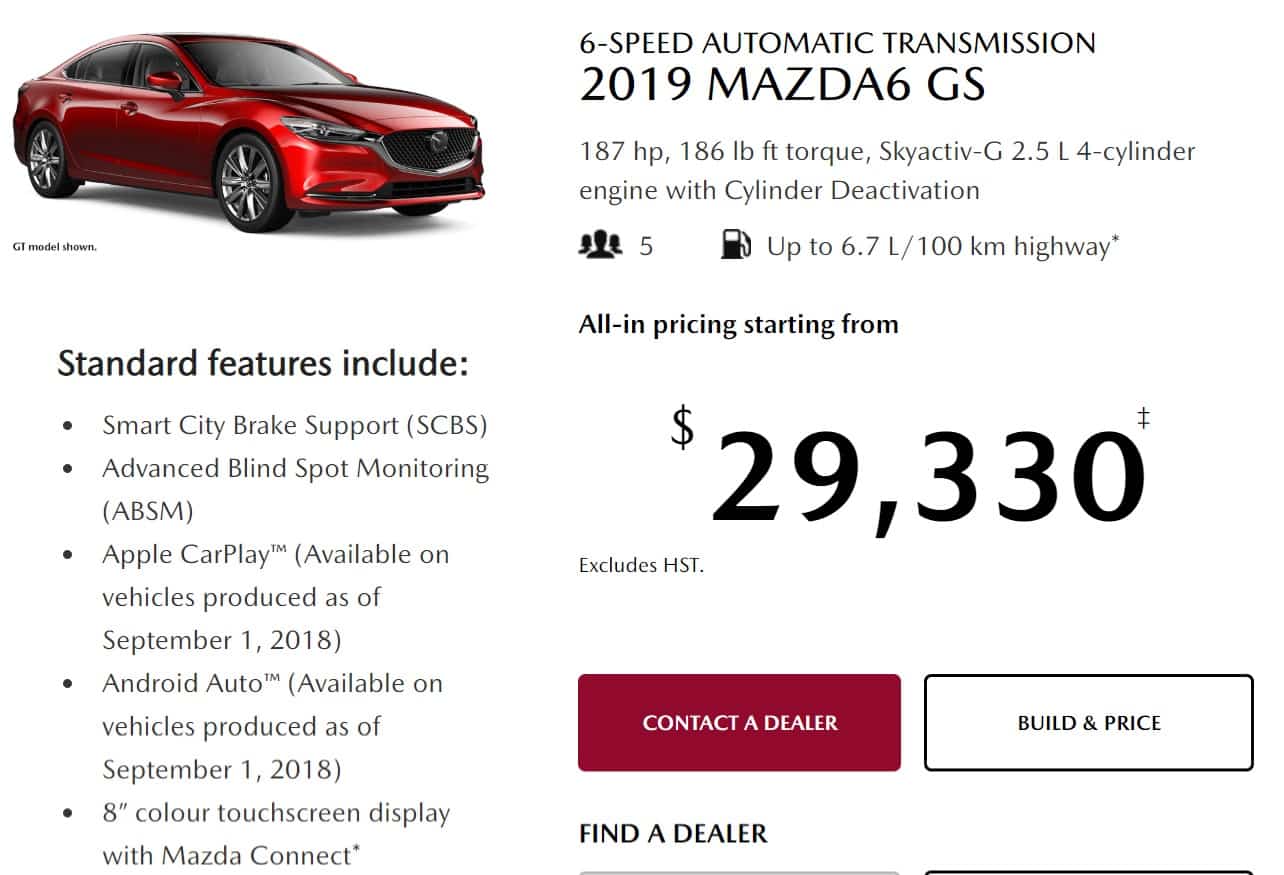 Looks like Mazda decided to revert back their website back to advertising specific offers on their website, rather than having you click into the vehicle. Mazda has maintained a consistent offering over last month's programs.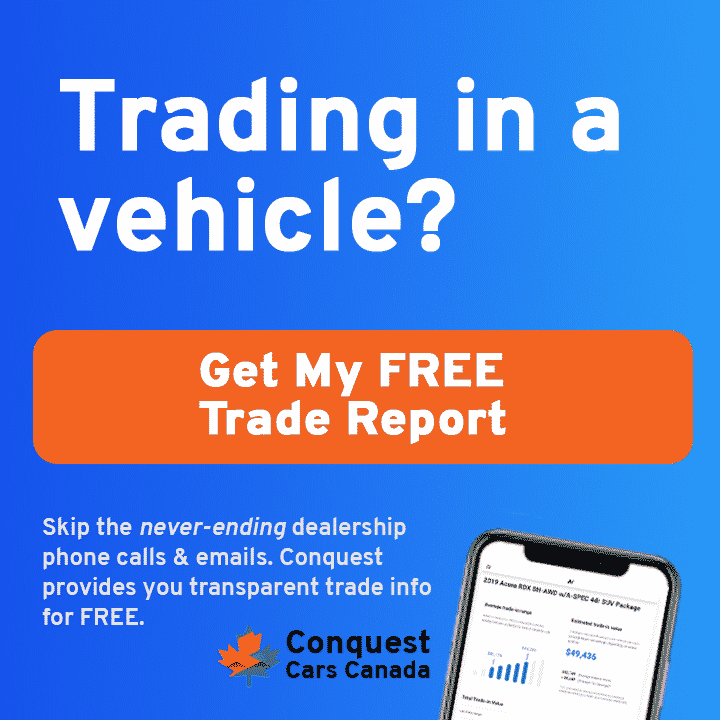 ---
Browse by brand:
---
Best New Car Deals From Mercedes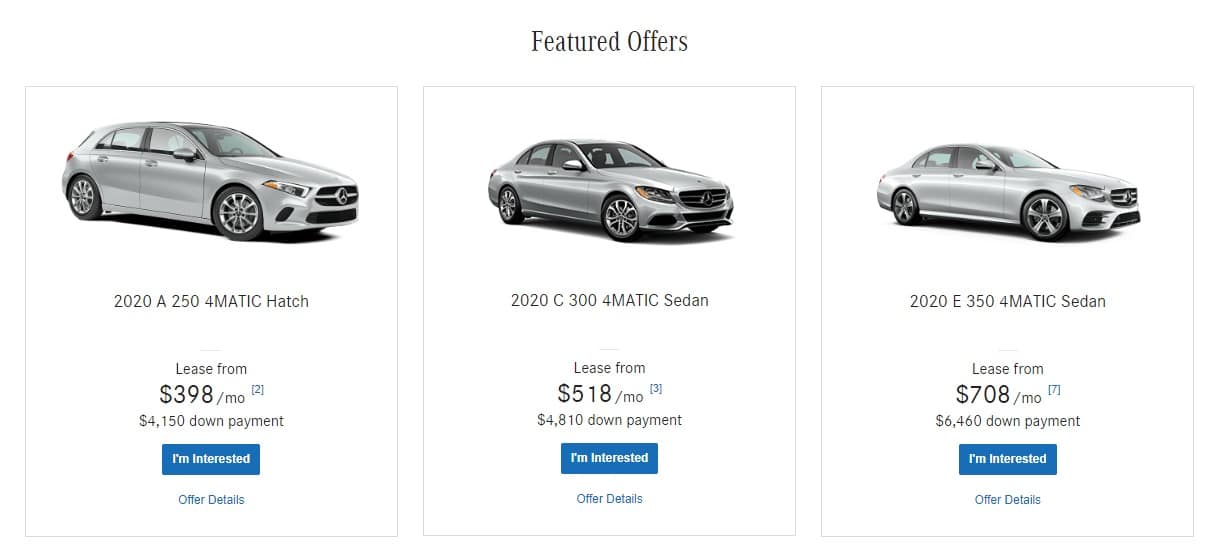 Looks like Mercedes has opted to push their C300 sedan for the month of November. This vehicle sits in the small-midsize range and we've quite honestly seen better car deals from them in the past.
2020 Mercedes GLE 350

2020 Mercedes GLA 250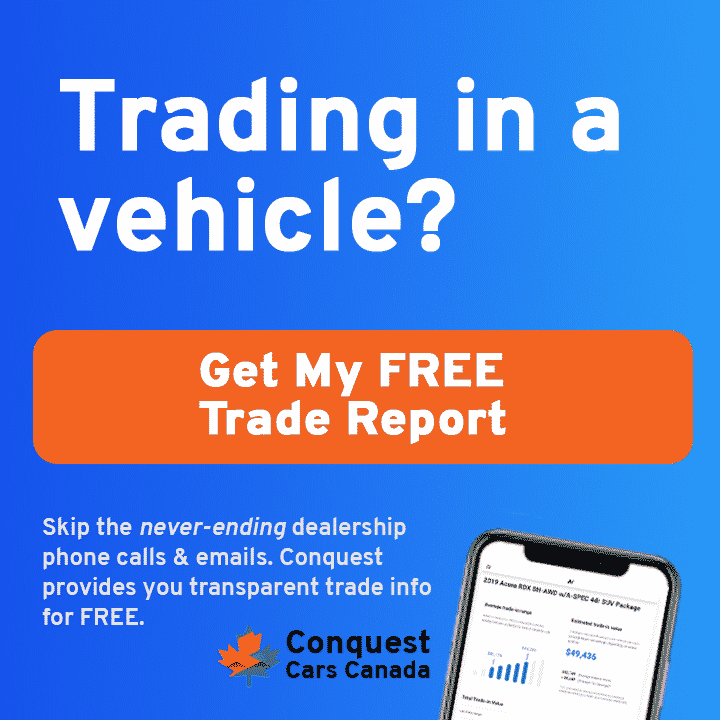 2020 Mercedes C 300

2020 Mercedes A 220

Mercedes is consistent with their offering this month and there's not really any deal in particular that stands out. Rather than looking at the CLA 250 consider the Lexus IS 250. Although both luxury compact sedans, the Lexus comes out as a much stronger lease option with far less of a down payment.
---
Browse by brand:
---
Best New Car Deals From Toyota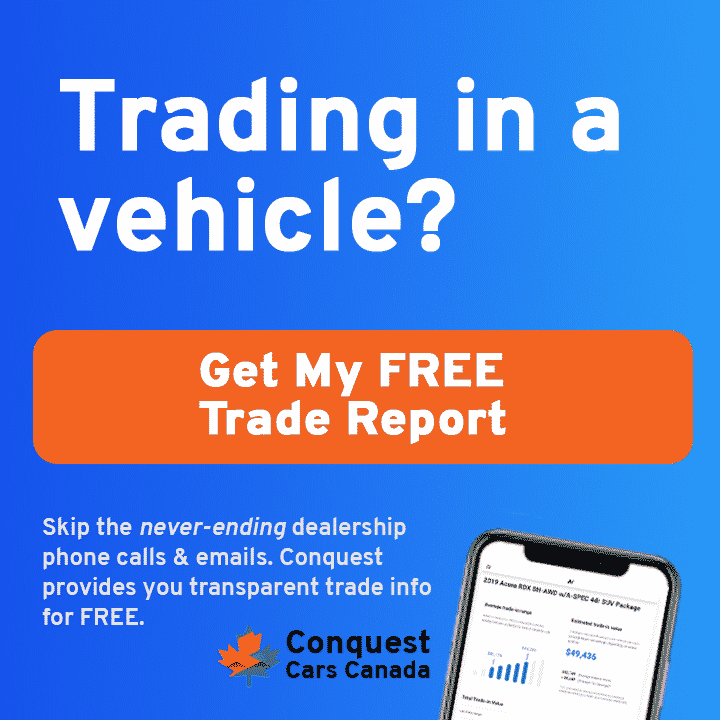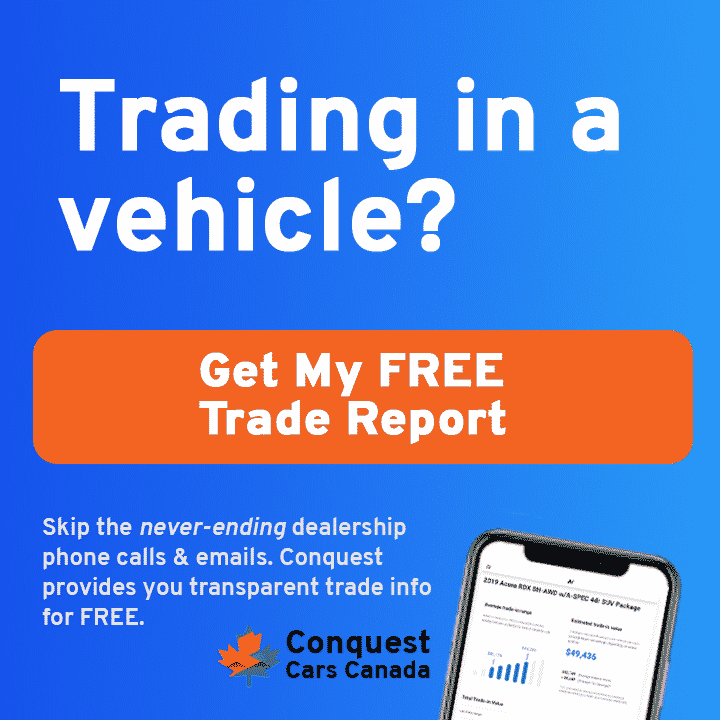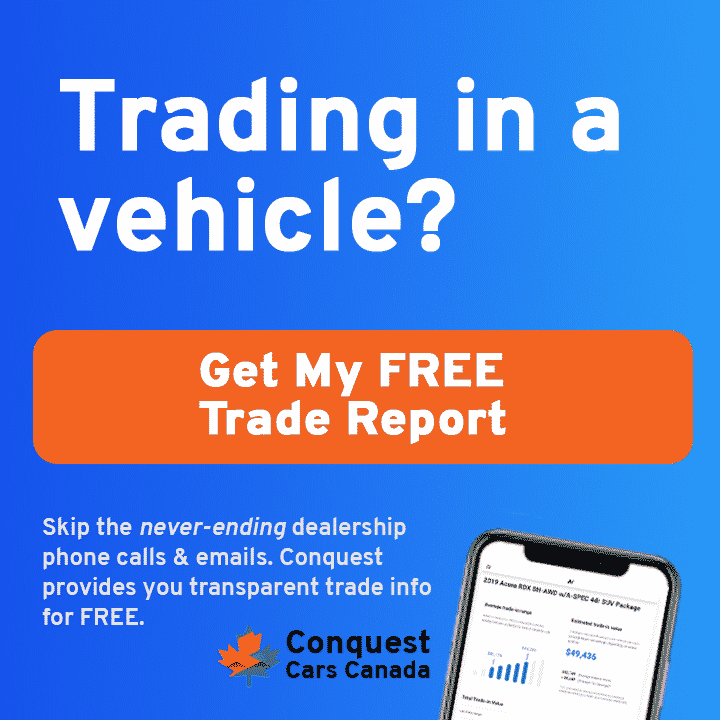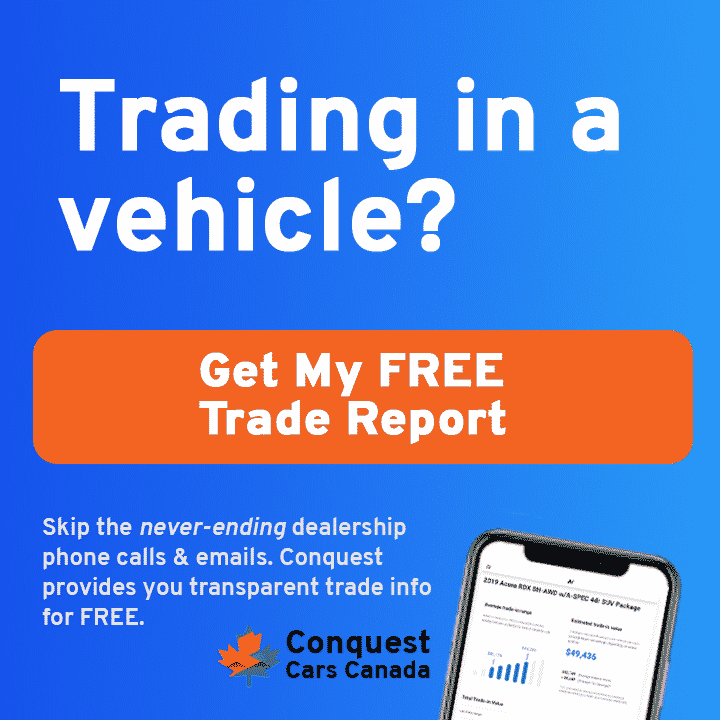 2020 Toyota Sienna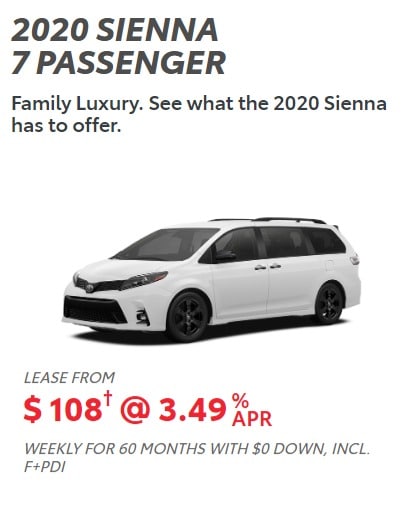 The Prius prime is still available for the $2500 IZEV credit if you can find a dealership that still has one available! This program is an awesome addition to the car discounts already available on the Prius with this month's incentives. Match with one of our Toyota Conquest Consultants to learn more about your options.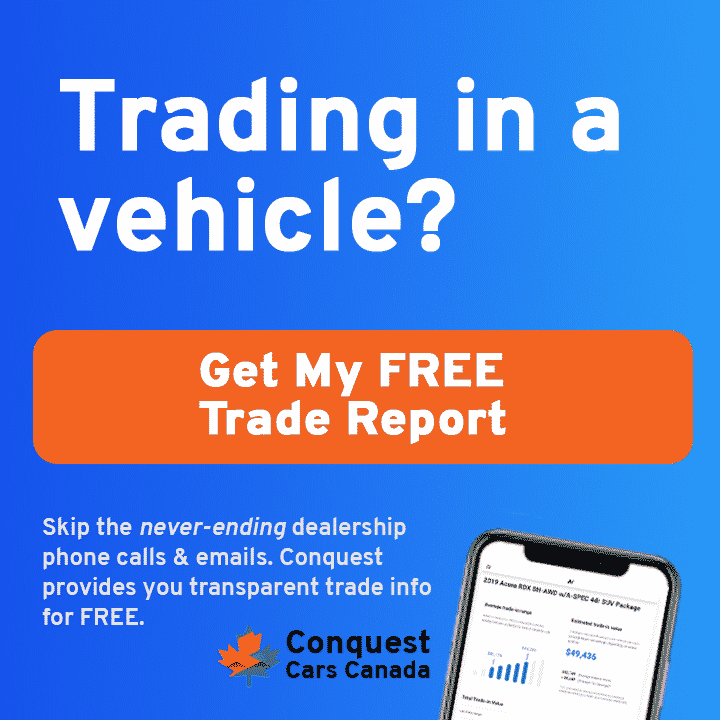 The 2020 Toyota Corolla lets you finance a compact sedan for an incredibly cheap weekly payment and a modest interest rate of 0.49% over an 7 year term. The Corolla comes standard with a Toyota safety sense which means you get a ton of standard safety features including forward collision alert, blind spot detection, and a lot of savings on your insurance. Toyota consistently has some of the best new car deals in Ontario, with awesome insurance rates on most models as well.
---
Browse by brand:
---
Best New Car Deals From Lexus


2020 Lexus IS 300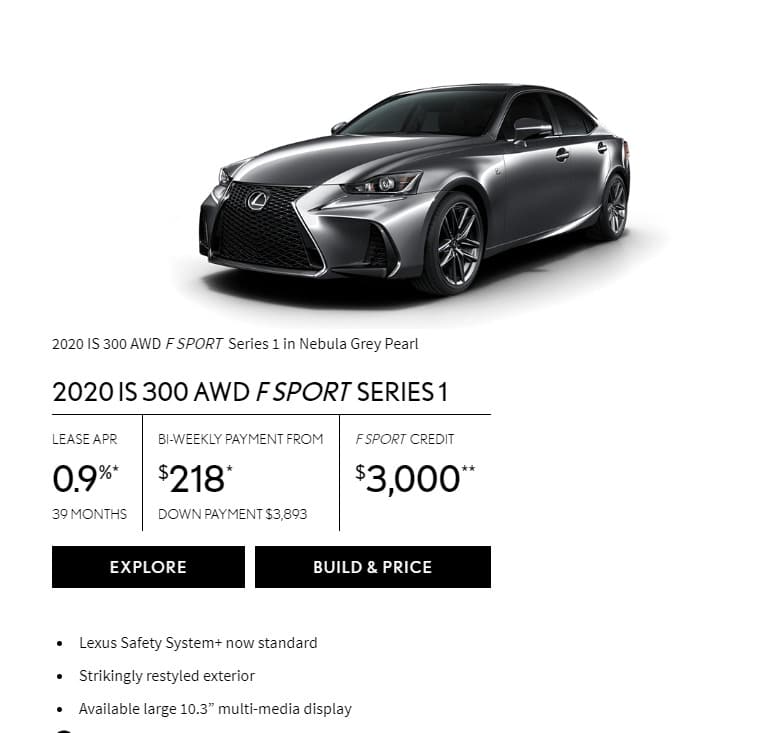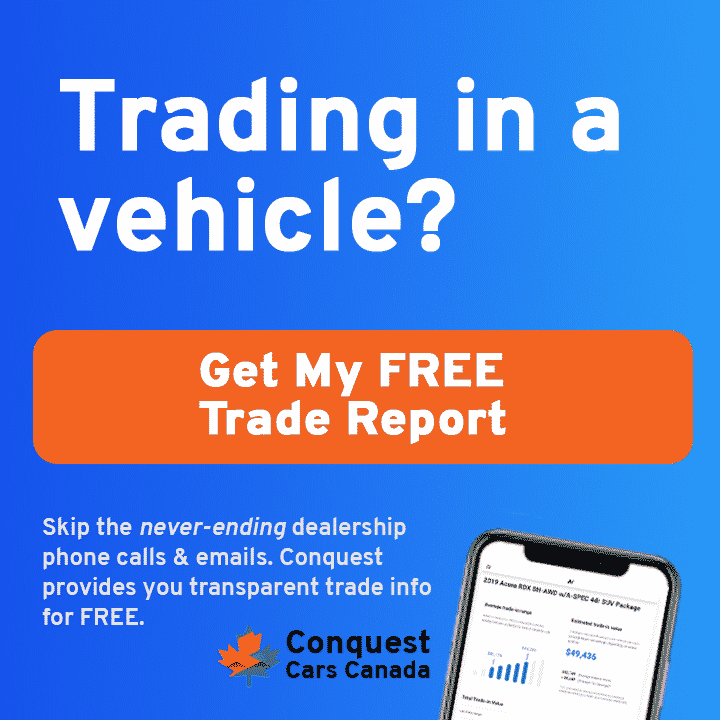 2020 Lexus RX 350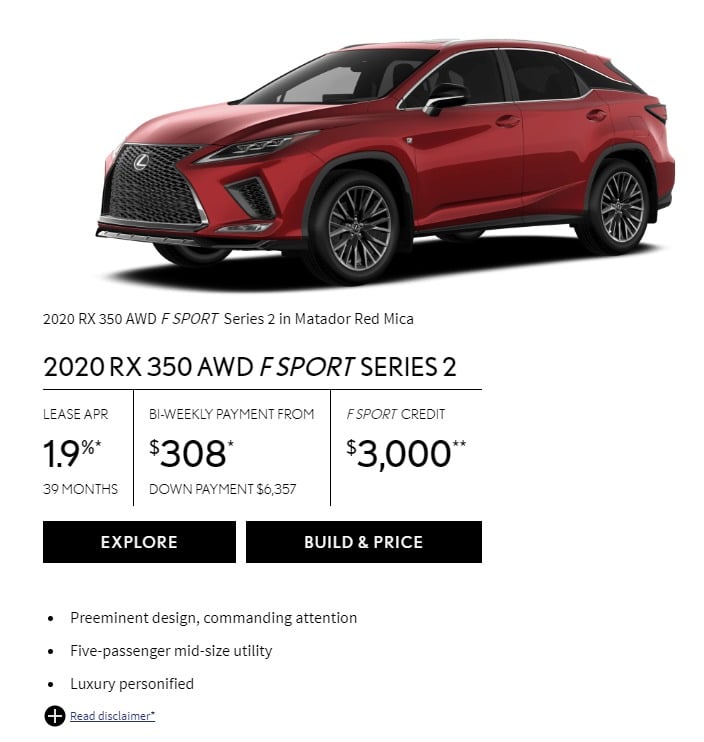 2020 Lexus NX 300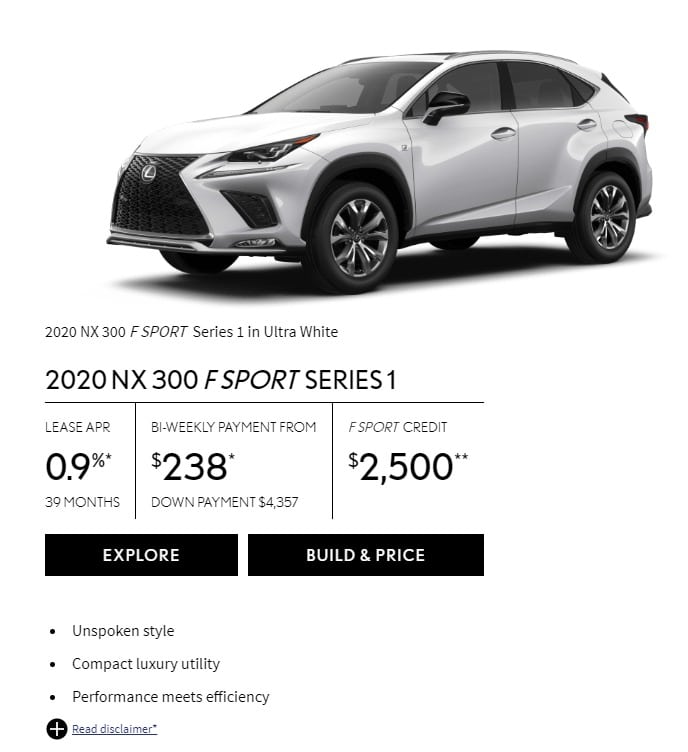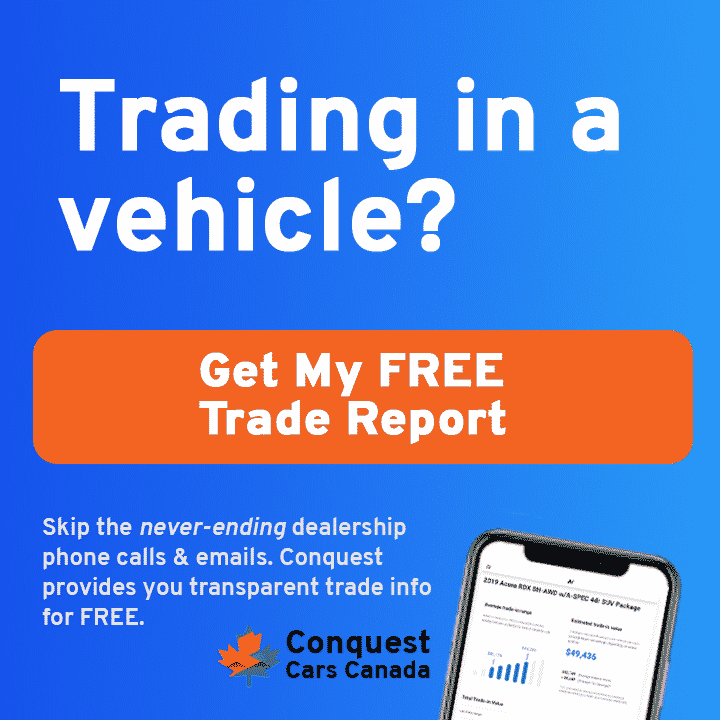 2020 Lexus UX 250H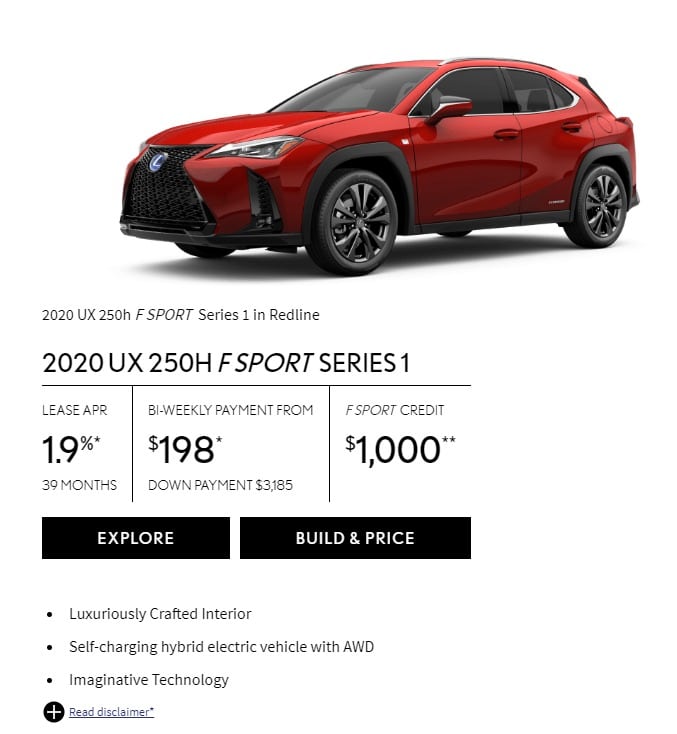 2020 Lexus RC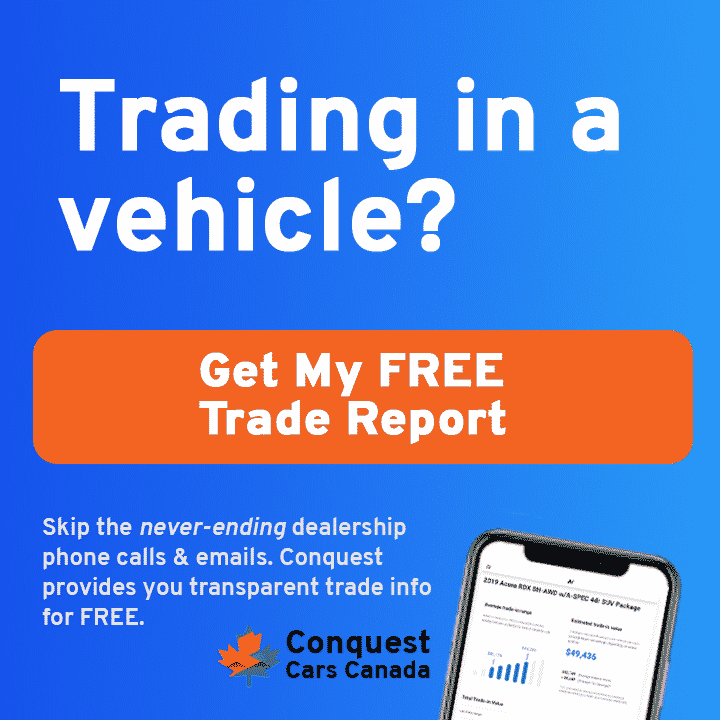 2019 Lexus ES 350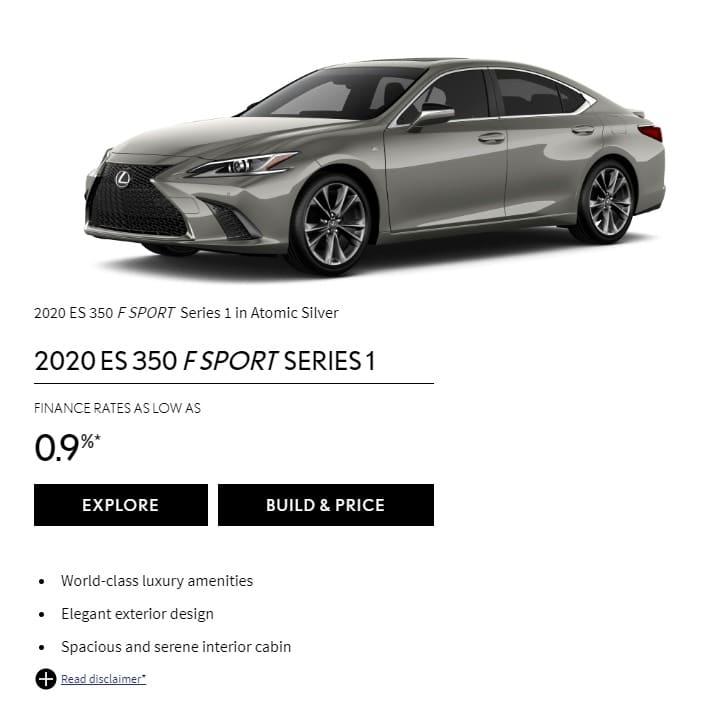 2019 Lexus GS 350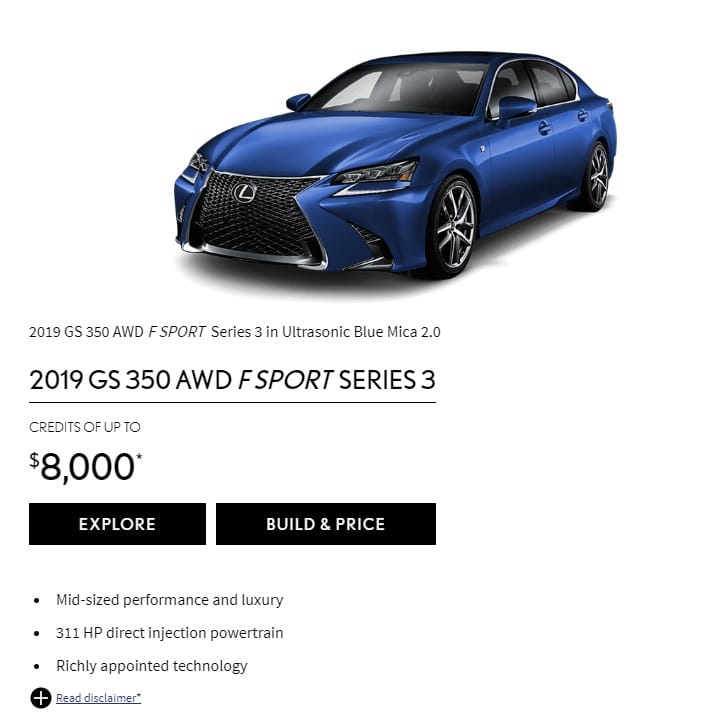 2020 Lexus LC 500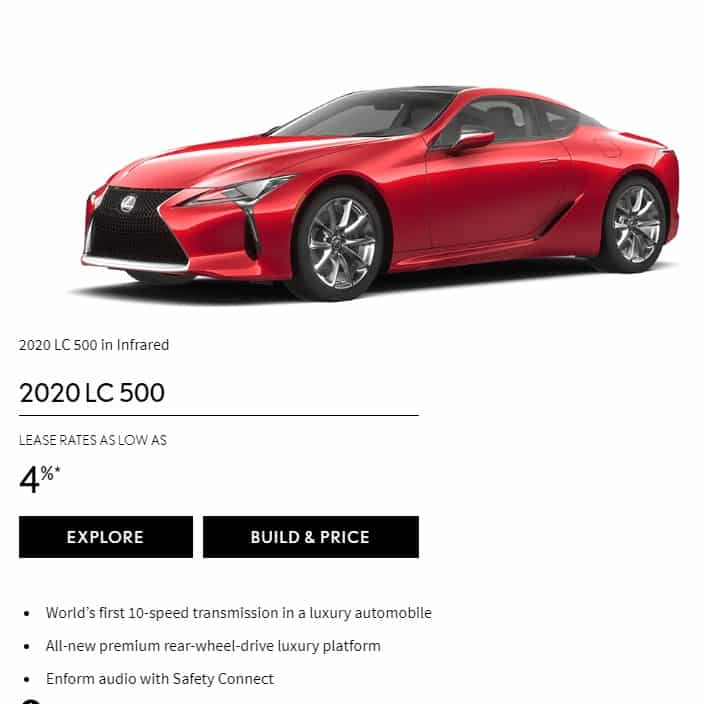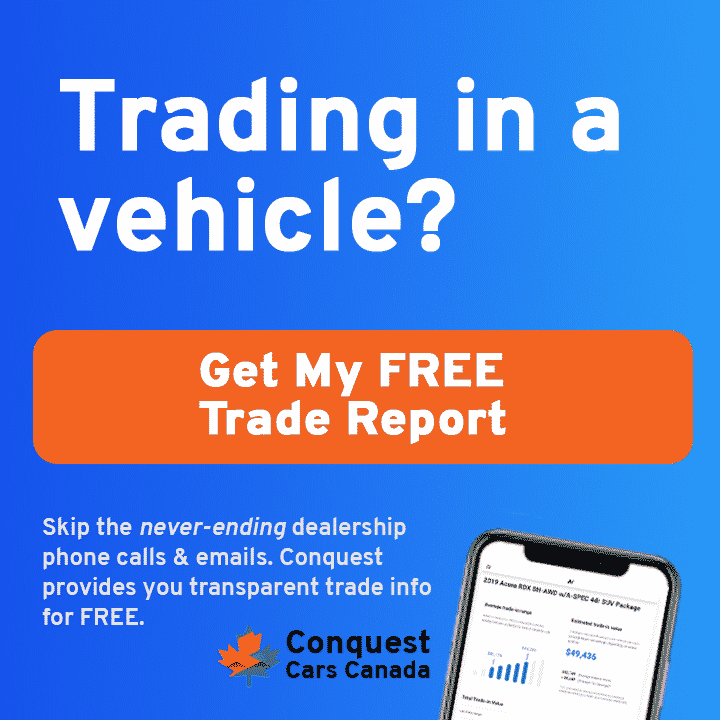 2020 Lexus GX 460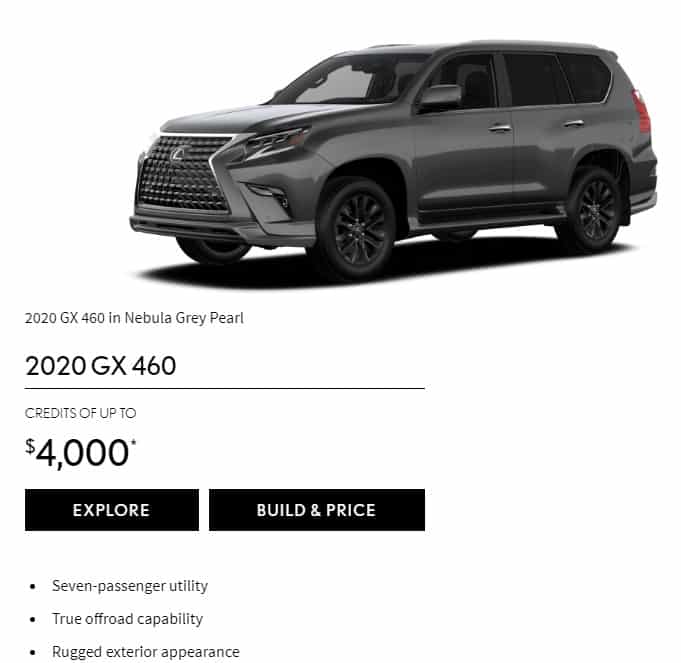 2020 Lexus LX 570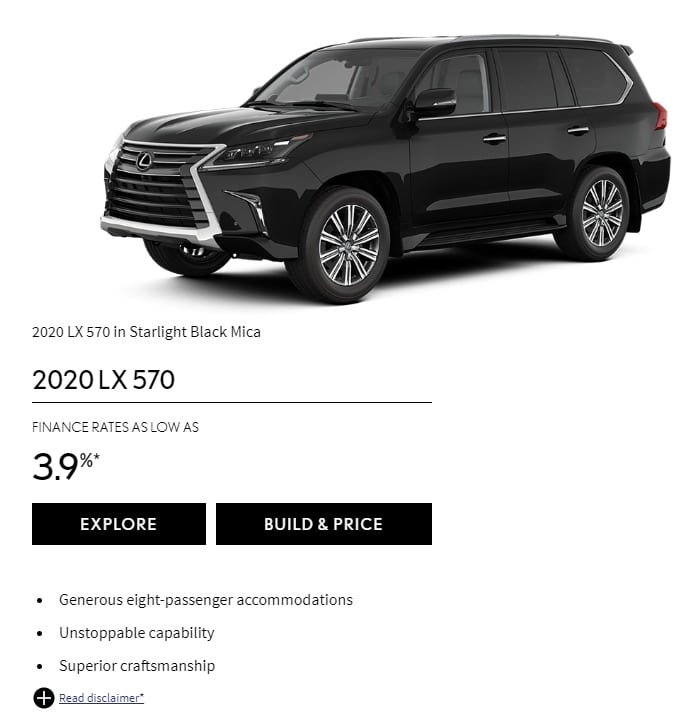 Although I am a fan of the RX 350 lease, this month is not as strong as it should be considering you can get a very similarly priced 2020 Acura RDX for the same price. If you're a big fan of this model this would be your last chance to get the 2019 before they are all gone. So that being said, expect a good Canada car deal this month before there are none left.
This Lexus is such a cool offering considering it gives the additional utility of being a hatchback hybrid vehicle. Expect to get great fuel economy off the UX250h.
---
Browse by brand: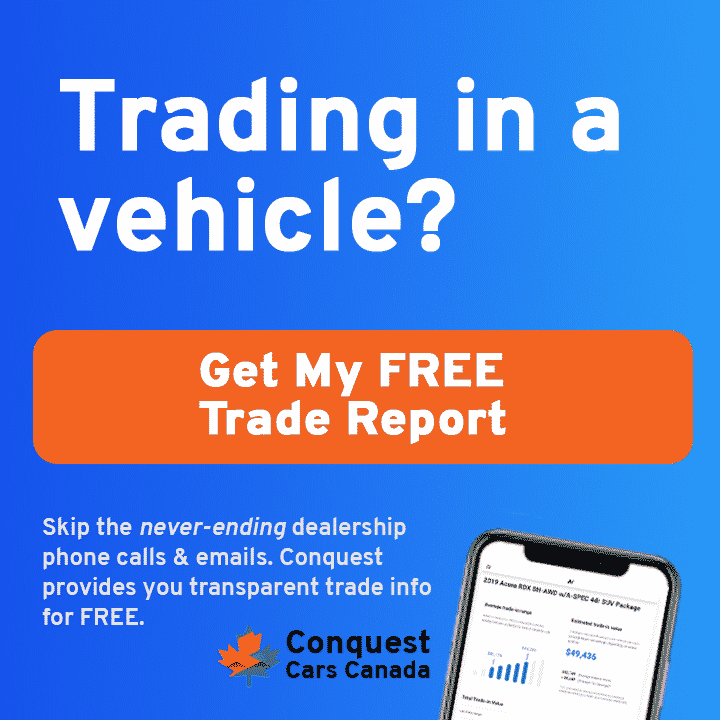 ---
Best New Car Deals From Nissan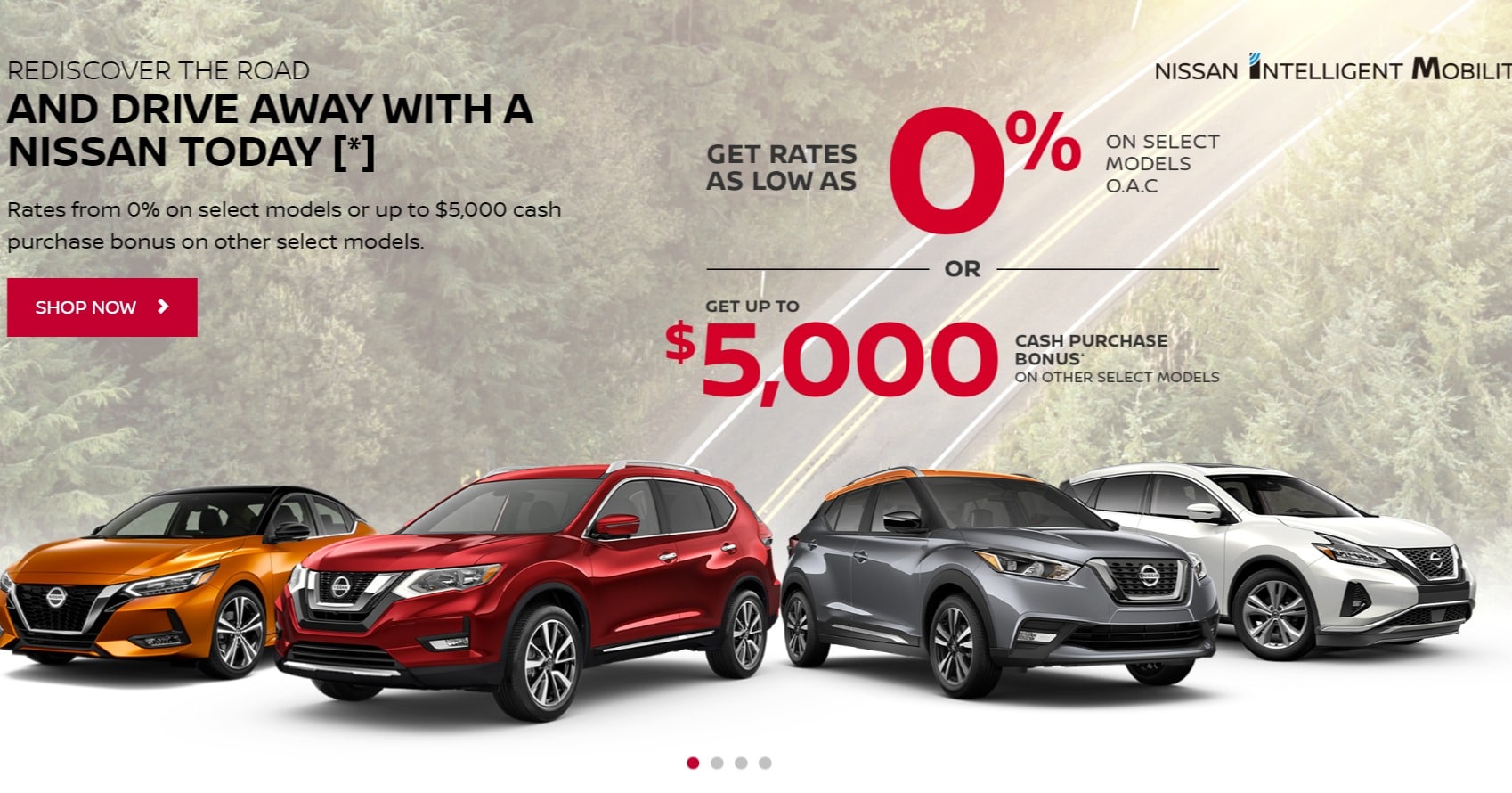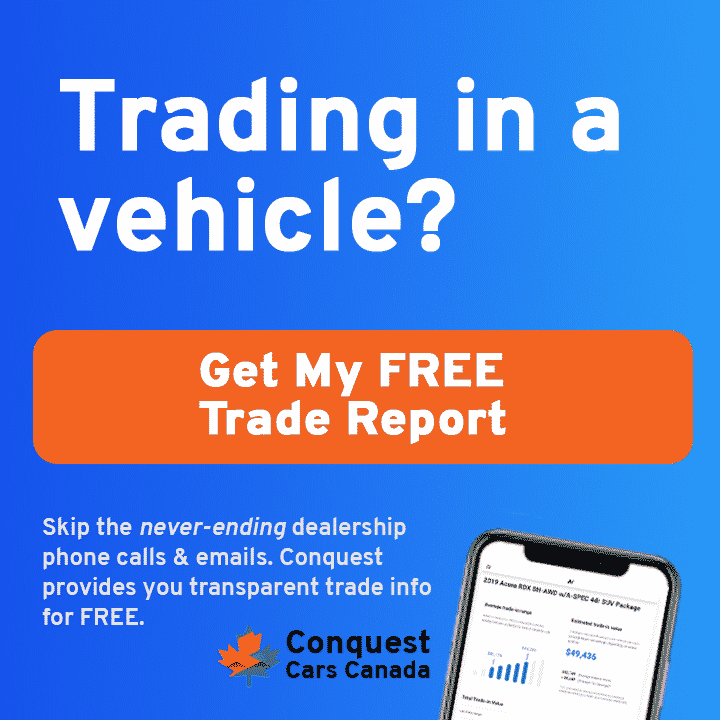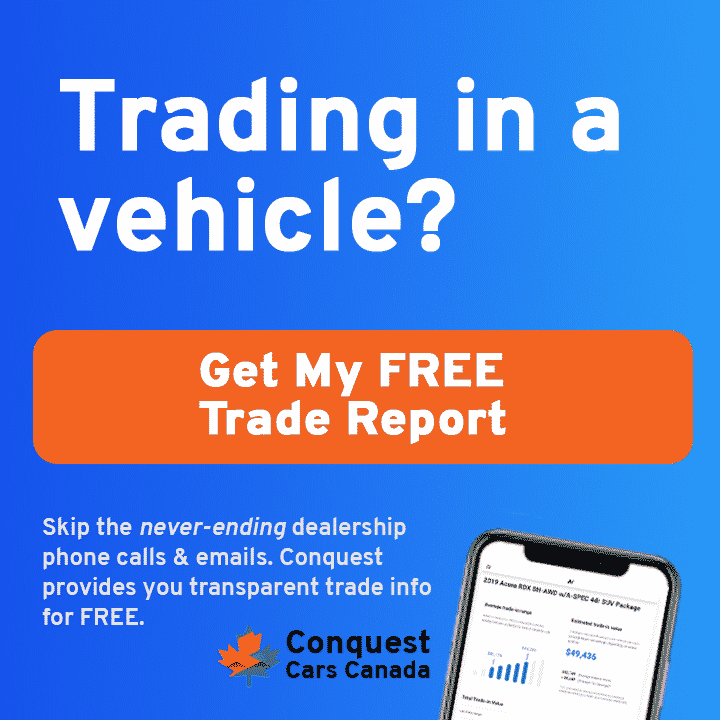 The Nissan Armada is quite a respectable offering this month considering it provides full size 7 seater SUV comfort for under $700 a month. There is a considerable down payment of almost $6000 to help lower the overall monthly payment, however even without the money down, the monthly payment sits just shy of $800 a month. You'll be tough pressed to find a 7 seater of this size for lower than $900, let alone $800.
That's why it's one of the best new car deals in Ontario on a full size luxury 7 seater suv lease.
---
Browse by brand:
---
Best New Car Deals From Infiniti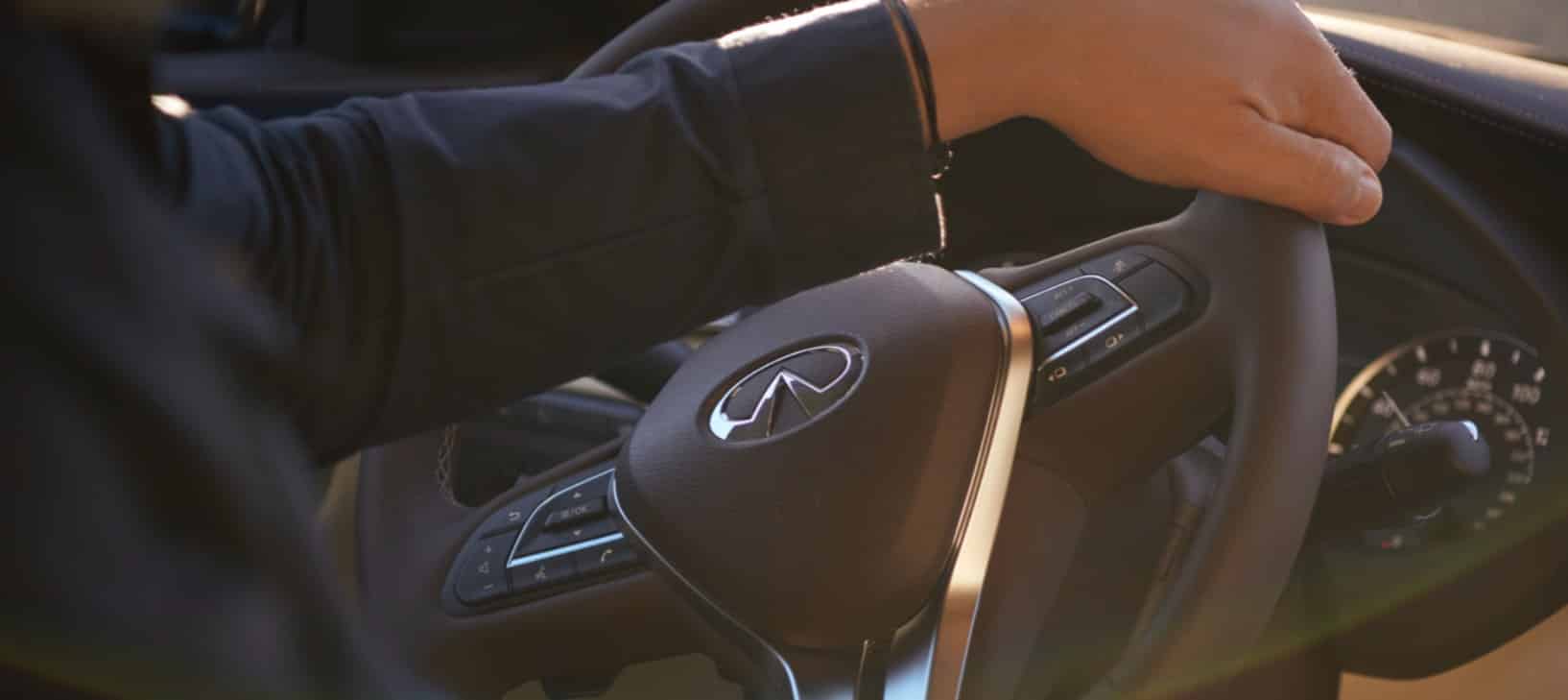 2020 Infiniti QX60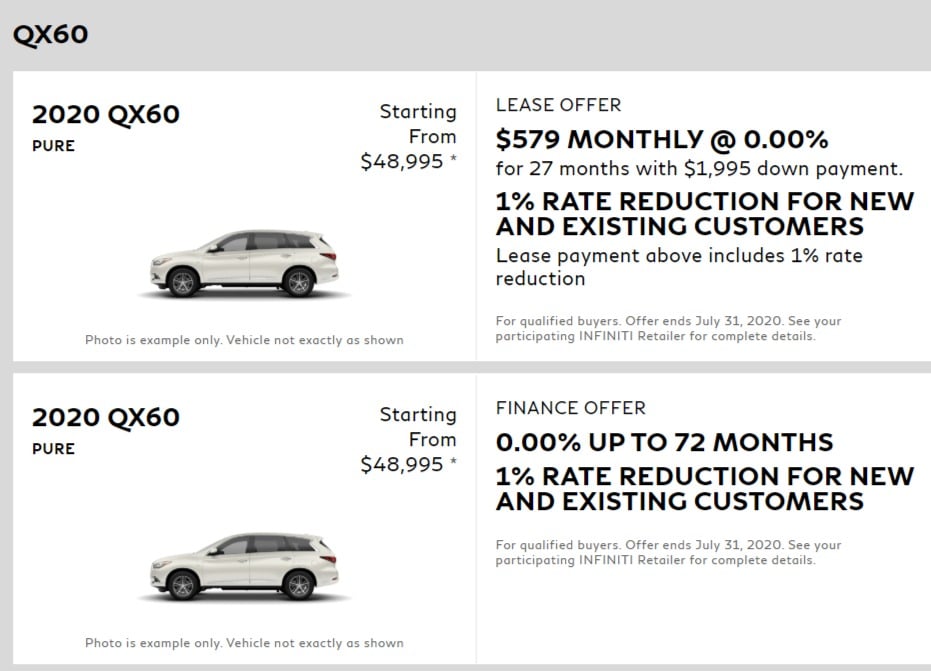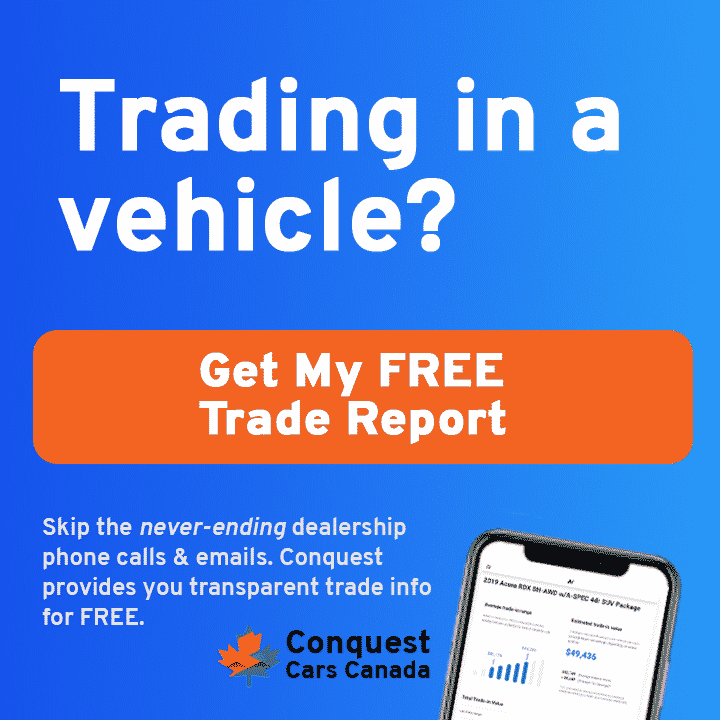 2020 Infiniti Q50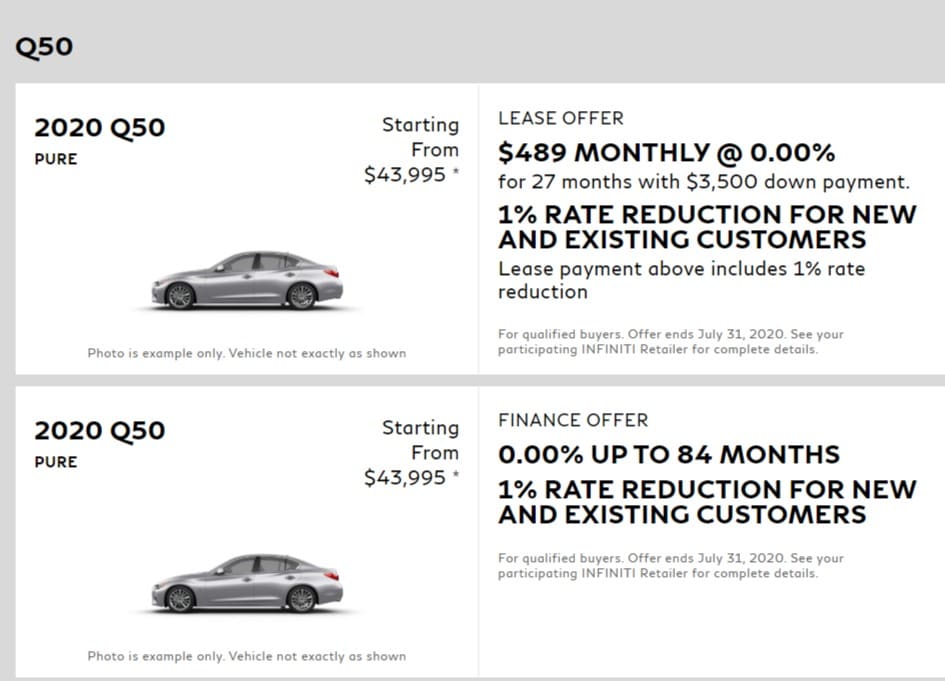 2020 Infiniti Q60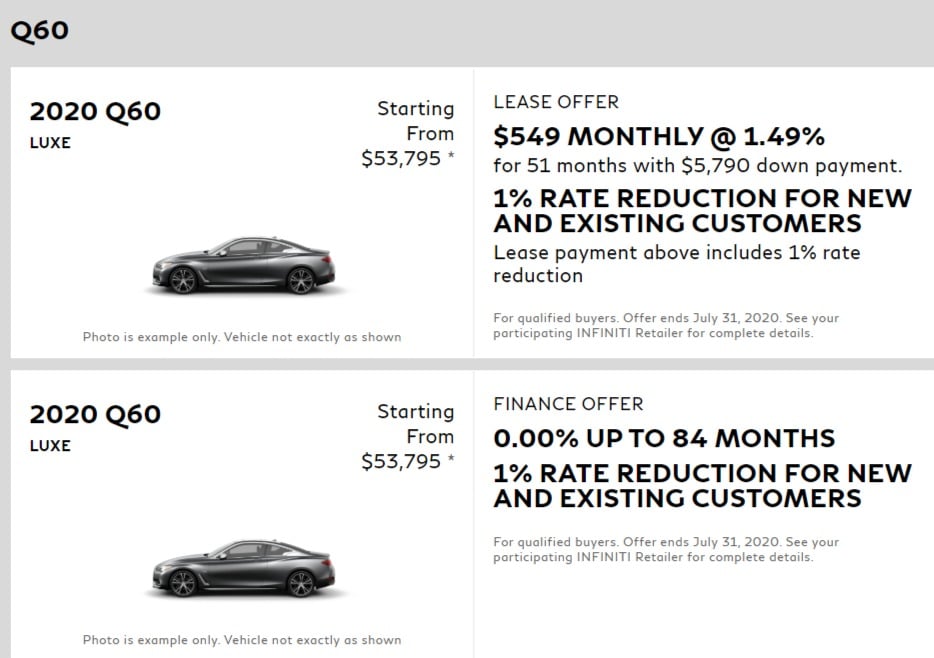 2020 Infiniti QX50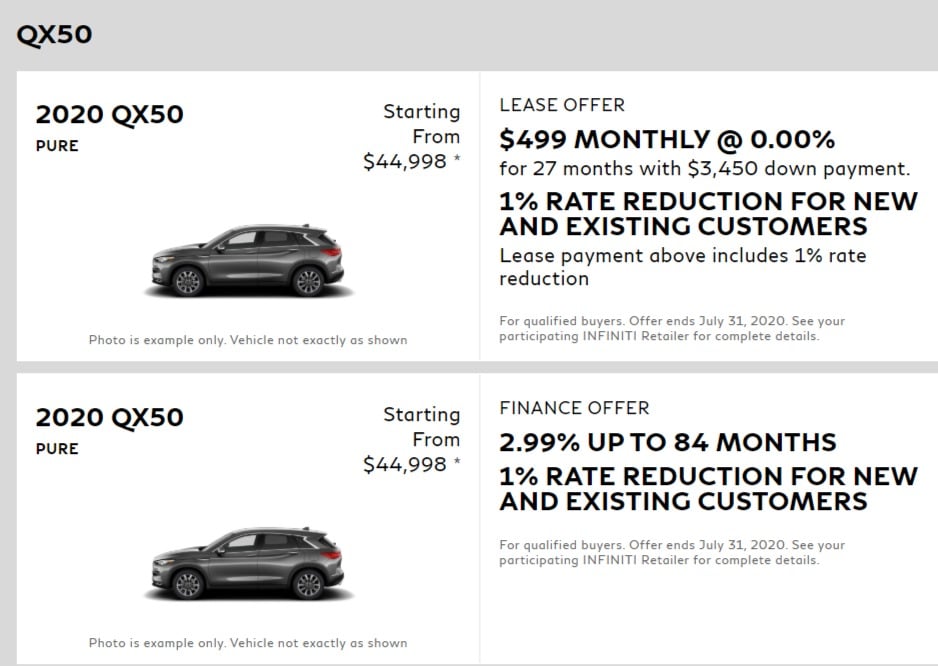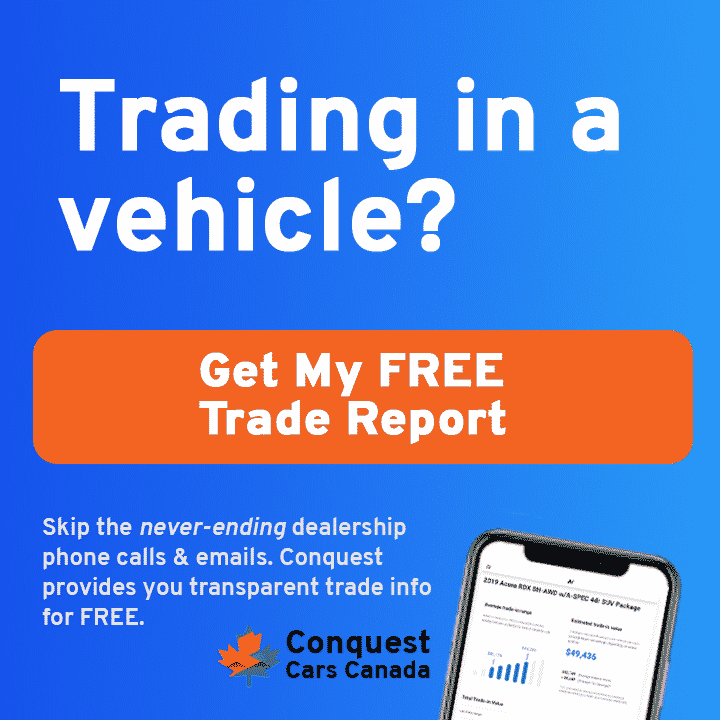 2020 Infiniti QX80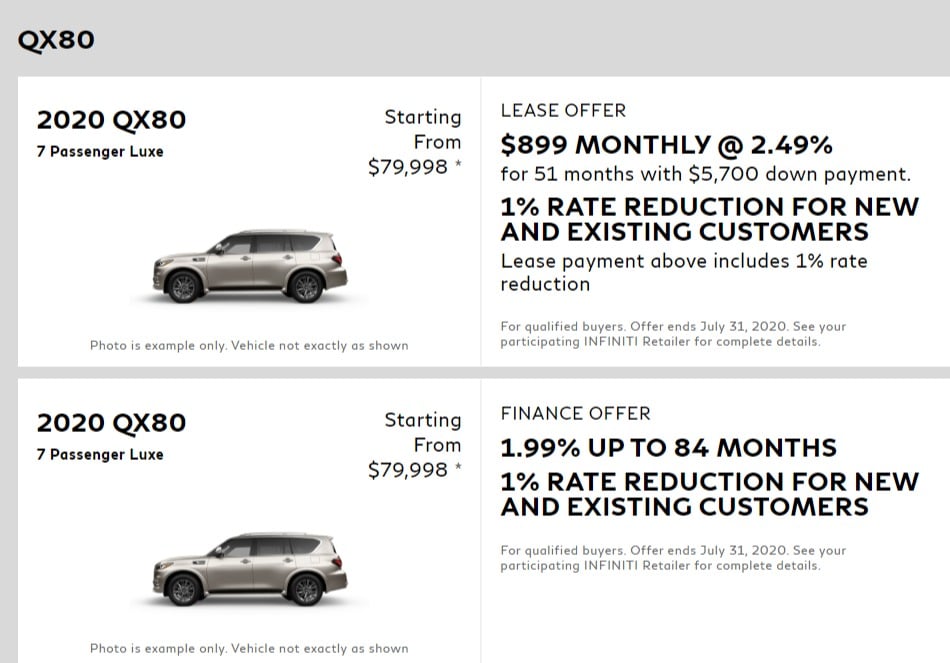 The Infiniti QX80 is a magnificent lease for under $1,000 a month considering it's only a 4-year obligation this is of considerable value with a low interest rate to boot. Get additional car discounts when you purchase through a Conquest Cars Canada certified consultant.
---
Jump To A Specific Brand:
---
Best New Car Deals From Volvo

---
Almost, New. With Huge Savings.

If you're considering a new vehicle, but want a shorter term length than what manufacturers are offering, Leasebusters is a great alternative to finding the best new car deals in Ontario. They also offer dedicated support if you're interested in transferring your current lease to someone else! They make posting easy, and help guide you through the process to get you into a new car, with no negative equity or loan carryover!
---
Jump To A Specific Brand:
---
Best New Car Deals From Volkswagen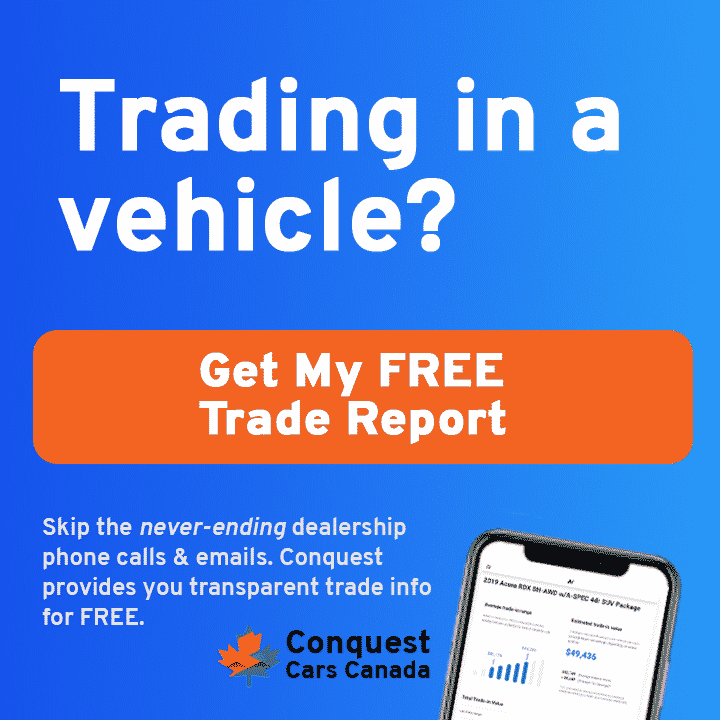 2020 Volkswagen Passat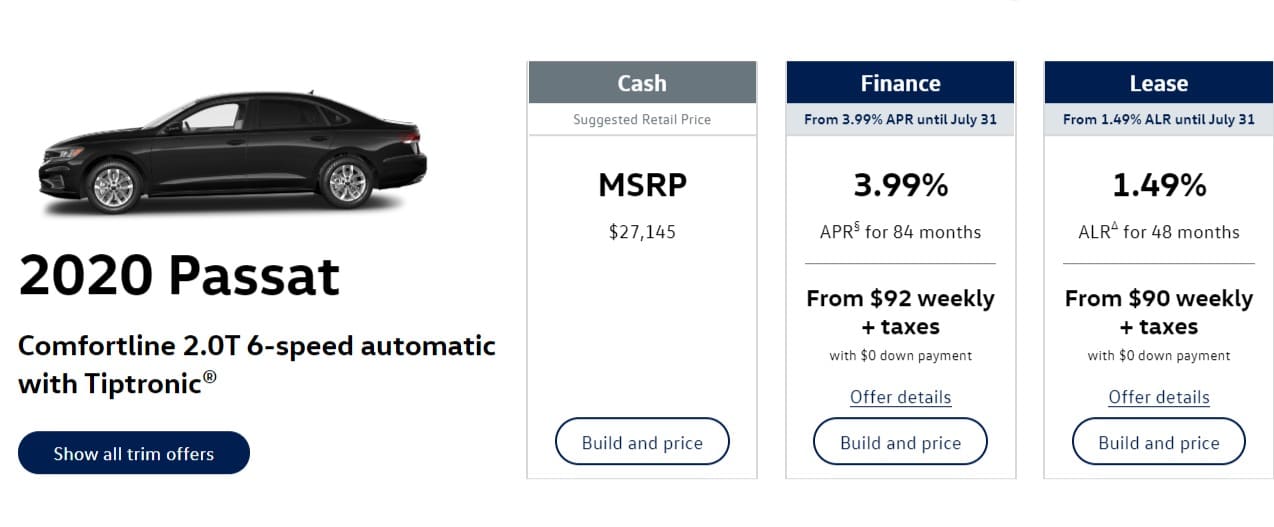 2020 Volkswagen Tiguan

2020 Volkswagen Jetta

2020 Volkswagen Golf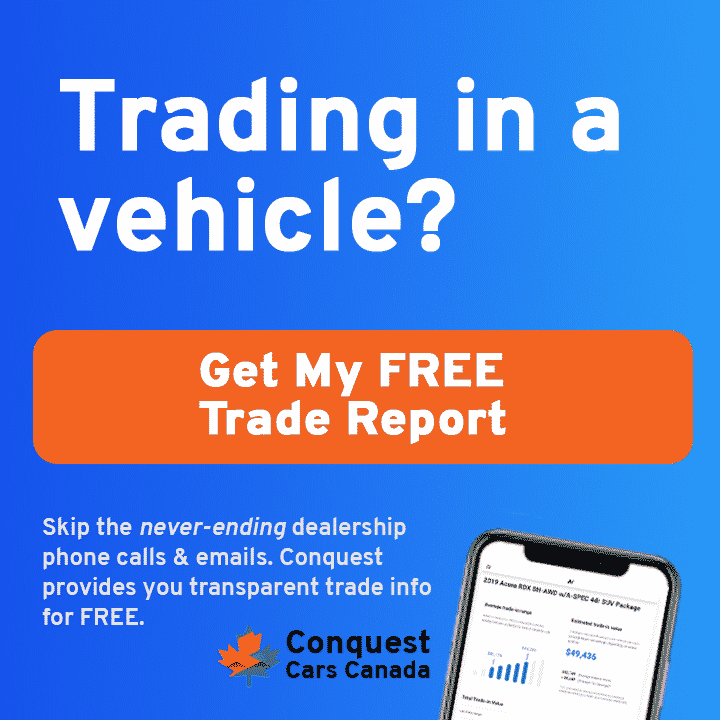 2020 Volkswagen Atlas Cross Sport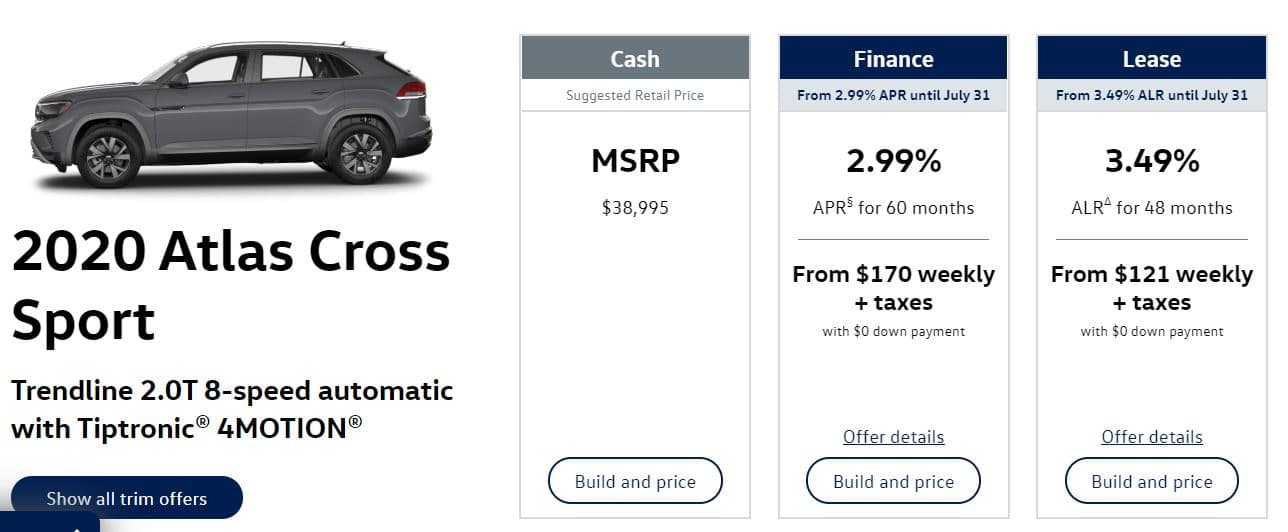 Best New Car Deals From Audi
2020 Audi Q3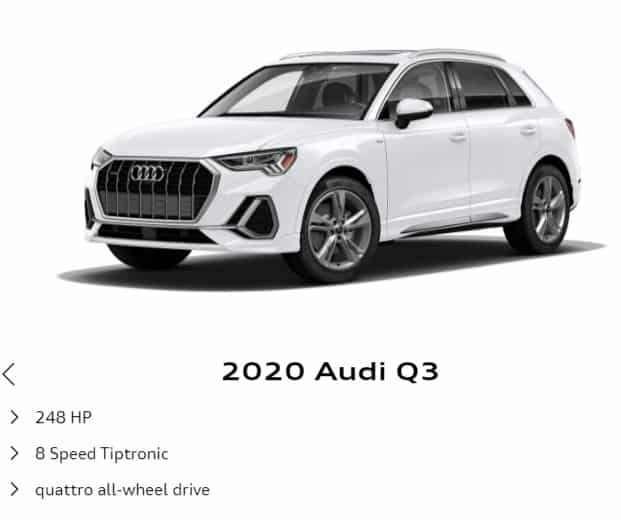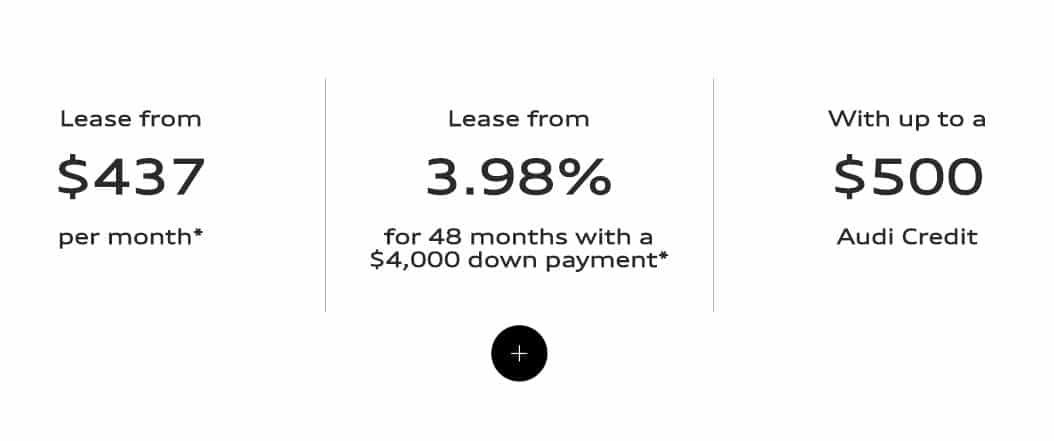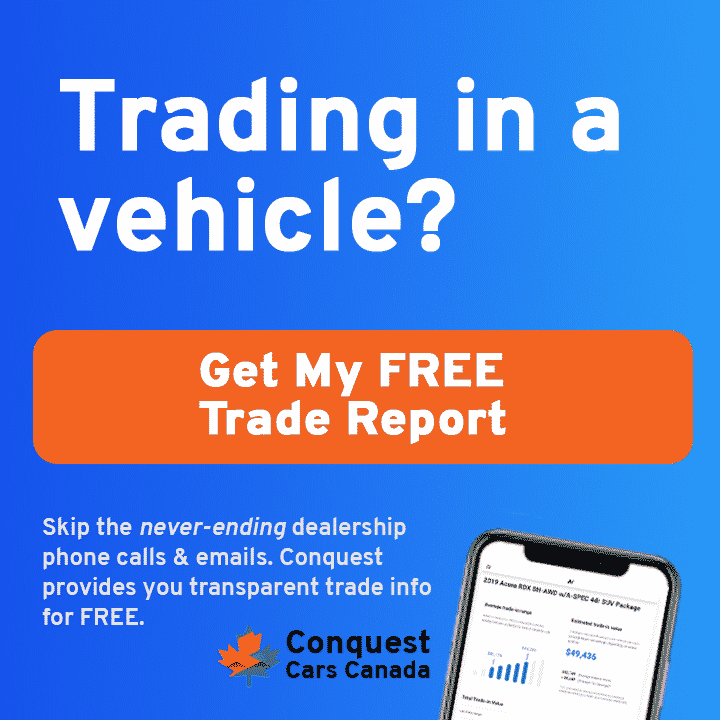 ---
Browse by brand: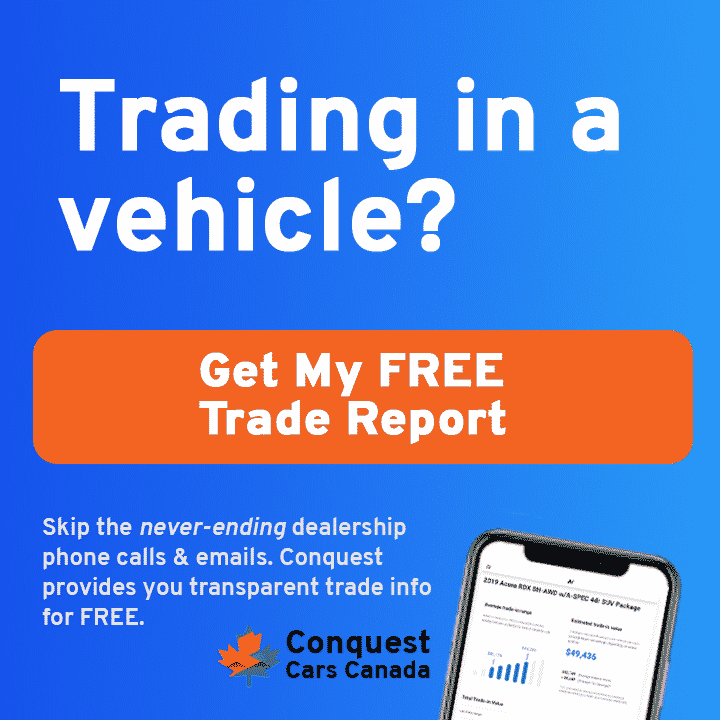 ---
Best New Car Deals From Chevrolet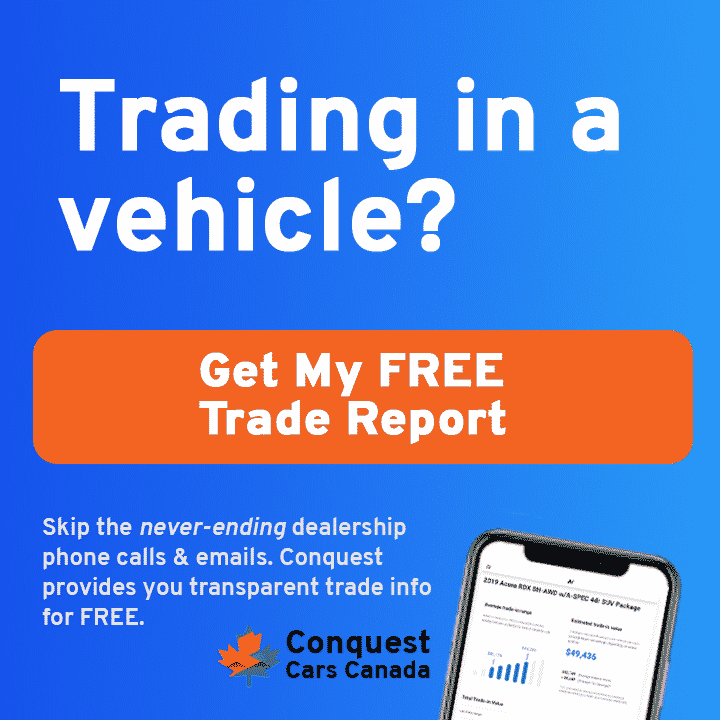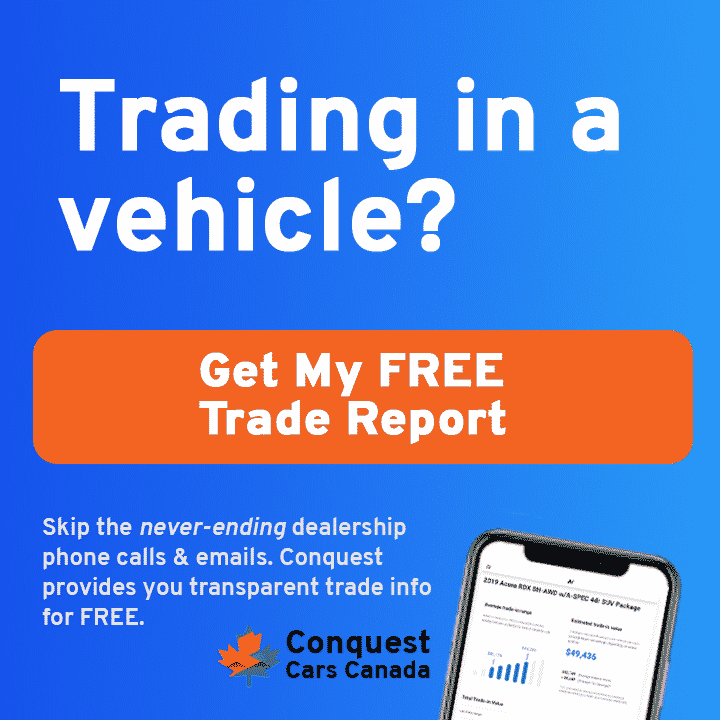 Best New Car Deals From Cadillac
The Cadillac XT5 Lease is one of the Best Car SUV Leases this month.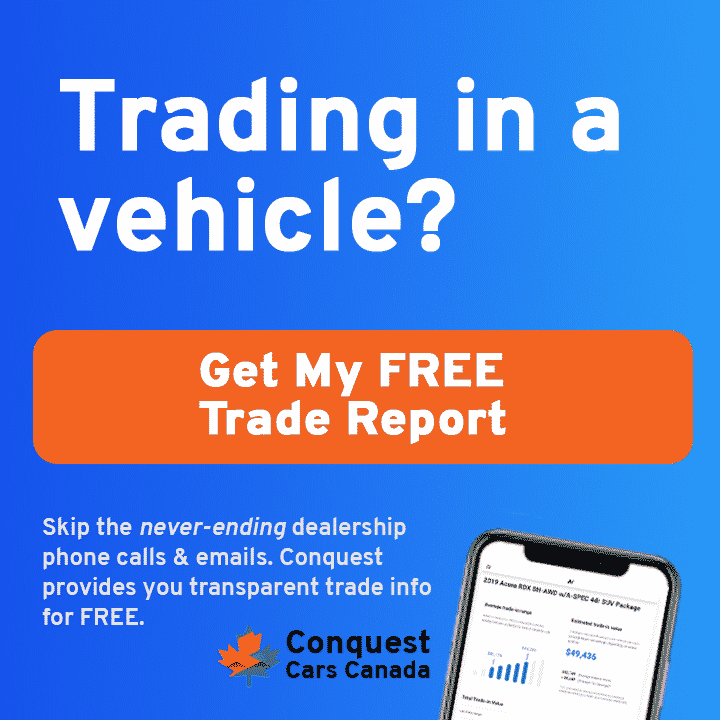 Check out an awesome in-depth review of the Cadillac XT5 here
The Cadillac XT6 is finally a better lease vs finance this month for November. Also, if you're already a Cadillac owner, expect additional car discounts.
---
Browse by brand:
---
Best New Car Deals From GMC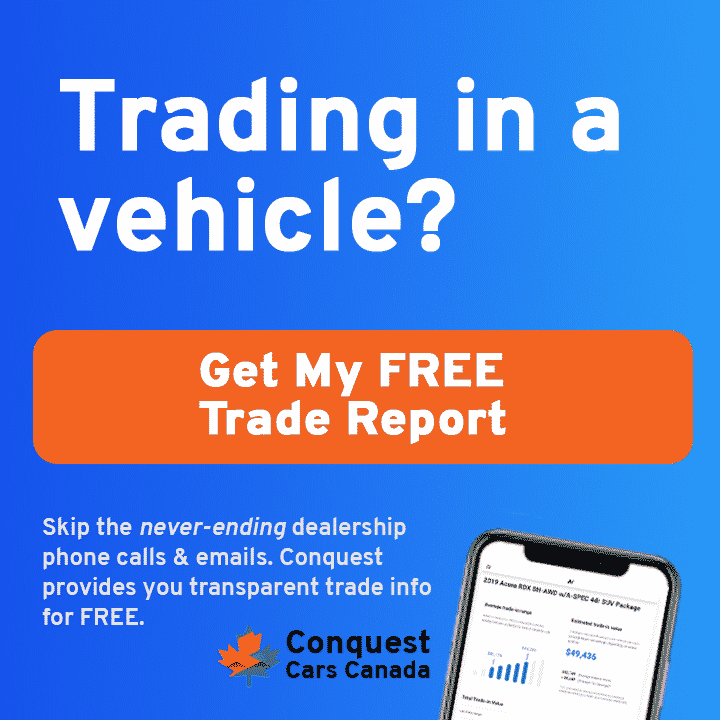 2020 GMC Canyon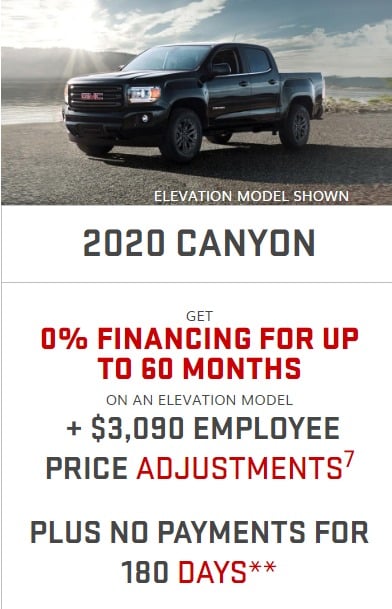 Best New Car Deals From Buick
2019 Buick Enclave
If you've made it this far, it definitely means you're avid about finding the best new car deals in Ontario. That being said, eventually you'll need to visit a dealership, so why not visit someone from a network that you can trust! Check out a payment calculator
2020 Buick Encore GX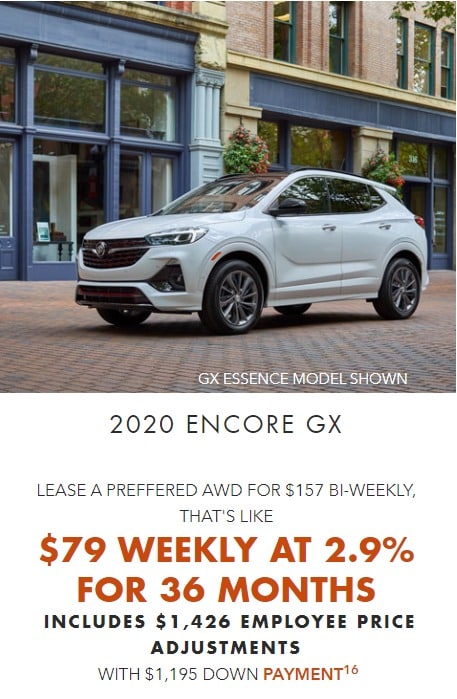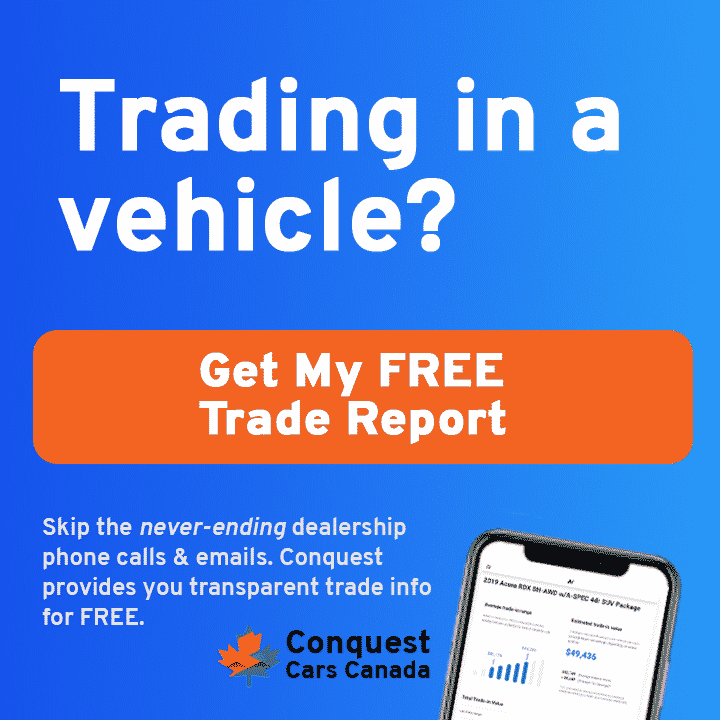 ---
Browse by brand:
---
Best New Car Deals From Subaru
2020 Subaru Ascent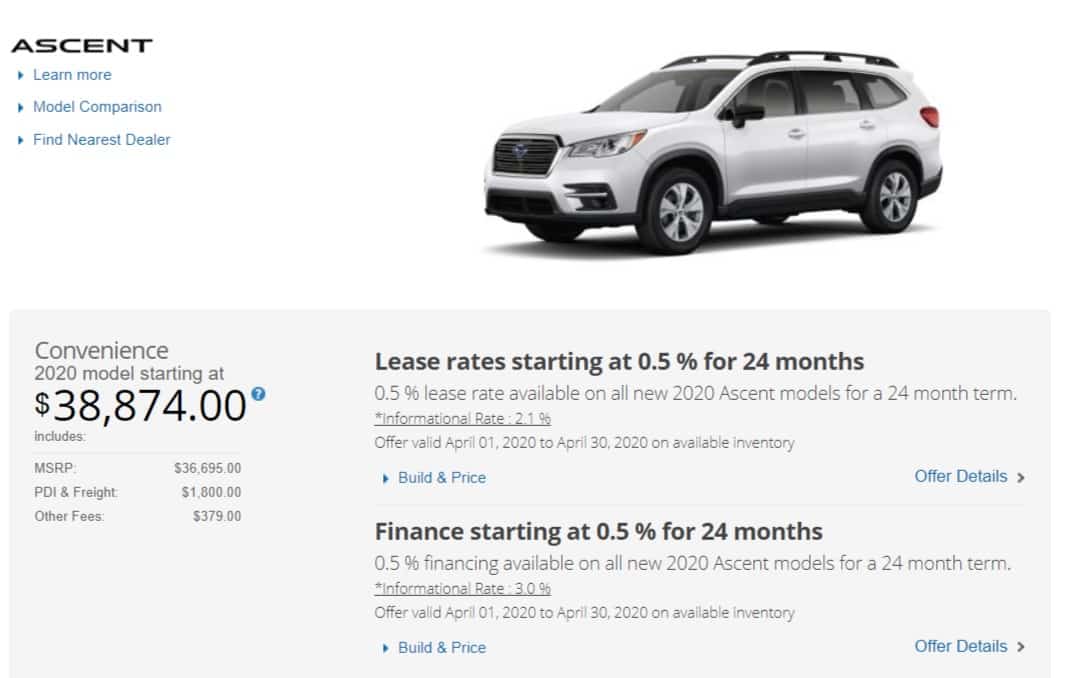 2020 Subaru Forester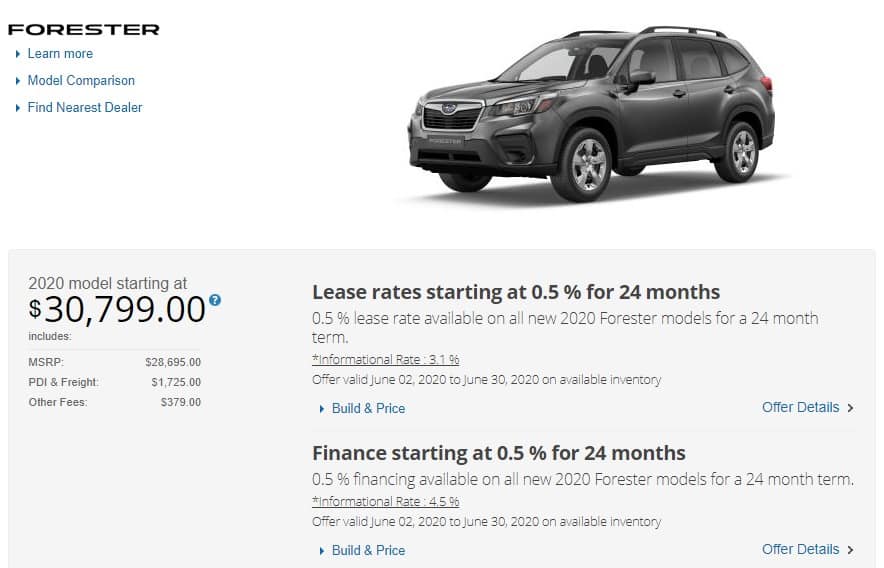 2020 Subaru Legacy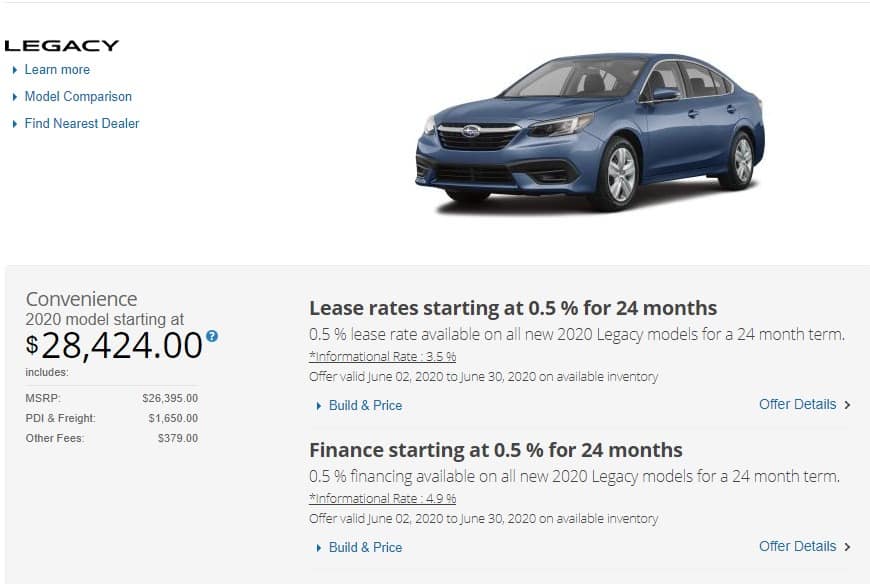 2020 Subaru Impreza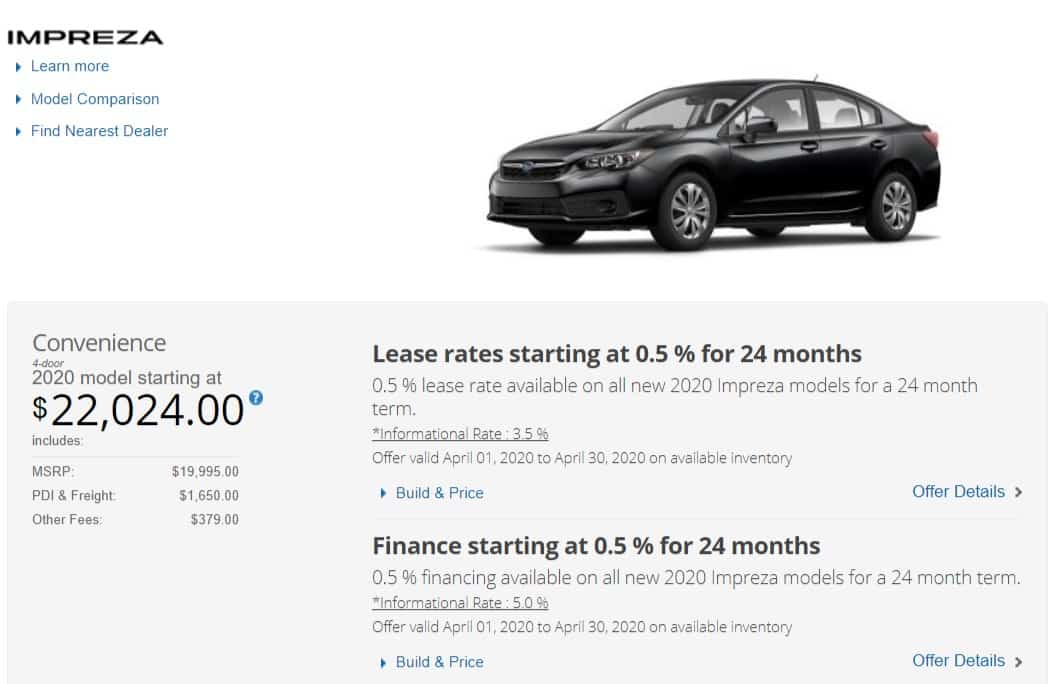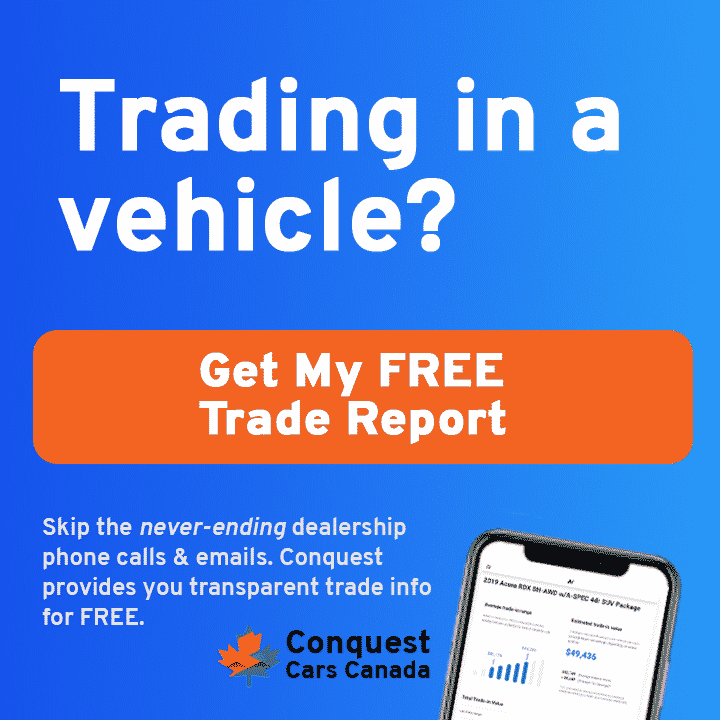 2020 Subaru Outback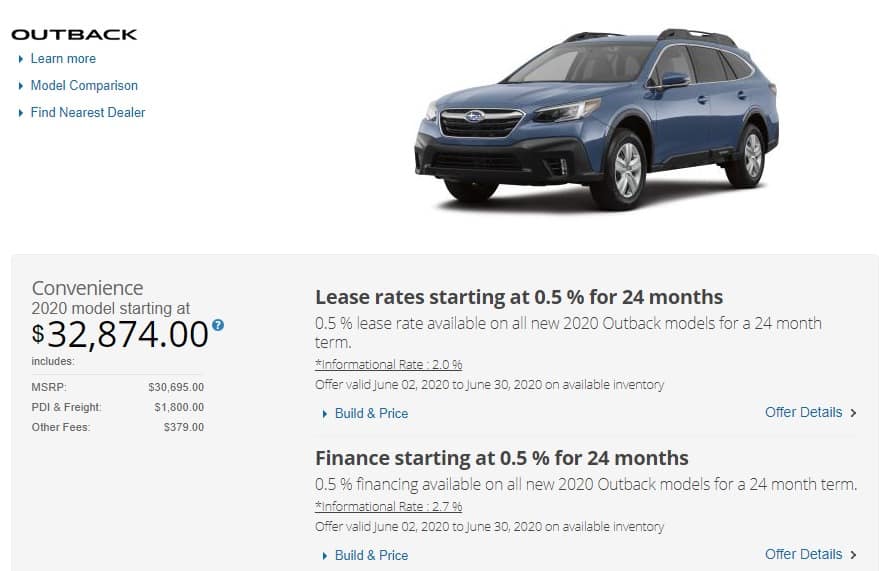 2020 Subaru Crosstrek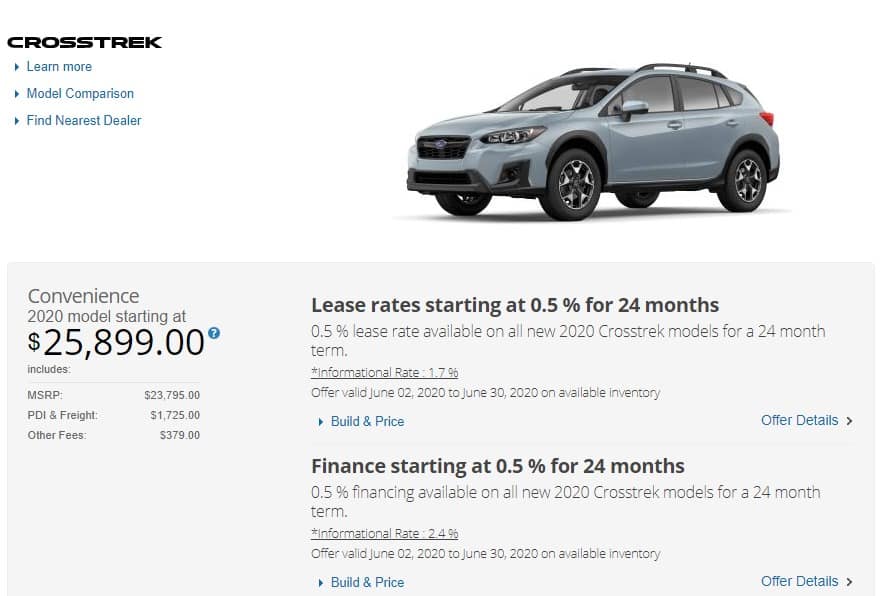 Subaru tends to not offer many cardeals because the customer retention is so high and the marketing is specific to a certain segment of consumers. You're best off to finance vs lease a Subaru because of the short term subvented lease payments.
---
Browse by brand: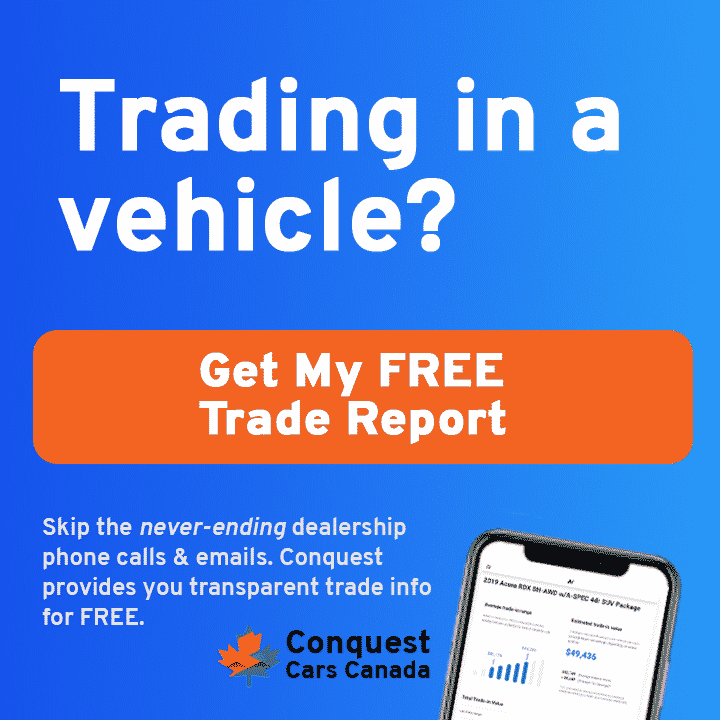 ---