What's My Car Worth? Car Value Trade-In Tool
Get your free instant trade report

Want the ballpark for your vehicle?
If you'd like to know your car value, this trade-in tool will provide you a quick appraisal value that's similar to what a dealer will offer. The range is equivalent to the value provided by Canadian Black Book, or Kelly Blue Book.
---
Car Value & Vehicle Trade In Guide
Thinking about getting a new car or selling your existing one and you need to get your trade in value? We've put together some handy information.
1. Selling privately vs trading into a dealership
2. Online Trade In Value Tools and Accuracy
3. Popular Trade Value Tools In Canada
4. Frequently asked questions on vehicle trade in value
5. Trade in your car for above Canadian Black Book value
Avoid the risk
In most cases where you might be able to sell your vehicle privately for up to a few thousand dollars more than what a dealership will offer, your real difference in savings is usually less than a few hundred dollars. After factoring for the time involved, the risk of lowballers and sellers who can't finance or afford your vehicle, and the aggravation if there's an issue with the vehicle a few weeks later, selling privately is usually not as beneficial as it may seem. You can also calculate gas savings with our calculator tool.
How to get your trade value from a dealership
Increase your car value by $300 in 30 minutes
There's a few steps you can take to increase your car value and make sure you get a higher estimate right from the beginning.
Trade privately or sell to a dealership?
It's important to understand tax-savings if you are weighing the options to get the best car value for your trade
Accuracy of Online Trade Tools?
Most online trade tools provide an accurate value to what you would get by a dealership. Values tend to range by the amount of detail asked for in the tool
---
Popular Trade Value Tools in Canada
Kelley Blue Book
Kelley Blue book is finally available in the Canadian market as of 2019. The company uses auction data of used vehicles on a daily basis. It also draws pricing from wholesale trades, private dealerships, automotive manufacturers, OEM's, and leasing companies. similar to other market tools such as ICO or Canadian Black book.
Kelley Blue book has been around since 1918 and initially began as a car review and comparison company. They later branched off to include vehicle pricing information. On their website you can find vehicle trade in information which provides ranges for a vehicle based on what the vehicle would would be sold for at a dealership, what the vehicle might be worth trading in to a dealership, and what the vehicle is worth in a private sale.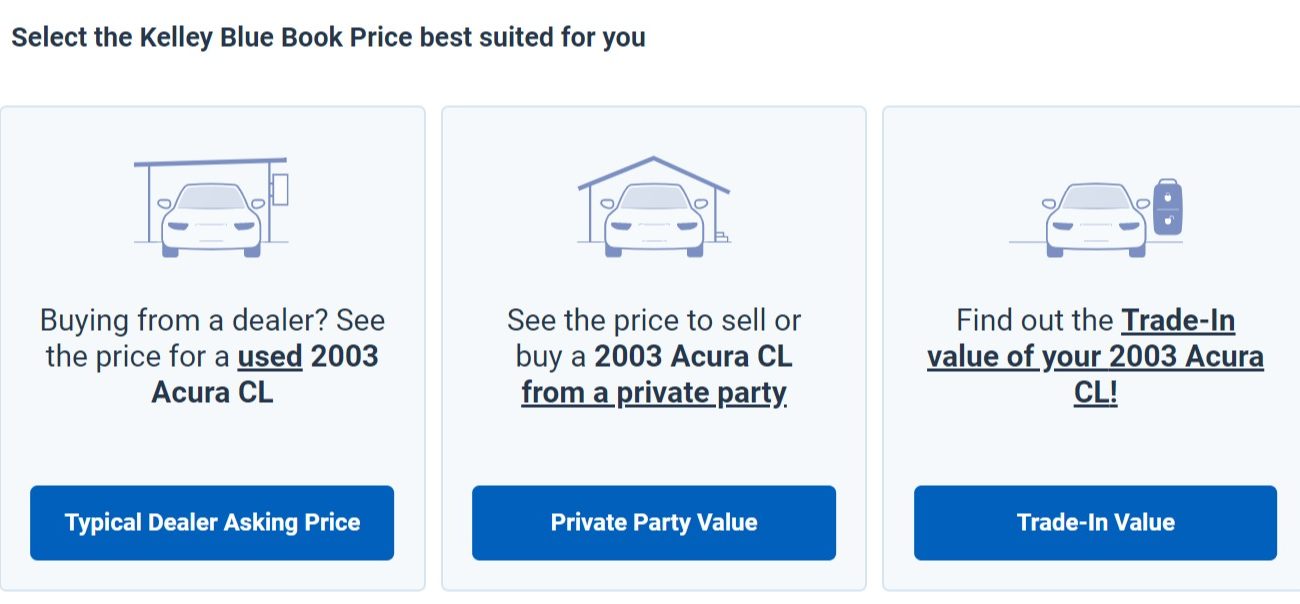 The reason why all 3 of these numbers are different are because in order to sell at the 'dealership asking price, the dealer will need to safety and certify the vehicle to increase it's car value and fall under acceptable manufacturer retailing guidelines. Generally OEM certified pre-owned (CPO) programs are more strict on safety and inspections before the car is allowed to be sold. This means better quality control and a happier client, with less problem's or come backs.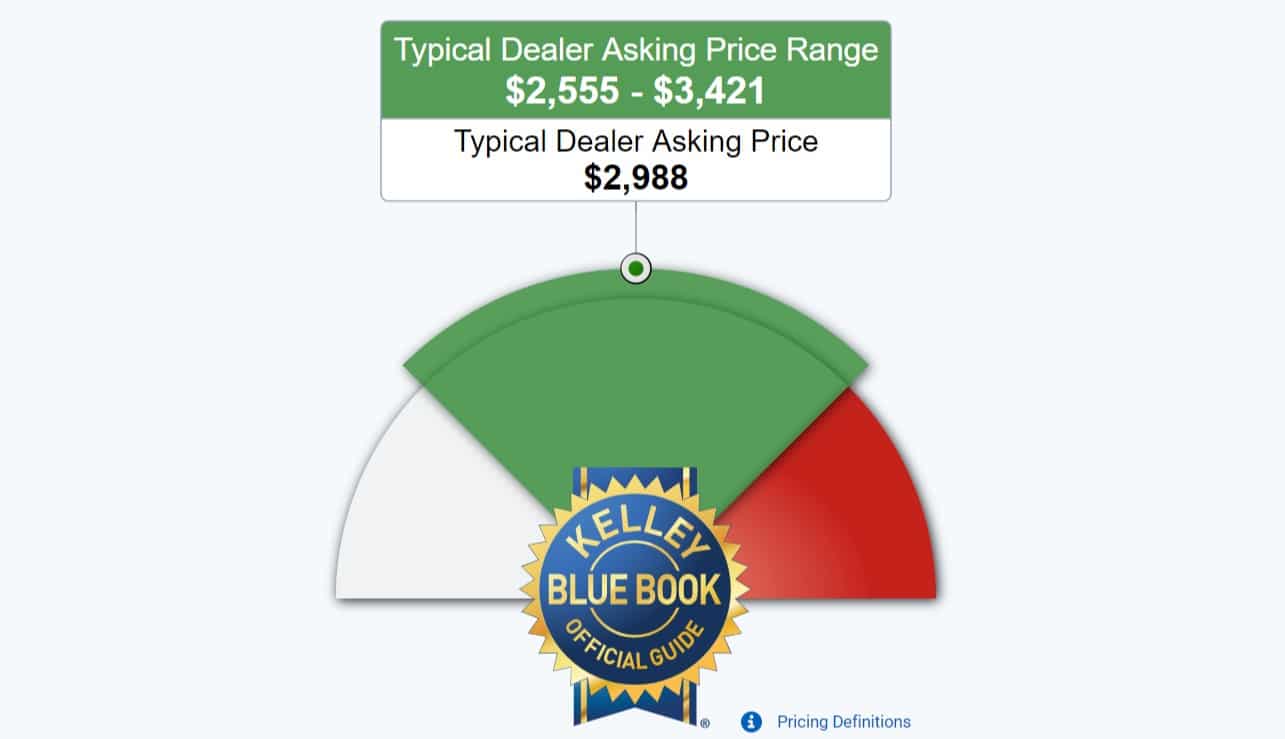 The car value on trade in is about $2000 lower in this case because the dealer must put work into reconditioning the vehicle.
As a rule of thumb, most
As a rule of thumb, most Ontario dealerships will take a trade value, and sell the car for about 1-5% over that value + $2800 for reconditioning, which includes the vehicle safety, certification, new parts if required, and detailing of the vehicle to make it ready for the lot.
You might find the Kelley Blue book value badge on some Ontario car dealership websites since they now provide a tool for dealers to display alongside their used car inventory. These badges are similar to what you find on Kijiji, which help denote a 'fair deal', 'good deal', or 'average deal' to the consumer based on the value the vehicle is being sold for. Although these badges look comforting to the consumer, the are ultimately generated by a computer opposed to a human who audits each vehicle individually. This means that they are often misleading since they can leave out critical details of why a vehicle is priced below market.
Considerations that are missed by these 'good deal' badges which can influence a value's true 'value' include it's vehicle history report ( Carproof), it's interior condition (scratches, rips), if the vehicle was smoked in or not, or upgraded packages that may not have been decoded by the VIN (i.e. sunroof, upgraded rims, roof racks, or a bed liner in a pickup truck)
Canadian Black Book Car Value
Canadian Black Book is technically the little brother of Kelley Blue book. It was created in 1955 in Canada as a way for Canadian dealerships to evaluate trade prices.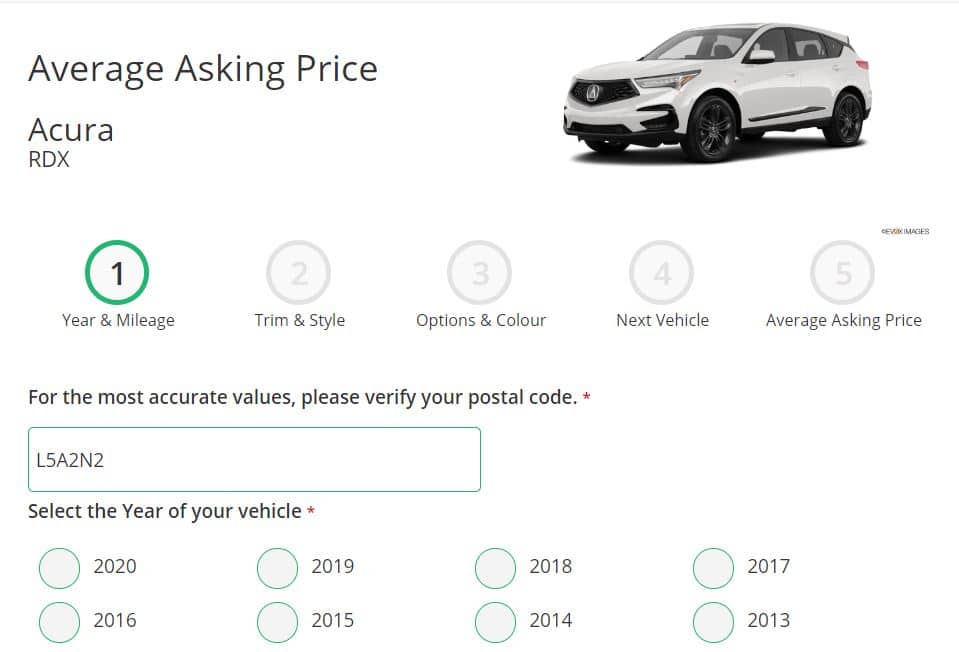 Most trade tools derive their trade value based off Canadian Black book information, however Canadian Black book also provides their own stand alone car value tool to find a trade in range. Unfortunately when you obtain a black book value through their website, they require you to put which vehicle you are considering upgrading you to next, and your information is passed a long to another dealership. This is one disadvantage the website has compared to Kelley Blue Book or the Conquest Trade Tool, where you can get your trade value instantly without it being sold.
Why do most dealers provide a value less than Canadian Black book?
This is a 2 part answer because Canadian Black book provides consumers a value based on a range. This range tends to highlight what the cleanest vehicle (highest value) and the dirtiest vehicle ( lowest value) could be sold for based on private market data, wholesale auction information. Unlike Kelley Blue Book, this number is more often approximate to what the vehicle would be sold for, rather than what it might be traded in for.
As mentioned above, their is about a 1-5% difference in price plus generally $2800 worked in for a vehicle's reconditioning which will make up the difference between it's trade price and and its selling price.
Carfax Car Value
The Carfax trade in tool provides a trade range similar to Canadian Black Book and Canadian Blue Book. The range from this tool is based off of all the data Carfax options from used vehicle history reports in it's database. It is able to determine the fair market value using similar methods to the above competitors.

Carfax charges for vehicle history reports to consumers and dealers, however it's trade tool is free for consumers to use without the entry of information. It is usefully for getting a ballpark payment range, however it does not ask enough specific information for you to price shop a dealership on. Their trade in tool asks for vehicle year, make, model, and province, and provides a large range based off the information. It does not account for VIN specific additions or packages that could be on your vehicle which increase it's value.
VMR Canada Car Value
VMR Canada has been around since 1999 and currently offers a trade in value. They are the 'pro consumer' trade evaluator to help provide more transparent pricing information. No surprise, they get their data for extensive auction information, government data, and factor in vehicle incentives and programs.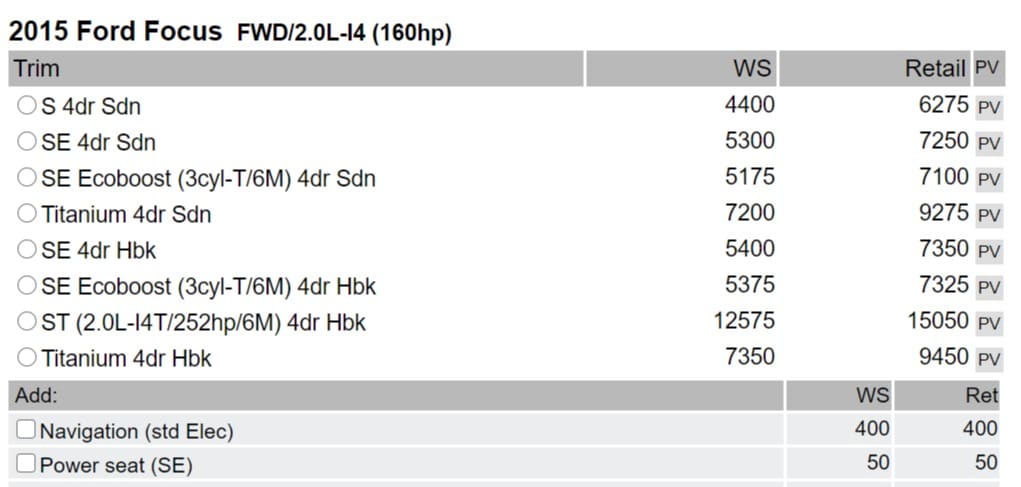 Although their car value tool isn't as sexy as others that are now available, it still gets the job done. Although, Conquest's car value tool is probably going to be a better experience if you are browsing on mobile.
Frequently Asked Questions On Trade In Value
What is a Canada Black Book value?
A Black book value is a trade amount given for a vehicle based on aggregate data from a marketplace. It factors kilometers, trims, packages, and conditions. Canadian Black book was originally a physical book that dealers would reference to provide trade-in values to their clients in the process of selling a vehicle. The brand has been around for over 55 years and is widely trusted in the industry as a reference point for resale value.
How is the Canadian Black Book value effected by vehicle condition?
Vehicles are given a Canadian Black book car value based on their condition – ranging from rough, average, clean, & extra clean. Dealerships and auctions reference these 4 categories to provide a better estimate on where the vehicle would sit. Typically, online appraisers are set to 'rough' as a default value, which always tend to value a vehicle on the low end.
Why do dealerships give values lower than Canadian Black Book?
Dealerships tend to purchase a vehicle for a 'wholesale value', and then sell the vehicle at a 'retail' value. In order for the vehicle to be resold, it goes through a 50-100 point inspection, a complete detailing, and a certification process. A dealership will always purchase a vehicle at a 'wholesale' value because of reconditioning costs. They also incur risk if the value of the vehicle is overpaid, the market supply changes, the vehicle is not able to to be sold, or incurs interest on the lot.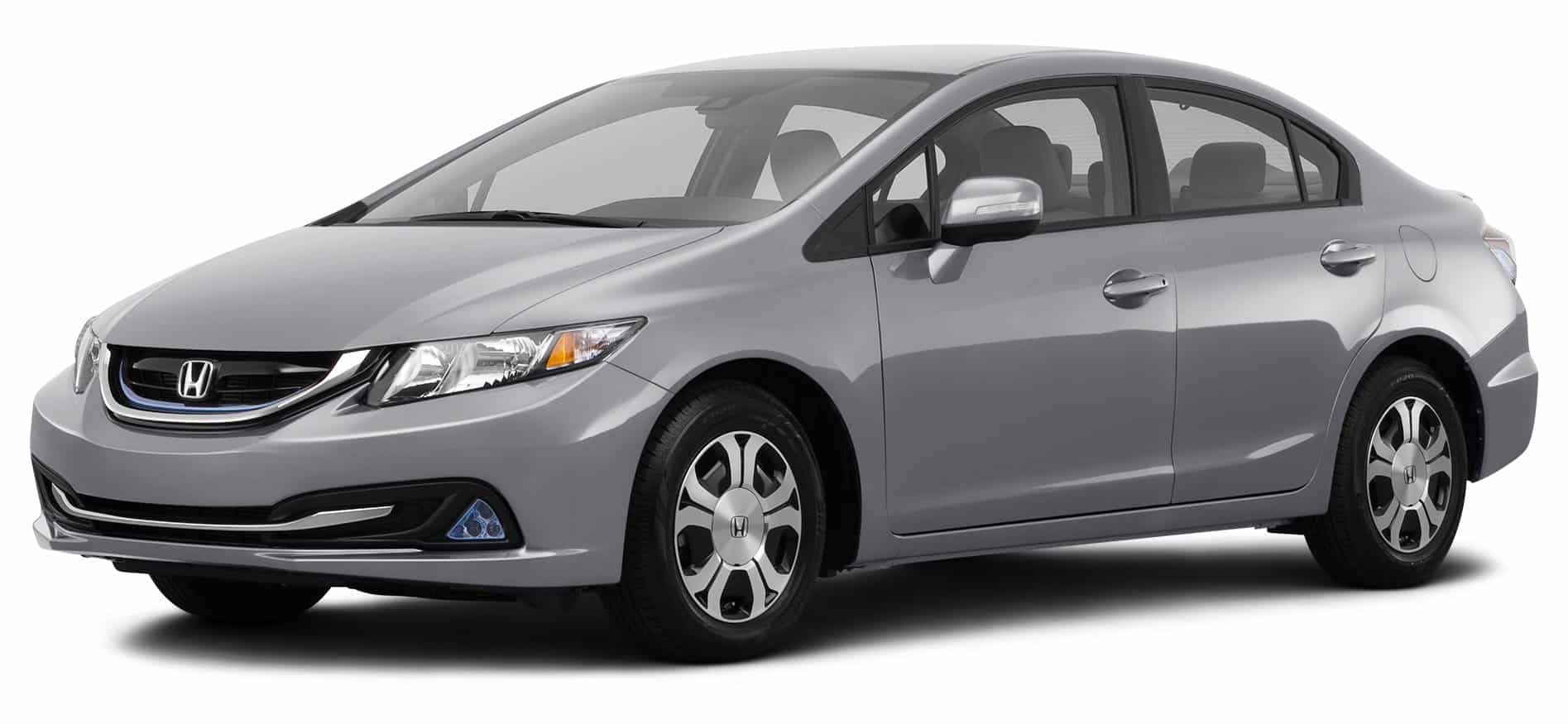 Can you get a Blue Book Value in Canada?
Kelly Blue Book produces trade in values that are exclusive to the United States, based off American auction data from cars that are sold. In 2018, Kelly Blue Book has released their trade in tool to be available to dealers in the Canadian market, and the values should be similar to those collected from Canadian Black Book.
Is Blue Book value better than Black Book Value?
Blue book value is notably related to Kelly Blue Book – car values derived from vehicle auctions that run in the America, versus Canadian Black Book Values, which are based off of Canadian Auction sale prices. Kelly Blue Book now operates in Canada, and the trade values between the 2 tools should be similar.
Is it better to sell a vehicle privately, or trade in to a dealership?
Although you may be able to get more for a privately sold vehicle, you often aren't much farther ahead than selling to a dealership. The reason for this, is that you have to incur the work and time required to meet with prospective buyers to sell the vehicle, and deal with negotiations and online price haggling. Selling your vehicle to a dealership will reduce the total cost of your new vehicle, which means you will also save money on the total of taxes paid. If you sell privately in Canada, it is required you purchase and provide a used vehicle information package.
What's my car worth when my lease ends?
Your vehicle value at lease end is already predetermined in a closed lease, which is what 90% of manufacturers offer. At the end of your lease you have the option to return the vehicle or purchase it. If you are considering purchasing your vehicle, you'll need to understand what the 'residual' end of lease value is, versus your car's trade in value. You can use the trade in calculator above to get a value for your vehicle. If your residual 'buyout' amount at the end of your lease is higher than the number provided from the trade in calculator (what the car will actually be worth in the private market), then you should not purchase the vehicle. In this case, you'll actually be better returning your vehicle, and purchasing the model at it's fair market price from the dealership.
How do kilometres effect my car trade in value?
Generally speaking, the lower the lower the kilometres on your vehicle, the higher the value. A common benchmark for kilometres driven per year is 20,000. If a vehicle is 4 years old , and has 80,000 kilometres on the odometer, it is a pretty common benchmark. In the case of a 4 year old vehicle with only 40,000 kilometres, this vehicle will have a higher trade in value, because it is in newer shape. This is true for lease returns as well. If you are considering purchasing your car because the kilometres we're well below your allotted lease amount, you might also want to use a trade in tool to get your car's value to see if it will sell for a higher amount than the buyout.
Is Canadian Bluebook a better value than Canadian Blackbook?
Both trade in tools provide a range to help determine what your car is worth without having to visit a dealership. These tools approximate the car value based on market and auction prices. For vehicles that are driven more or less than the average 20,000 kilometres per year, have a carproof damage claim on them, or are a less common colour or model, you should still visit a dealership for the most accurate value.
Do any of these trade tools guarantee my trade in value?
None of the trade in tools online will guarantee your vehicle's trade in value except for ICO – the instant cash offer tool by Accutrade & Autotrader Canada. The tool gives you a value for your vehicle that can be cashed in at a participating ICO dealership. This value is often lower than most other trade in tools, because it is guaranteed, and accounts for sight unseen issues, such as scratches, conditions, or carproof claims.
Can you get the cost or 'true value' of a used car using a trade in tool?
Technically, you can work backwards to approximate the cost pricing of a used vehicle. If you are considering a used car and want to ensure the car is a good deal by checking it's value, you can plug in the vehicle's VIN, kilometres, and model information to see what a dealer would purchase the vehicle for. From that value, a rule of thumb is to add $2800 +1% to account for safety, reconditioning, and making the car ready for the used lot. This generally provides an accurate range for what the vehicle was purchased or traded in for! Use our trade tool to check the true value of the next used car you plan on purchasing.
Do trade in values differ by province?
Trade values will certainly differ based on province and even region due to the volume and availability of that particular vehicle, or the capability of the vehicle. For example, a truck might be sold for a higher amount in rural Ontario since there may not be as many on the market, or it's more capable and higher sought after in regions where farming is more common.
Trade in your car for above Canadian Black Book value
4 minutes 4 minutes.
In 4 steps you can get above Canada Black Book value for your trade-in

Know the grading conditions given by a dealership

A dealership will grade your vehicle based on its appearance and service history. The grade will range from rough, average, clean, and extra clean. In almost all conditions, a vehicle's presumed value by a dealership can be increased by taking a few simple steps, which can help increase the amount you get for your vehicle by a few hundred, to a few thousand! This savings is further multiplied by tax savings which reduce the cost of the new vehicle, since there's a lesser total to pay tax on

Clean your vehicle

This step seems obvious, however if you want to get the best Canadian Black book value, you need to make sure you take photos of your vehicle, or bring it to the dealership after you've taken the effort to clean it! Running your vehicle through a car-wash and buying $5 tire shine and rim cleaner could make your vehicle look $100's of dollars more valuable to a dealership. Also, make sure to empty the garbage that may be in the passenger side or trunk.

Complete regular maintenance on your vehicle

Your vehicle's service history is available from a dealership portal as long as you had it serviced at franchised manufacturer dealers, or service chains like Mr. Lube or Midas. Oil changes, and simple maintenance. This service history shows on a Carfax vehicle history report, which will increase a vehicle's Canadian black book value because it shows it has been well taken care of. Dealerships will save this money on the cost of reconditioning the vehicle to make it ready for resale at the store.

Include Extra Packages & Accessories

Most trade-in tools rely on market data, which means that not every vehicle will have the certain upgrades or packages your vehicle has! Pound for pound, your vehicle may be the same trim, but it also may come with a sunroof or speaker package which increases the car value. In addition, certain accessories, like winter tires, mats, towing hitches, or roof racks can increase a vehicle's value to the dealer! Some trade-in forms have trouble accounting this information, so a dealership may be unaware of extra features or accessories when evaluating your vehicle's trade in value! Speak up, and you may find yourself an extra few hundred to $1000 in added value to the appraisal.