Info & Tips
May 2019 Edition – Here are the best new cars deals in Ontario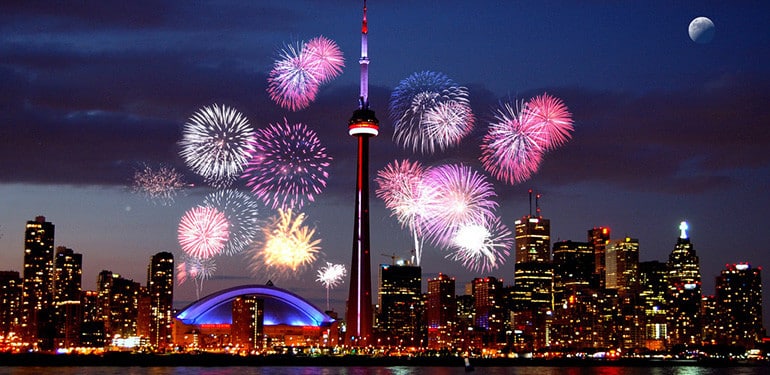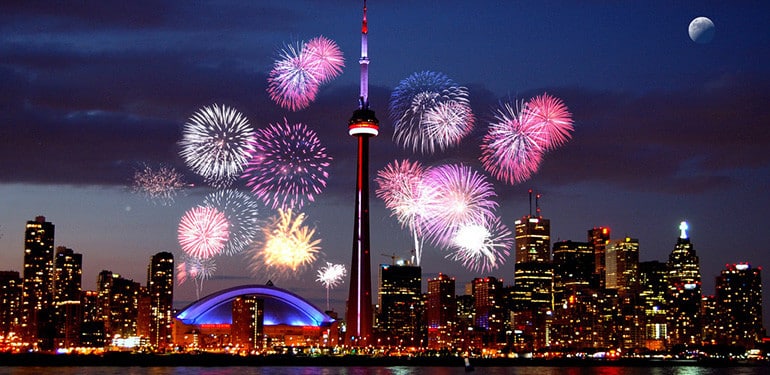 There is a newer and updated version of this article available.
Grass cutting, BBQ's, and longweekends, it seems like we may skip spring this year and jump right into summer. If you're looking for a new vehicle, here's a rundown on the best new car deals in Ontario this May including events and tips to keep in mind.
May 2019-Deals of the Month
Compact Car: 2019 Chevrolet Sonic Lease
Crossover: 2019 Hyundai Kona 2.0 FWD Lease
Full Size SUV: 2019 Toyota Sequoia SR 5.7L Lease
Truck: 2019 Ford F150 Lease (In-house short term options)
May carries over many existing programs from April, with the addition of some extra Loyalty and Conquest credits. Most lease down-payments have increased in May. The Chevrolet Sonic lease is one of the cheapest 5 year leases available in the market right now if you're looking for a starter car. Although the Nissan Micra is cheaper, the Sonic offers far more standard features, including Apple Carplay & Android Auto which give much more functionality. The Kona lease is tremendous when you factor in the $6 weekly upgrade for a heated steering wheel. Most manufacturers  bundle this feature in their highest trim packages. The Sequoia offers great value for a full size 7 seater option with $0 down. Tough to find! Lastly, many Ford dealers offer short term (24-36 month) in-house leases on their F150 trucks. These leases have a downpayment in the neighbourhood of $2500 depending on the dealer, and give you the ability to own a highly equipped Lariat (heated and cooled seats)- great option.
If you're ready for a new car, submit your Conquest Cars application to get matched with one of our consultants

Thinking of going green? An extra $5000 is available to you starting May 1st.
In an effort to reduce emissions and pollution on the road, the Canadian government has activated a 'Zero Emission Initiative' known as the IZEV program to curb the cost of hybrid and fully electric vehicles. Expect up to $5000 off certain qualifying models depending if you're leasing or financing. To learn more, visit here.
May carries over many programs from last month for most manufacturers, with some internal program tweaks and extra money available for loyalty or conquest purchasers.
What are your thoughts on Leasebusters?

Some readers have been asking about short term lease or 'takeover' options shown on Leasebusters. Over the past few years, 'lease takeovers' have become far more common and are increasingly turning into great options for shoppers who want a great deal. Working through a reputable company like Leasebusters makes it easy to find legitimate lease contracts that you can takeover. In most cases, you can get the benefit of a lease, with no down-payment. Their listings are constantly changing and I highly recommend them if you've been considering.
Check out some of the vehicles on Leasebusters that are available as lease takeovers here.
Hyundai

The Hyundai Ioniq is an interesting pick this month considering it qualifies for the IZEV credit. The finance is a smarter choice for this vehicle considering you get the full $5000 of the program credit. A term shorter than 5 years would not justify the additional upfront costs against the gas savings. Past the 5 year mark you can expect to have paid off the 'electric premium' and begin to now save money on the hybrid fuel economy the vehicle provides. The addition of the IZEV certainly helps in getting the best new car deals in Ontario for electric vehicles!

The Kona is a great looking vehicle and hard to beat because of the heated steering wheel option available without being forced into a top trim. A 5 year lease at a competitive payment makes this vehicle a reliable lease option.
Kia


Kia has continued similar programs again from last month, however they have dropped their 'surprise bonus' of up to $2000 off certain in stock models. Last month this bonus made their lease offerings considerably more competitive against their competition.
Honda | Acura

The Civic offer holds strong with a competitive $0 down lease option.

The Accord offers a $0 down mid size option on a 5 year lease that is becoming harder to find. Most manufacturers have opted to only make 7 year financing options competitive on their mid and full size sedans.


The RDX lease pricing has increased over last month by a small amount. Despite no money down, the payments and rates work to be similar to what other luxury manufacturers are offering on their 5 seater SUV's (such as the Cadillac XT5). This is a segment has been quite hot recently and looks to be finally cooling off. If you've been thinking of an RDX, ask about loyalty or conquest options, otherwise we've seen better!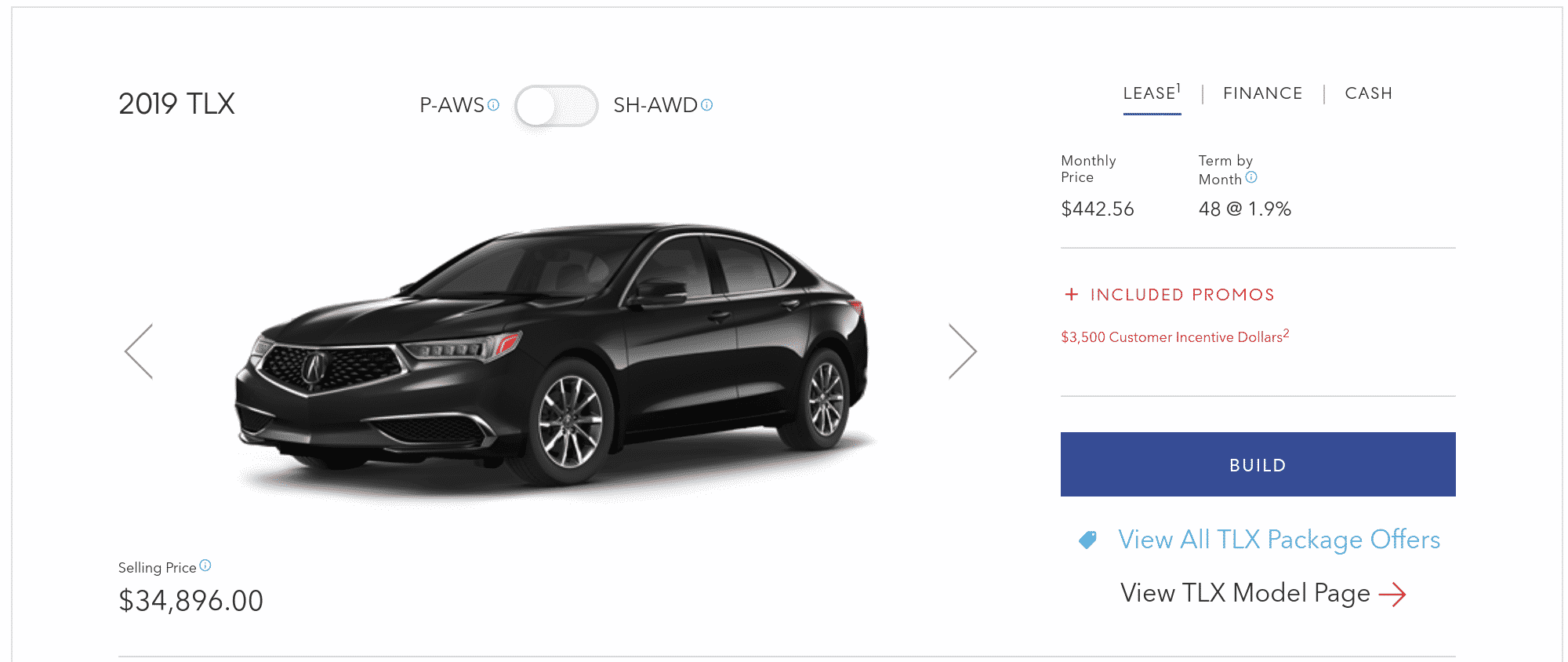 Ford | Lincoln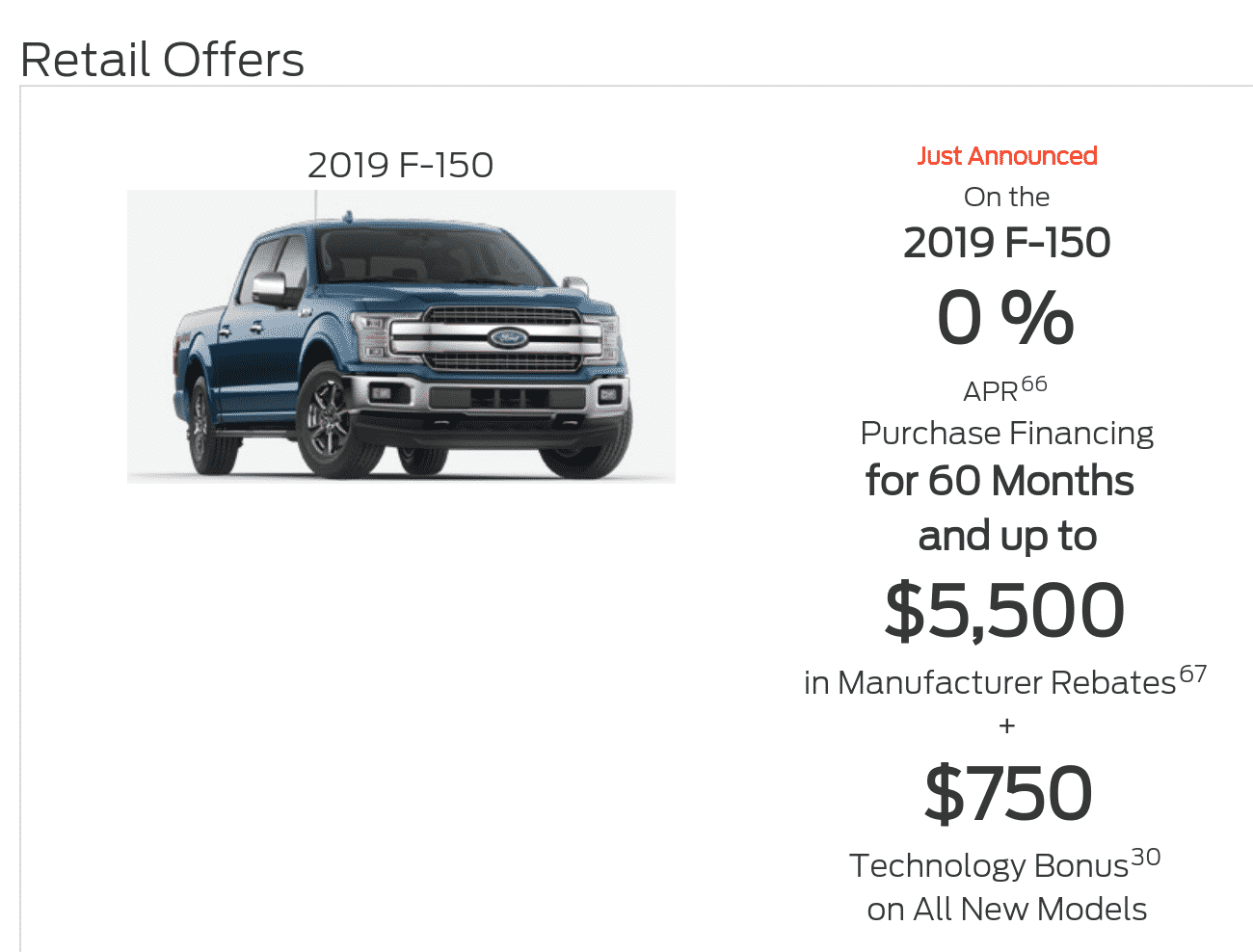 Ford has taken an interesting approach to advertising their 2019 F150's. The Payments are competitive, and the dealership specific offerings on leases seem to be even more attractive than what Ford Canada has advertised. Expect great deals on short term leases depending on the dealership.

.

Similar to last month, Ford has continued with 0% on the Escape. There are loyalty credits available to existing Explorer drivers who may be interested in an upgrade this month to a 2019. Spring season also brings $3500 off the new 2019 mustangs and low rates to make them quite affordable.
Chrysler | Jeep | Dodge | Ram



Similar offerings to last month, ensure you call ahead to your Dodge dealership to inquire that they have these Ram BigHorn models in stock that you can claim the lease pricing on. There is limited availability of these vehicles.  If you have questions or are looking for a Dodge/Ram dealership or consultant who can answer your questions and help you find one of these trucks, visit here to get paired with an Conquest Consultant. We're happy to help you find the best new car deals in Ontario.

Mercedes

Mercedes has consistently advertised these featured vehicles with a similar down and monthly payments month over month.


Toyota | Lexus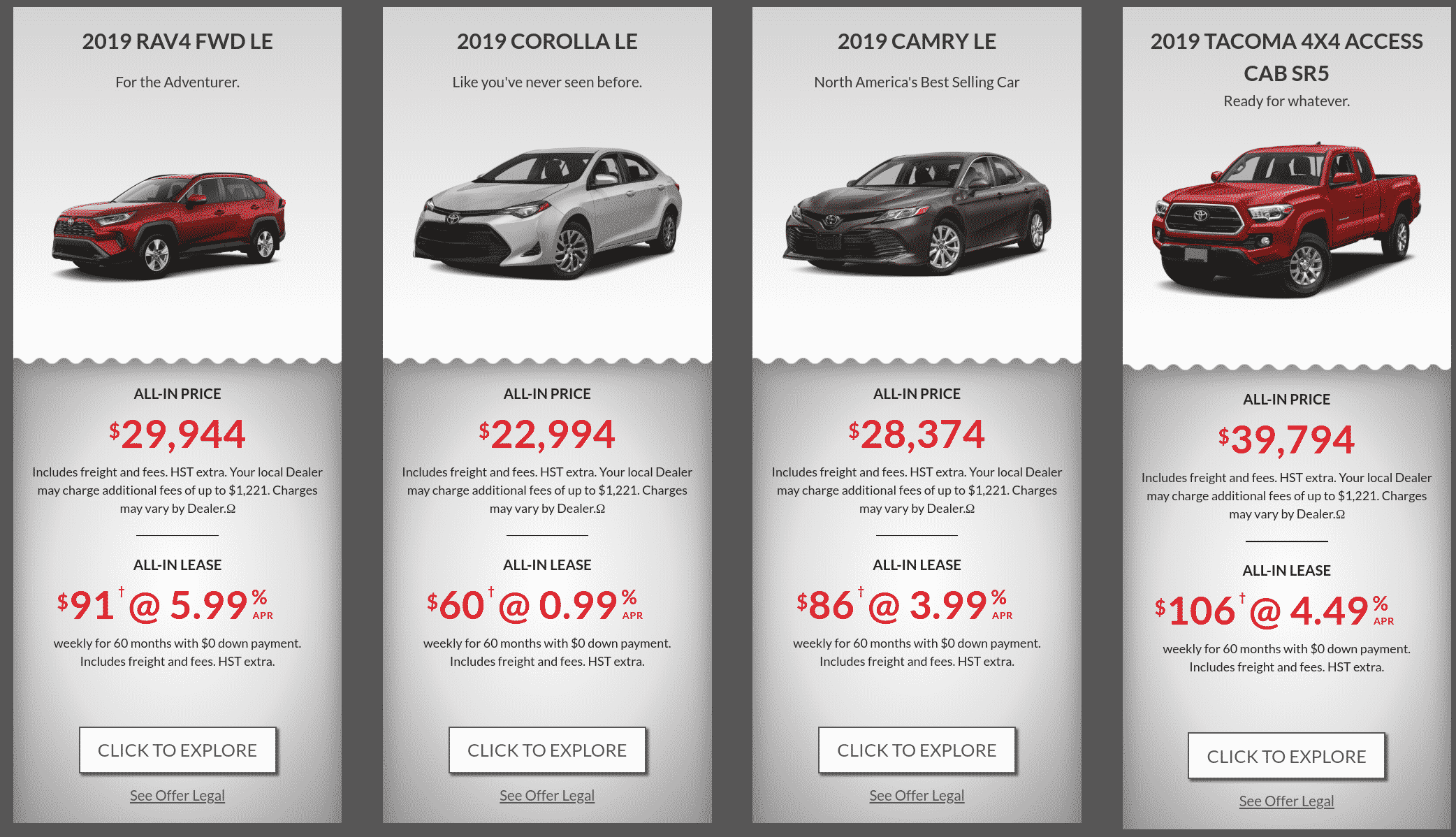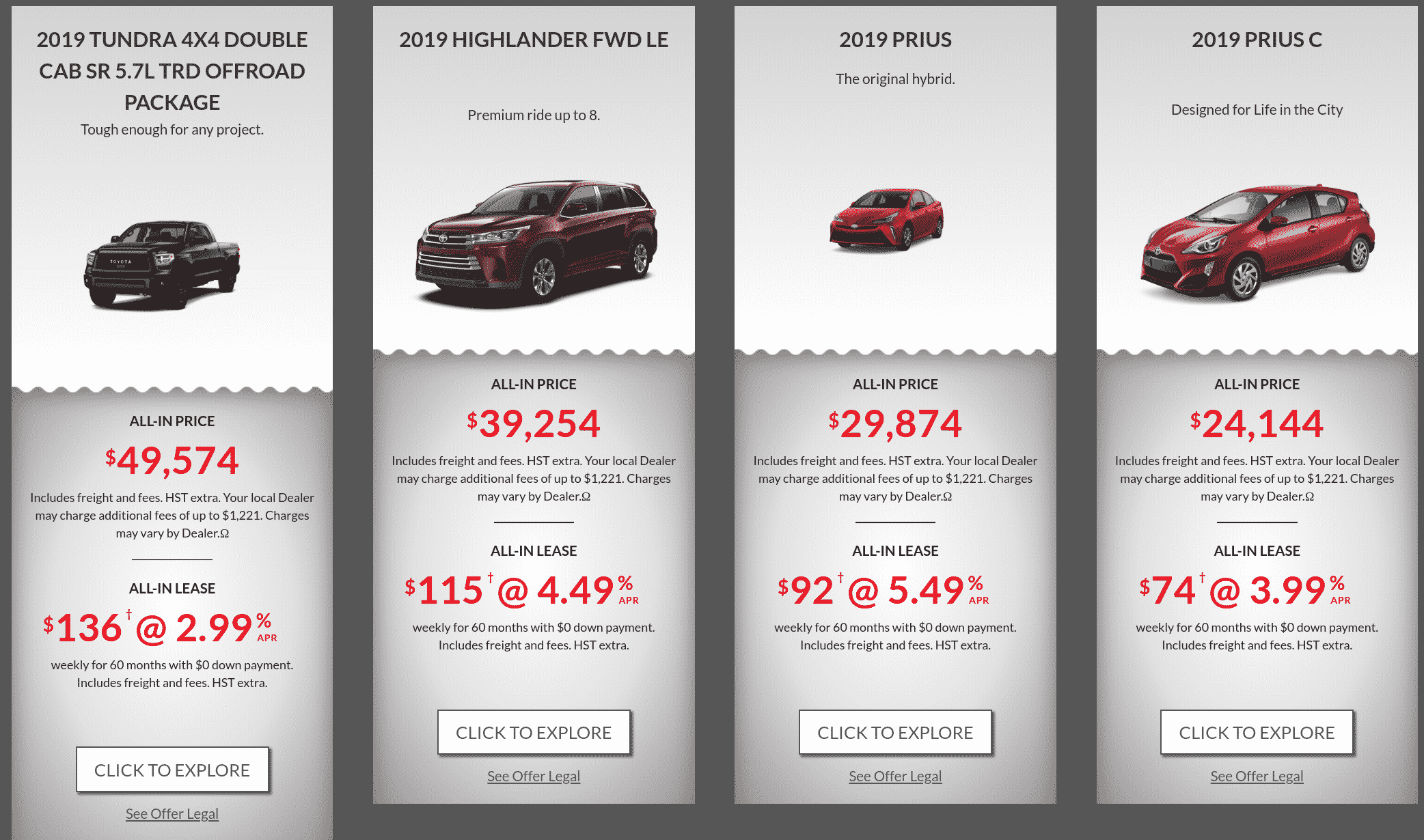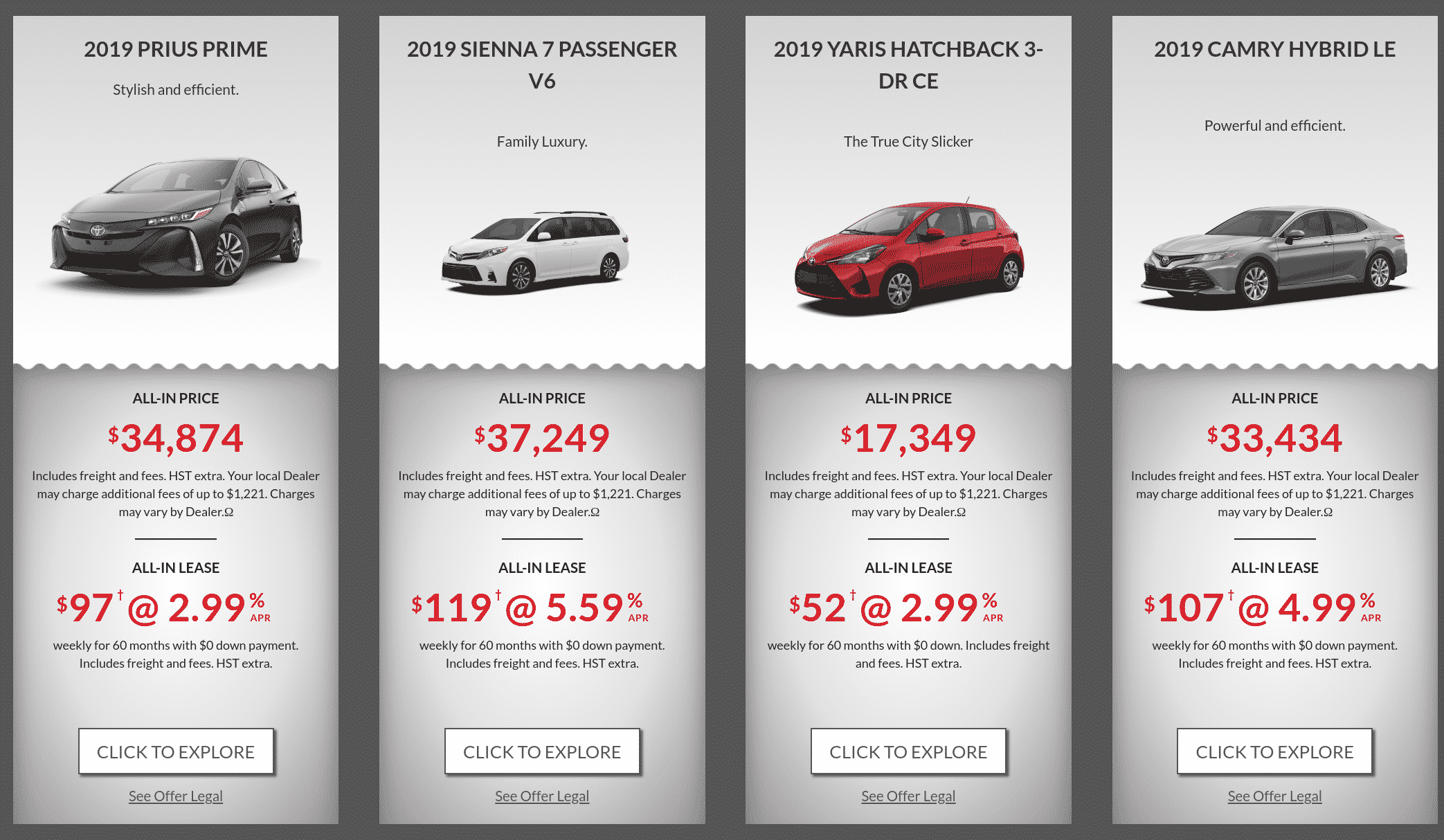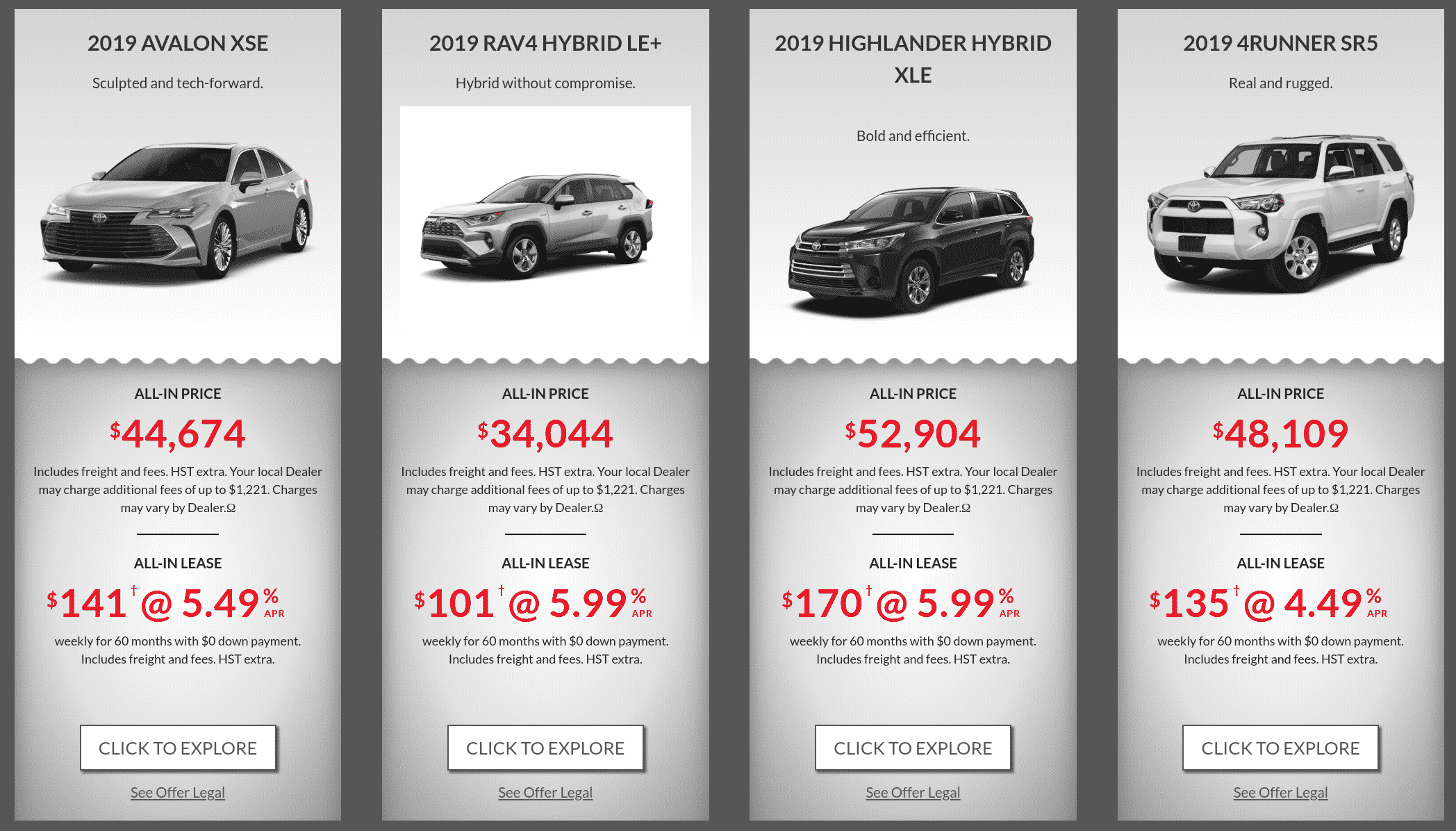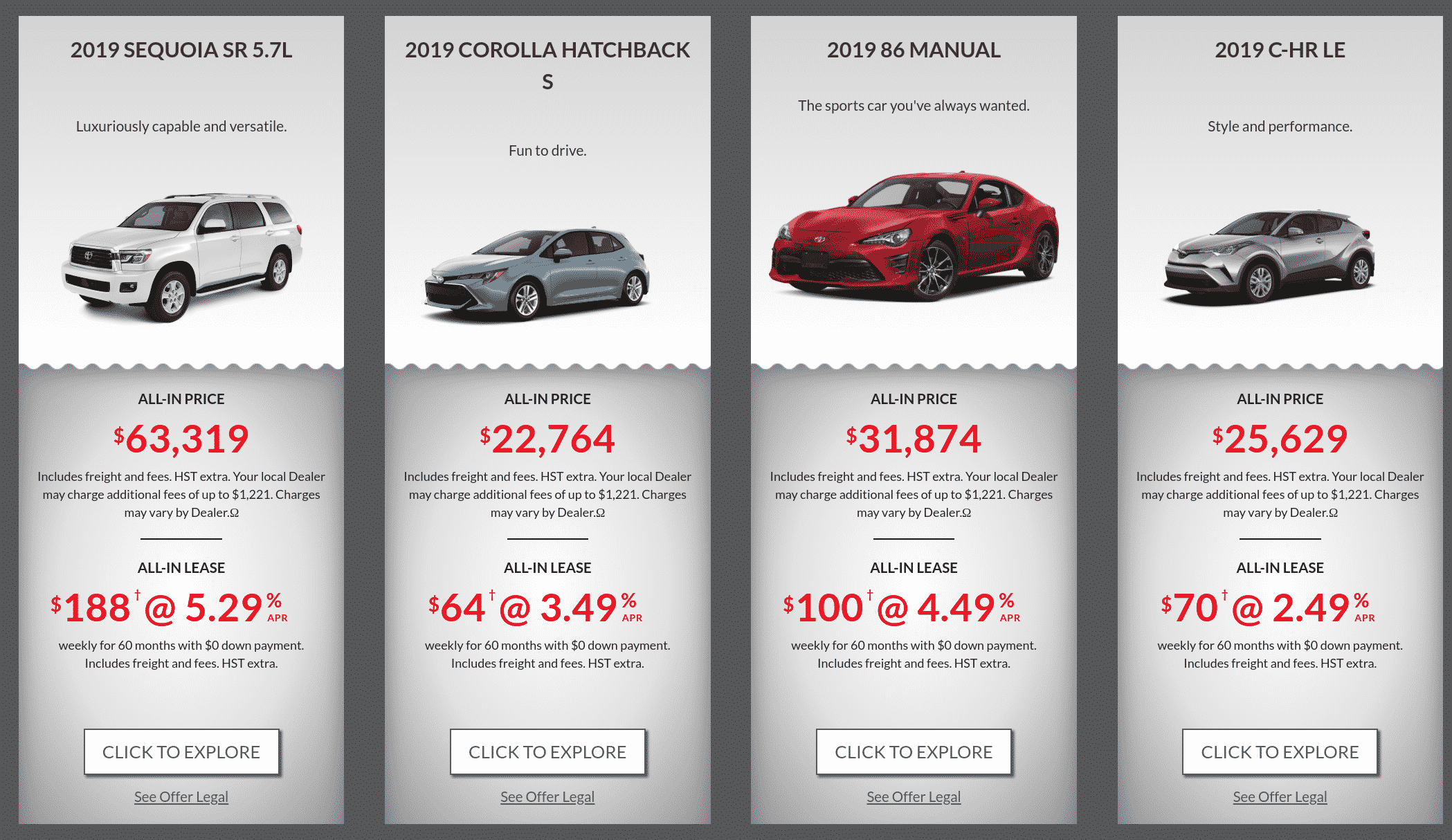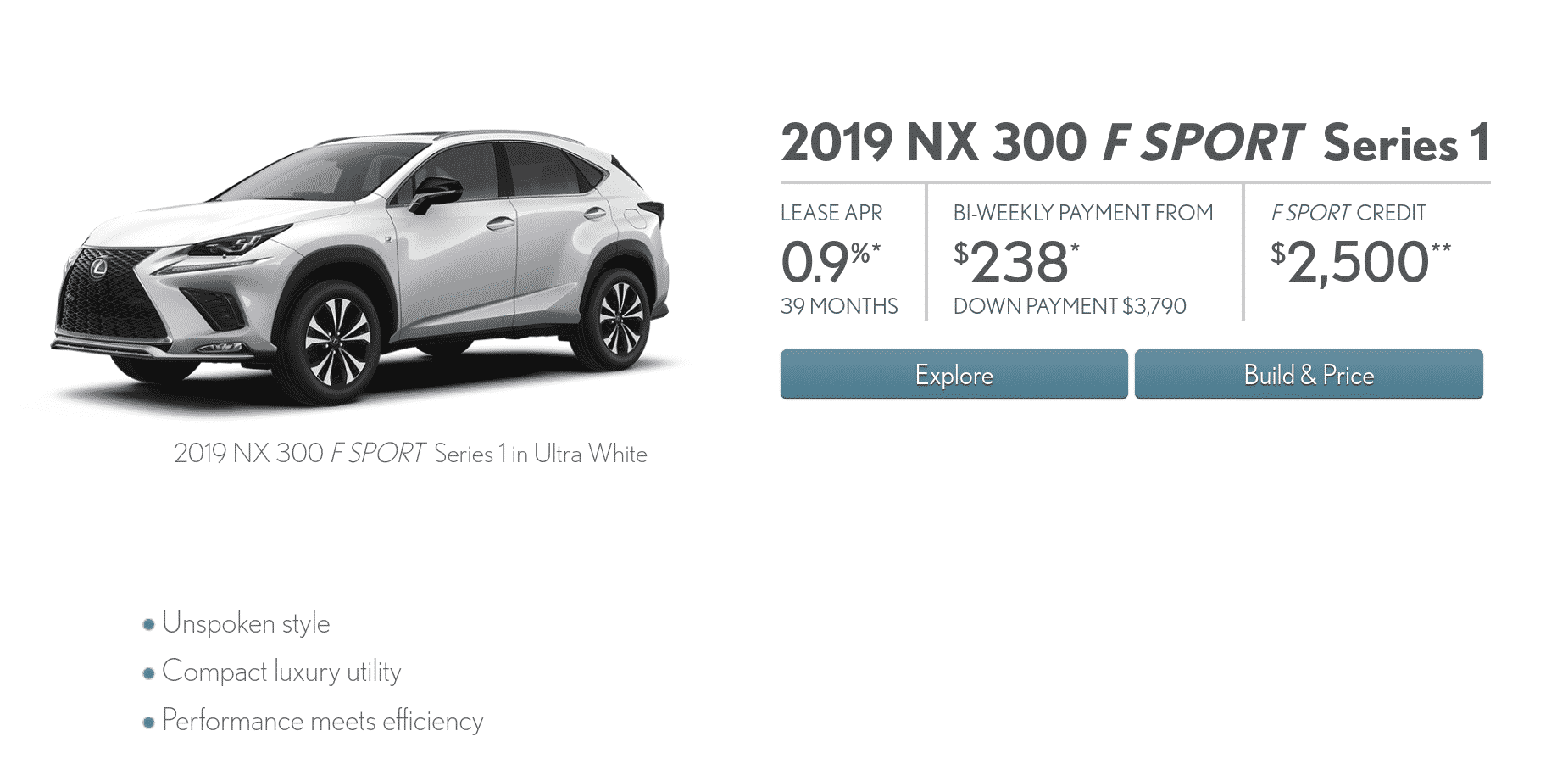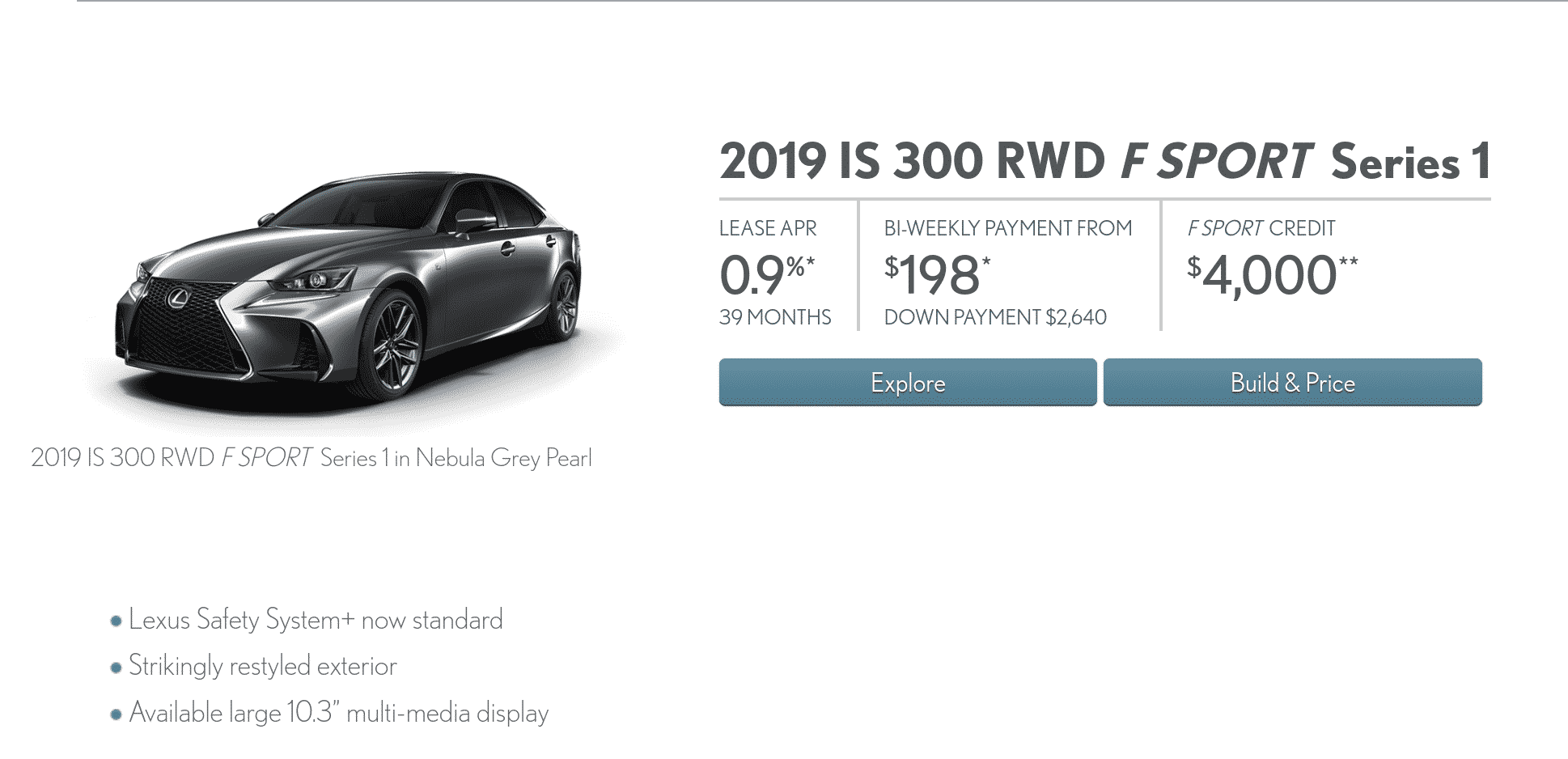 Redtag days continue at Toyota! They have continued doing a great job providing competitive lease offerings with $0 down options. The Prius becomes even more attractive this month with the IZEV program credit. It's hard to find a more economical vehicle.
Nissan | Infiniti

Volvo

Audi | Volkswagen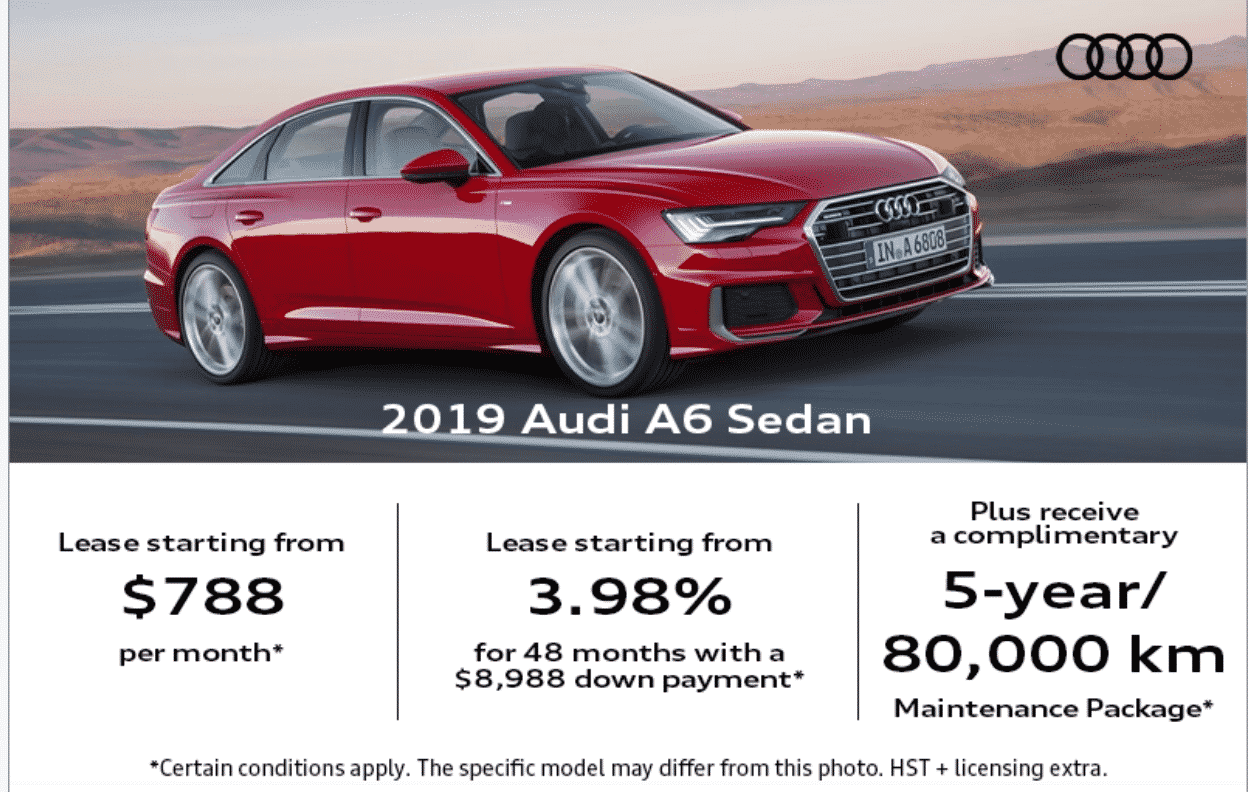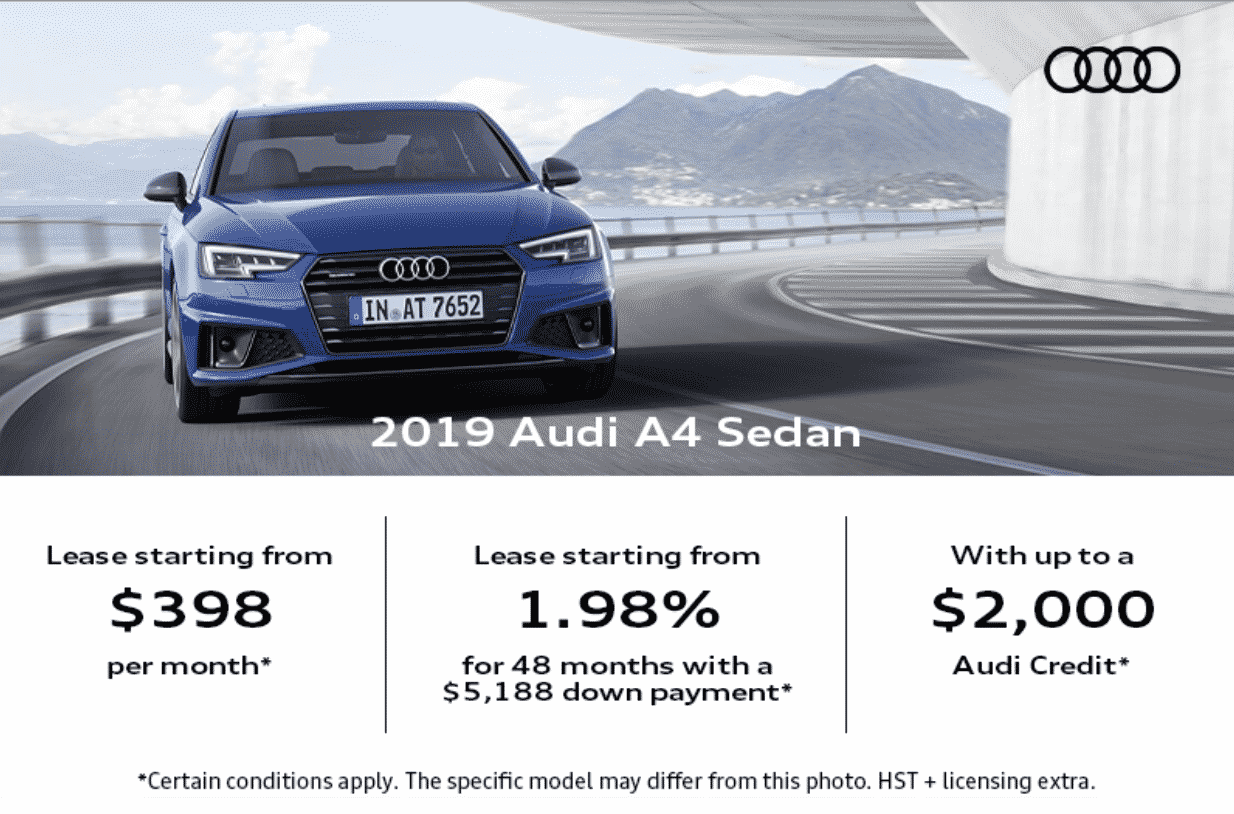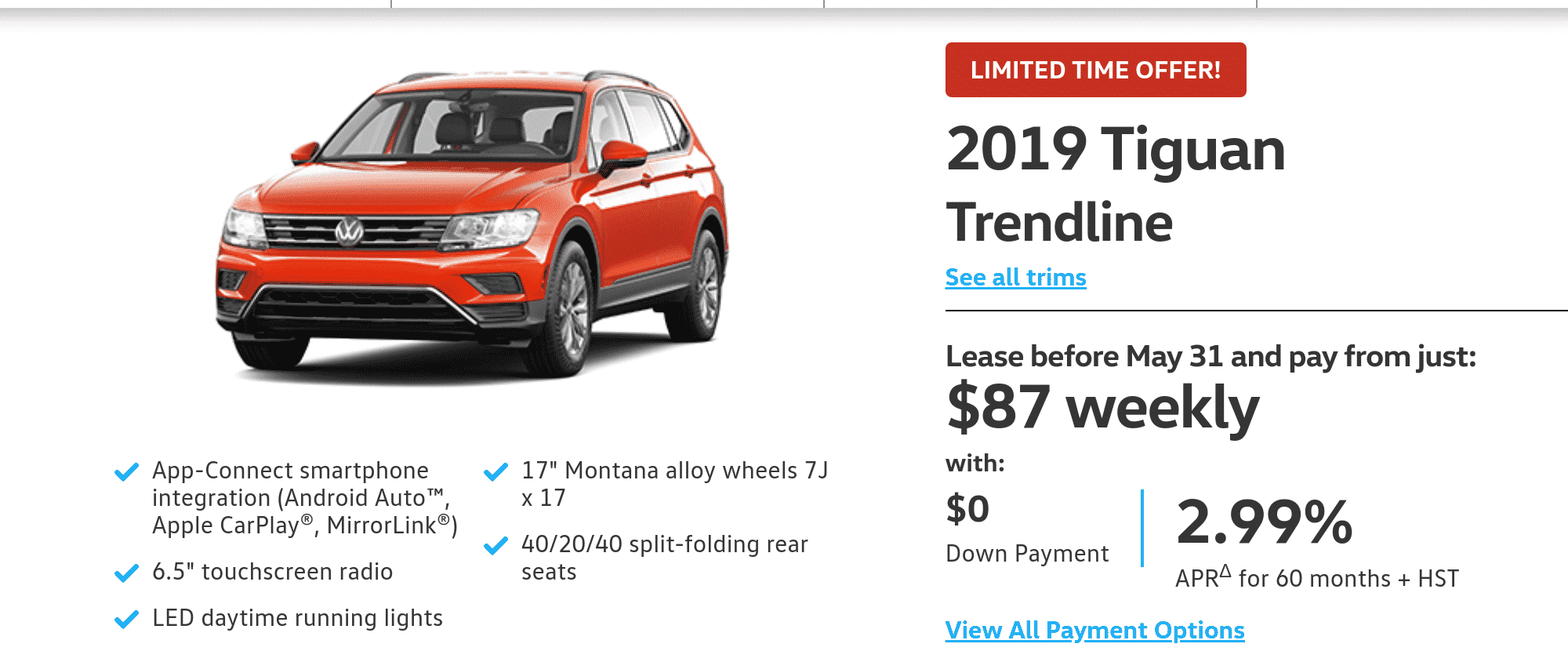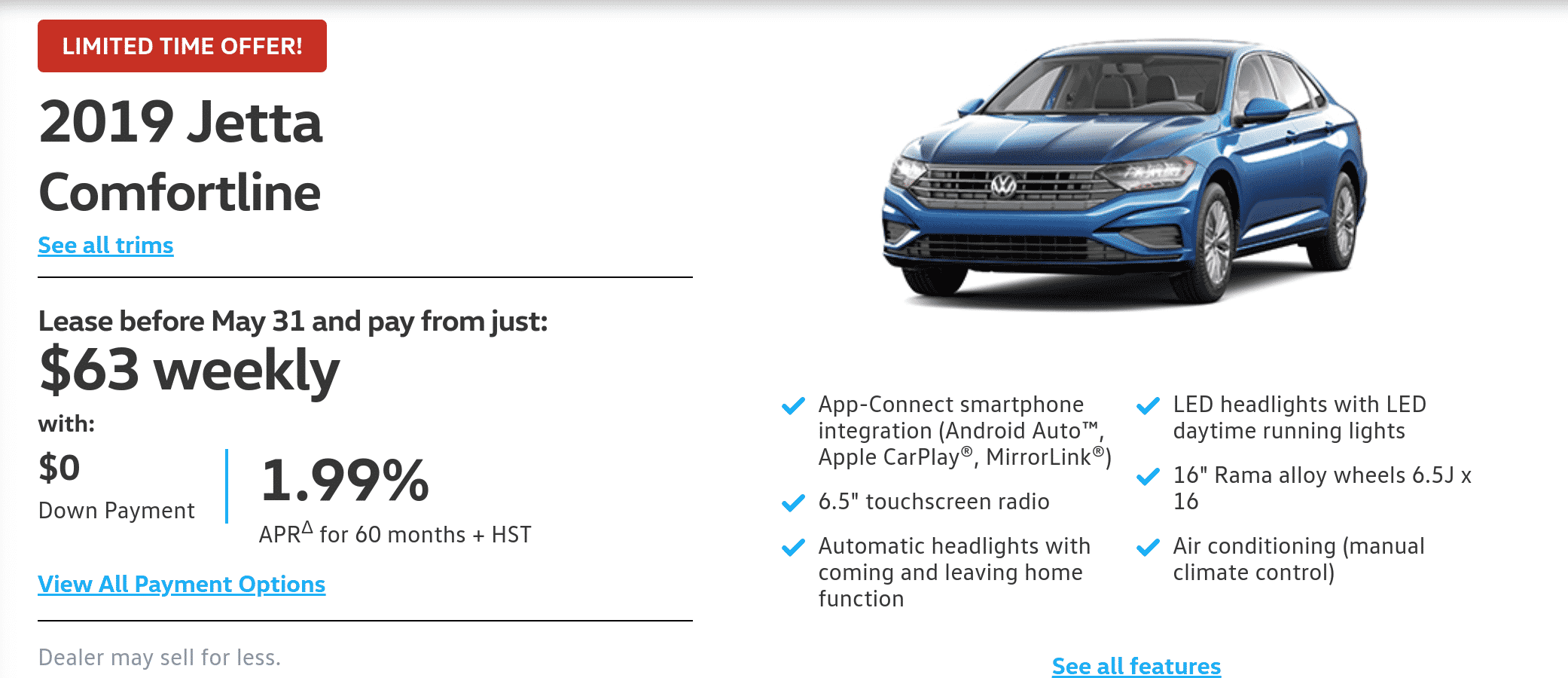 Cadillac | Buick | Chevrolet | GMC

Similar to last month, Humberview Group stores are doing a short term Cadillac lease on the XT5 which is a fantastic offering in the luxury 5 seater SUV segment. Applewood Chevrolet Cadillac Buick GMC in the Erin Mills Automall has a 28 month lease with only $3460 due on signing at $459/month. That's a great option considering all the great product that is expected to begin being revealed by 2021 for those who have been holding out. Great bridge over the gap between new technology and inventory.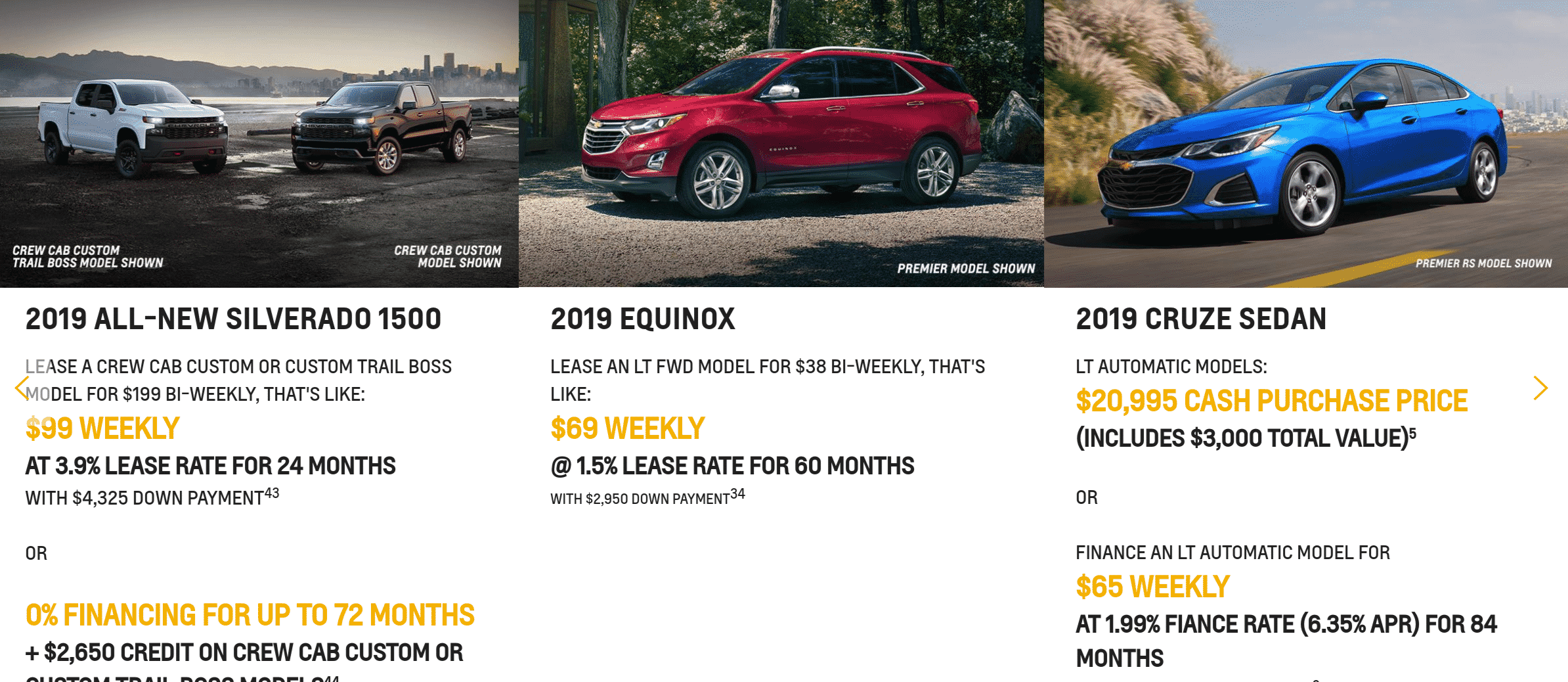 The Equinox is Chevrolet's 5 seater that continues to lease quite well in a 5 year term. With a small downpayment, and many standard features including Apple Carplay and Anroid Auto, this is a great contender for the 5 seater SUV market. Test drive one at
Applewood Chevrolet in Mississauga.