Info & Tips
June 2019 Edition – Kia Telluride Lease and Other Specials in Ontario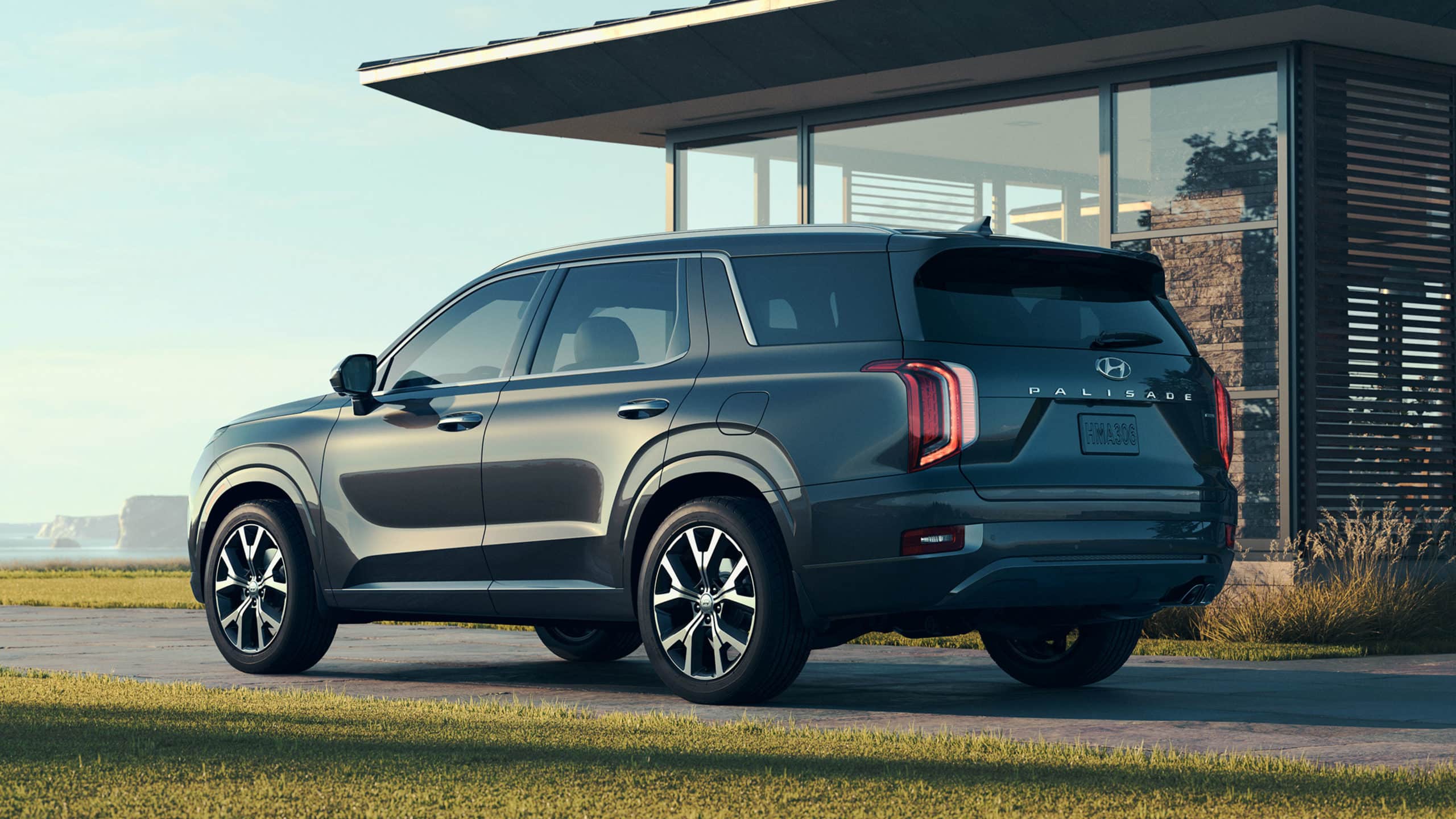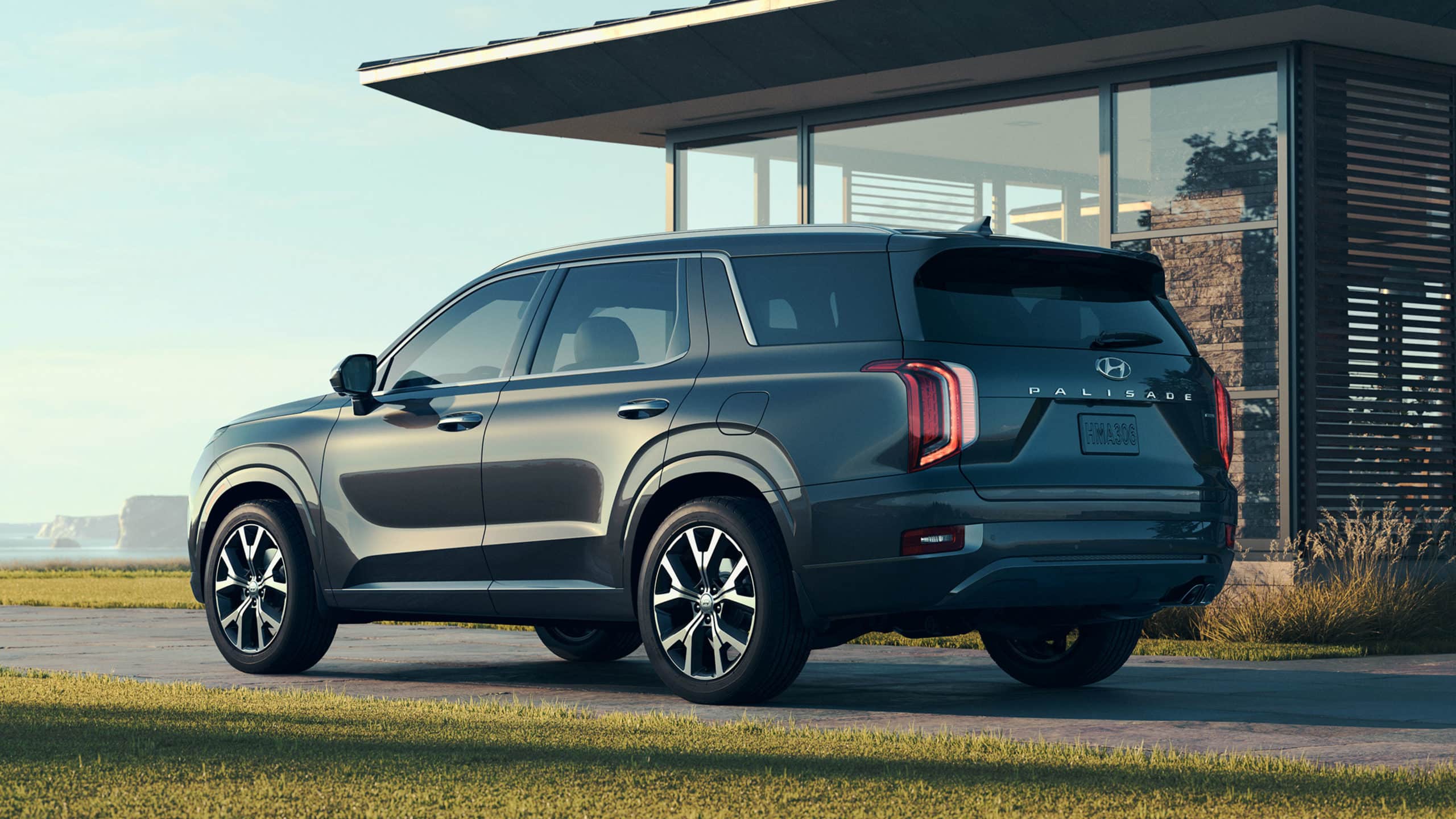 June is off to a tremendous start. The Toronto Raptors have won the NBA playoffs, warmer weather is finally approaching, and manufacturers have reduced prices on new cars in Southern Ontario. If you are looking for a new car this month, here's a rundown on the absolute best new car deals in Ontario.
Best New Car deals In Ontario – June 2019
Compact Car: Kia Forte Lease, 3 Years
Luxury 5 Seater SUV: Audi Q3 or Q5 Lease, 4 years
Full Size SUV: Nissan Pathfinder Lease, 39 months
Truck: Ford F-150 Lease (Inhouse), 4 years
Runner UP: Cadillac Escalade, Cash Purchase Up to $17,000 off
TIP: Get ready for good deals as dealers close off the second quarter of their sales year. In addition to the advertised programs, many dealerships will be focusing on doing what it takes to keep on track with end of year sales goals and #'s. Take advantage of this by asking for extra goodies that perhaps haven't been claimed from the first 6 months of the year.
If you're ready for a new car, submit your Conquest Cars application to get matched with one of our consultants
Does the $5000 Ontario IZEV Credit make an electric car a good idea?
Many readers reached out to ask if the $5000 credit made up for the premium you pay upfront for an electric vehicle. The correct answer is: it depends. Just because it makes going EV more affordable, it doesn't make it the 'best choice'. Absdulla from instagram helped share the reality of owning an electric vehicle in the city with the Kona EV. Despite the limitations, Canada is determined to hit their emission goals.
In 2025, 10% of new light-duty vehicles sold in Canada will be zero-emission
By 2030, 30% will be zero-emission
By the time we hit 2040, 100% will be zero-emission
Keep in mind, only certain vehicles are eligible for the credit, so make sure to call ahead or speak with a Conquest Consultant to determine what vehicles are still available that qualify.
June brings well priced short term leases, better payments on luxury vehicles, and more availability of inventory for dealerships.
Hyundai
The Hyundai Palisade will rival Kia's new 'Telluride', which also seats 7 passengers comfortably and seeks to rival the features and build only available by luxury brands. Expect to see the first few land in dealerships by the beginning of July for test drives.

The Kona has been Hyundai's posterchild for the past few months as they continue to be the main automotive sponsor for the NBA. Advertised as the 'SUV' for the city, the Kona offers good value in a medium term lease. The entry model comes with an amazing infotainment system, Apple Carplay and Android Auto make it a robust vehicle at a fair price point.

Kia

The 2019 Kia Sorrento is a minivan killer! Seat 7 on a 0% finance term, with sunroof, power-lift gates, and 360 degree cameras. Even though Kia still offers a Sedona minivan as an option, I strongly recommend against it. A 7 seater SUV holds more value when its time for you to sell.

It's no surprise that the Kia Forte has found itself as the best compact deal of the month. I LOVE this lease option since it is only for 3 years, with a respectable $98 biweekly payment. Their advertised EX model come standard with wireless charging, Apple CarPlay and Android Auto, blind spot mirror detection, and a 5 year warranty on a 3 year lease…LOL. Despite the $2505 down payment, she short term lease provides far more flexibility to upgrade later on. Watch out for dealers to even put together a 2 year in house lease option to give you even more options!
Honda | Acura

Checkered flag days are on with Honda again this month. The fit is a great option for the city on a 5 year term with 0 down, however the extra space you get in the CIVIC makes it a better option for the price. 5 years is a long time to decide your in a vehicle that isn't large enough!

The CR-V goes toe-to-toe against its Toyota RAV-4 counterpart. The offer is consistent over last month, with not much changing in price. You can't go wrong…

If you're looking for a compact car on a medium lease, it's hard to beat the CIVIC's value. Honda's focus on $0 down makes it an easy option for a starter car. For an extra $20 a month, you'll be glad you went with it over a Honda Fit.

The RDX lease payment has dropped by about $16 compared to last month. A humble decrease, however at $608 a month, it's still one of the most affordable luxury 5 seaters SUV's in the segement right now, with NO downpayment on only a 4 year term.

Ford | Lincoln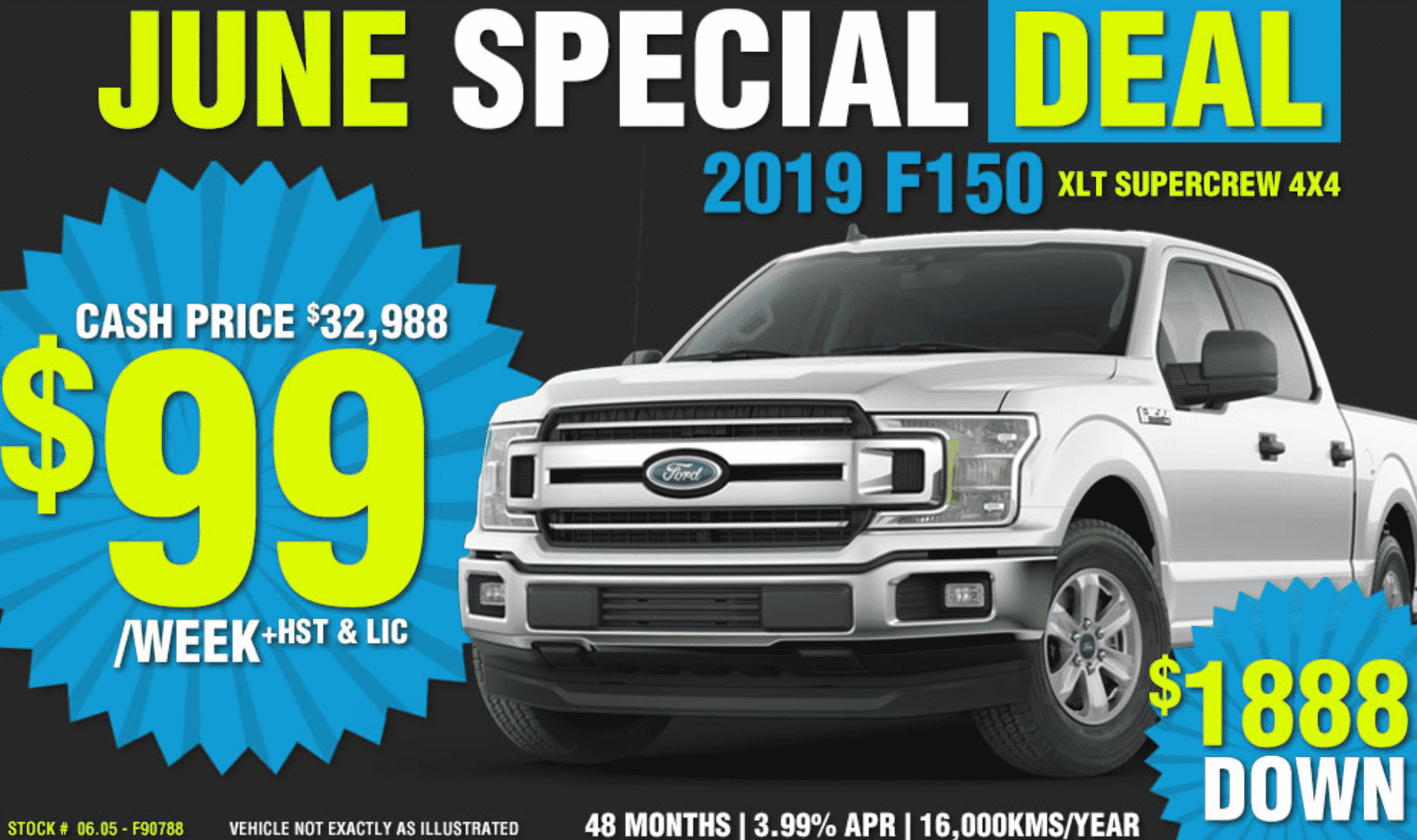 Younge & Steels Ford has put out a fantastic 4 year lease offer on their F-150 trucks, and we expect many other ford dealers to follow suite with some kind of similar offer. One important factor to note is the allowance of 16,000 km/year. Generally these kinds of leases are 'inhouse' which mean you are responsible for the excess KM value, either through a few cent penalty per KM over, or more commonly, the 'appraised' value of the truck against the end of lease value determined by the contract. Your Conquest Consultant can help review this information with you to determine what your best options may be. Use our tool to get matched with one today.

Ford has dropped the $750 technology bonus on the Escape in favour of a $1500 rebate. The escape is one of the only 5 seater SUV's in the segment right now that is offering 0% financing rates for 72 months. If you are more interested in keeping your vehicle for a long time, this is a great option.

The F-150 rebates have stayed the same this month. Expect additional dealer credits in the neighbourhood of $8000 off.
TIP: Ford has maintained a strong market share for 2019 in the truck segment, outpacing GM and Dodge on their trucks. Take advantage of this if you're interested in a Ram, Silverado, or Sierra since these dealers will be looking to catch up by providing the best new car deals in Ontario on their truck inventory!
Need a deal on rims, tires, parts, or accessories?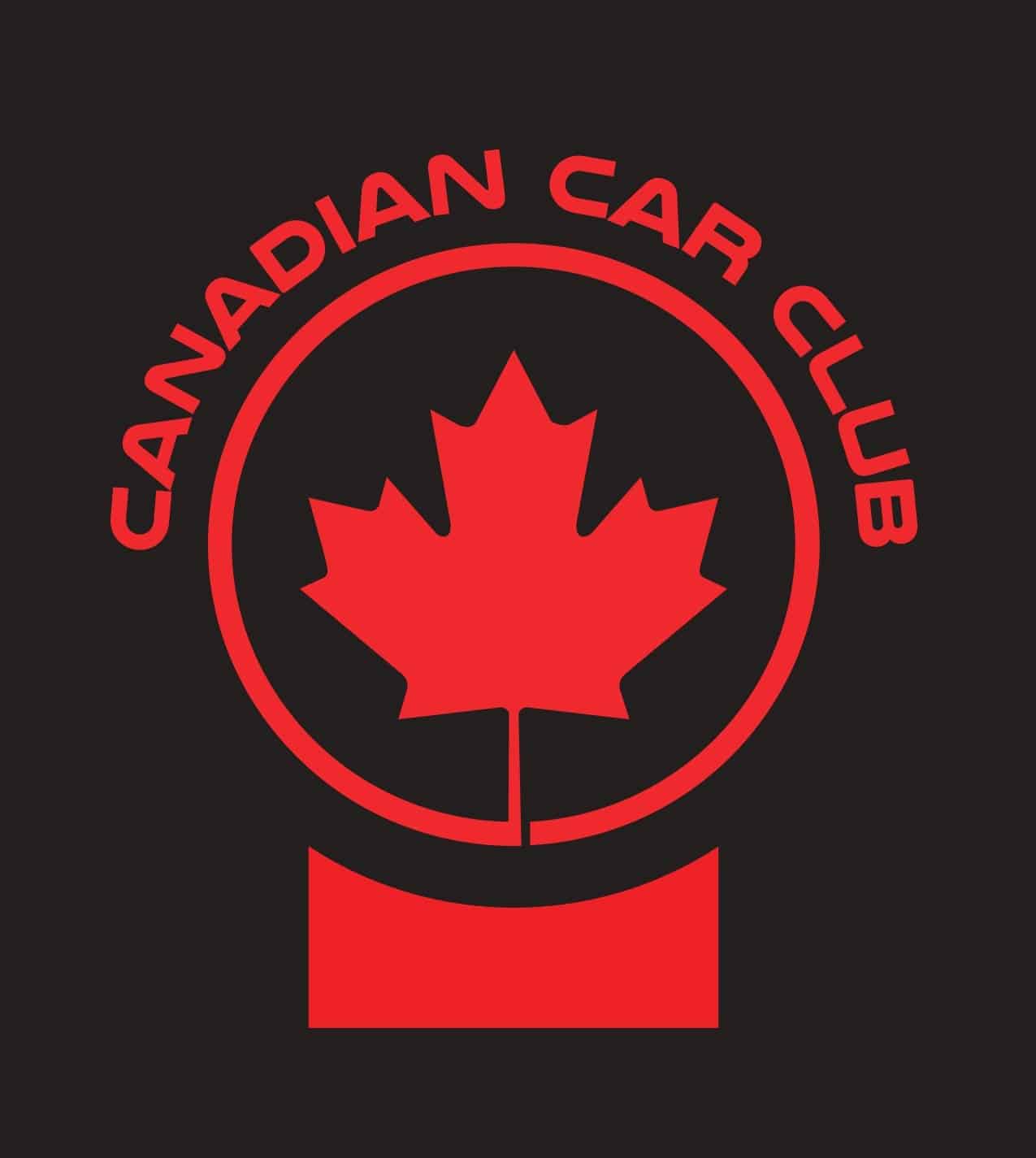 Conquest has teamed up with the Canadian Car Club to provide you the best new car deals in Ontario on cars, parts, and accessories! They offer Canadians access to fantastic prices on parts and accessories that you would find at big box stores or discount clubs. When you purchase your vehicle through a Conquest consultant you'll get a 1 year membership to their discounted services and prices.
They also offer mobile tire installation and swaps throughout the GTA at affordable prices. Don't wait at a dealership if you don't have to! To become a member, visit their website, or purchase your vehicle through Conquest Cars Canada.
Chrysler | Jeep | Dodge | Ram

Unless you really like the look of Dodge's products, there are no real 'deals' to be had here. I hate the fact that these vehicles are being advertised on a payment based on 96 months. That's a lot of interest…

On a $45,000 vehicle, you can expect to pay over $9000 in interest over the 96 month (8 year) term!!! Unless you have cash to put down, consider other manufacturers for 5 or 7 seater SUV's this month.



The 2019 Dodge Ram is Dodge's only salvation this month. Arguably, you won't find a better payment on a 2 year lease. GM trucks are advertised this month at a lease payment closer to $100 weekly, with closer to $4000 down – provided, they come with more standard options at that price point.
Mazda

We didn't cover Mazda deals last month, however the brand brings a unique and healthy mix of finance or lease options to the table.


Mercedes


Mercedes is consistent in their program offerings this month. Their C300 is a unique value especially considering that for an additional $800 down-payment, you could jump into a slightly smaller vehicle than the Mazda, however its a Mercedes.

Toyota | Lexus
This Lexus is such a cool offering considering it gives the additional utility of being a hatchback hybrid vehicle. Expect to get great fuel economy off the UX250h.

The IS 300 RWD F Sport is one of my favourite luxury vehicles at such an economical price point. A $2500 down payment, with a sub $400 monthly payment gives tonnes of flexibility for an affordable sports car on a short term lease. Especially since the F Sport credit is still on! Don't expect this deal to last much longer, hands down contender in the luxury segment for the best new car deals in Ontario.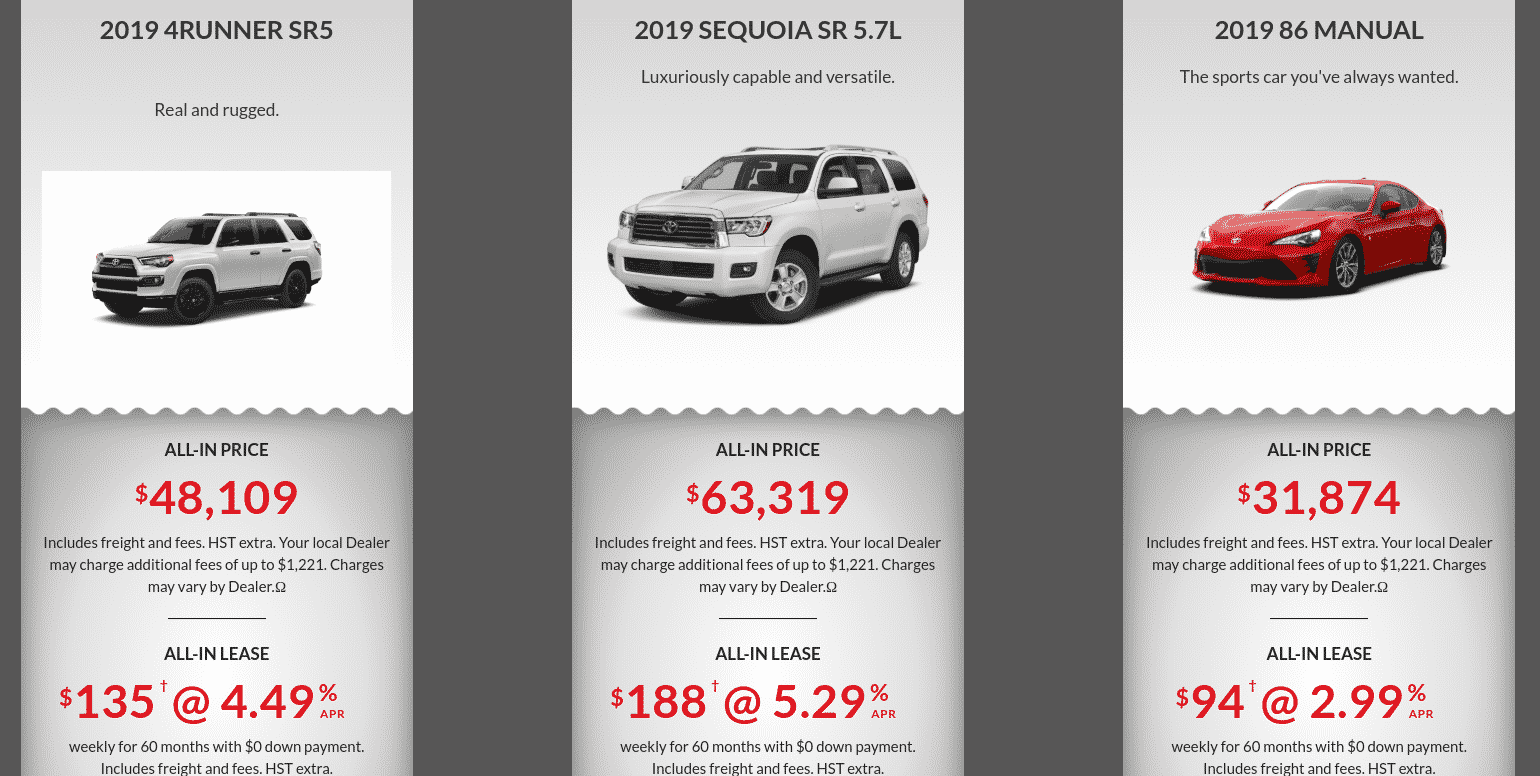 Pinch to zoom if you're on mobile, Toyota red tag days bring something for everyone…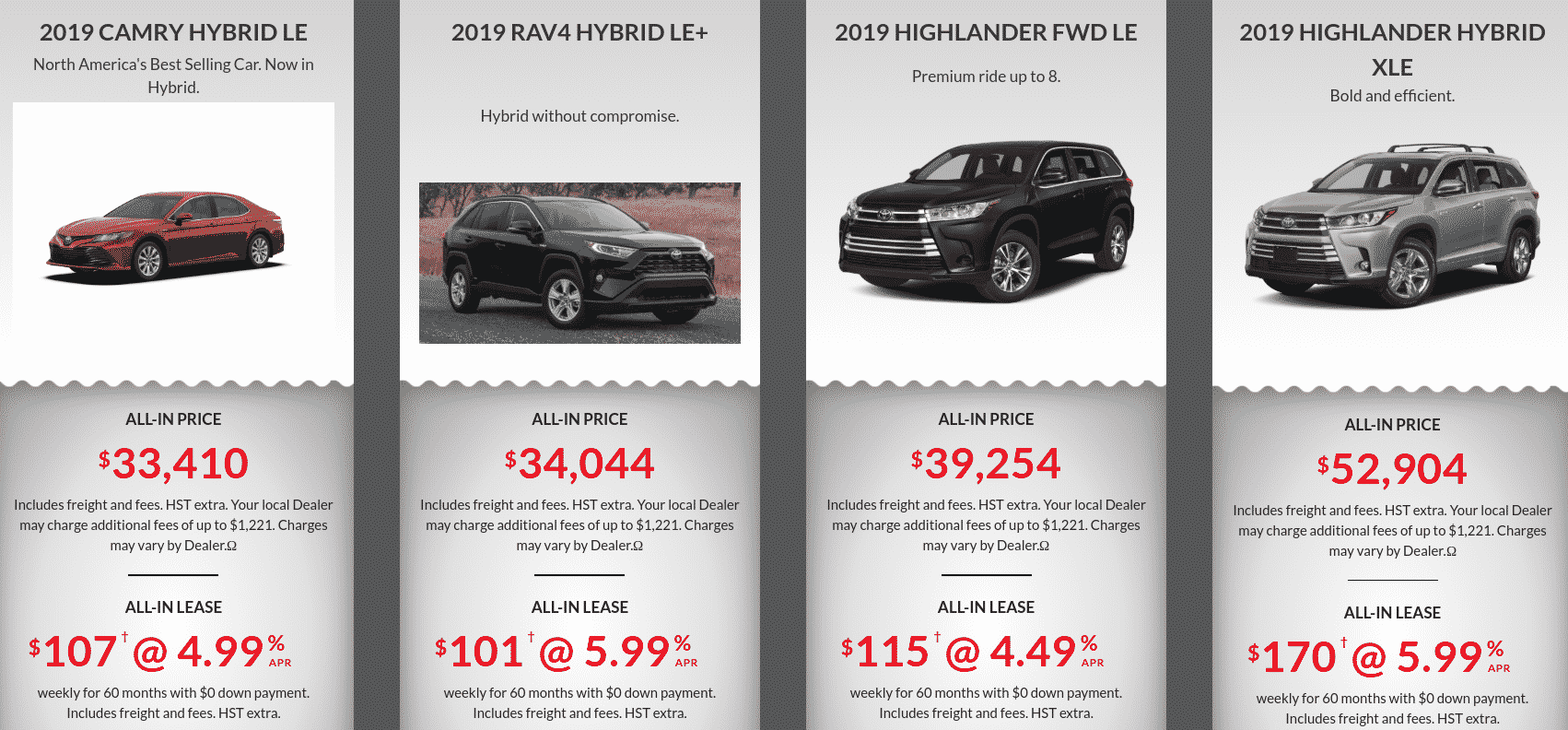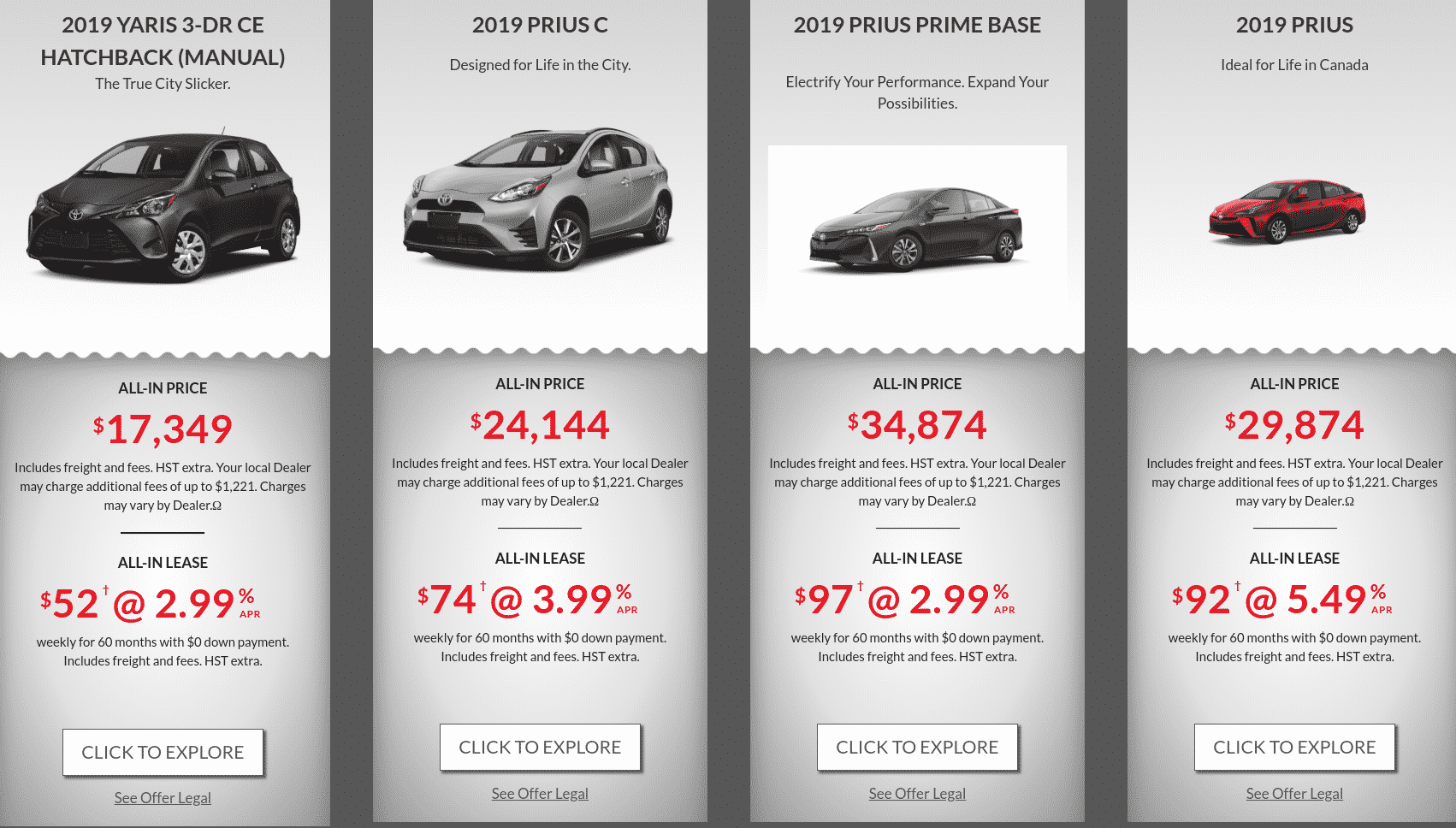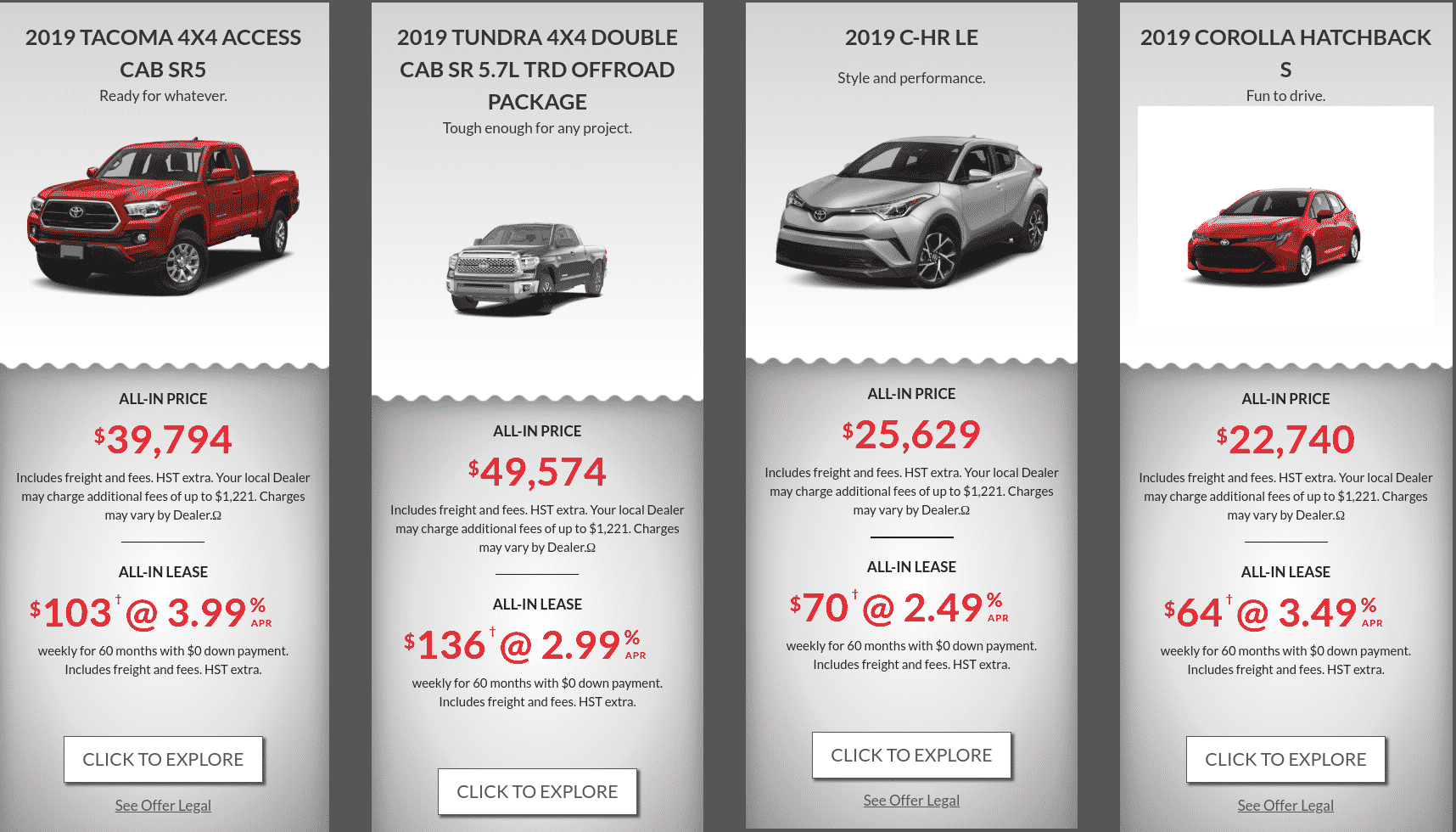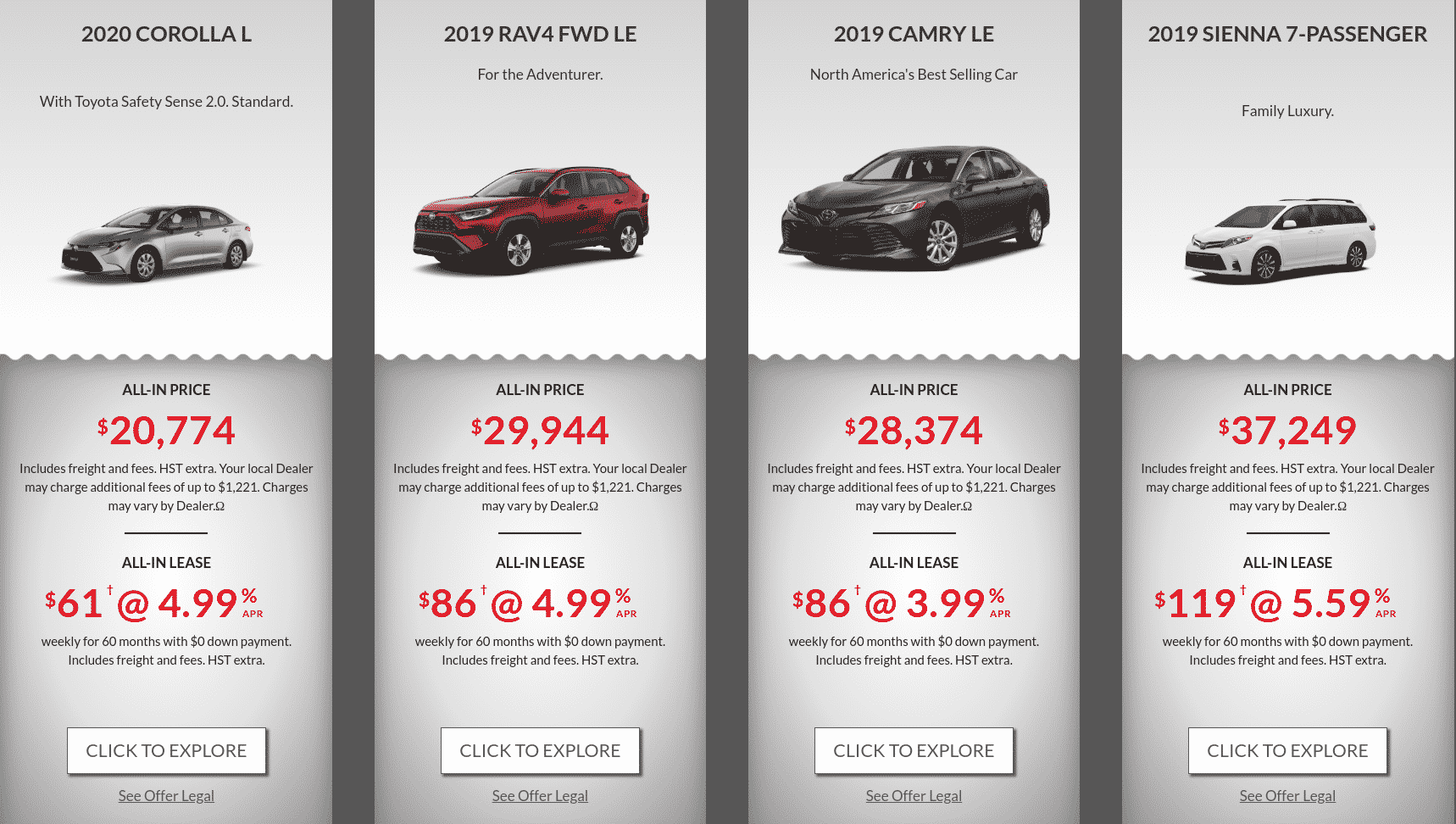 The Prius prime is still available for the $5000 IZEV credit if you can find a dealership that still has one available! Match with one of our Toyota Conquest Consultants to learn more about your options
Nissan | Infiniti



The QX80 still remains a fantastic option for a luxury full-size 7 seater with a sub $1000 monthly payment. You won't find many other luxury manufacturers competitive on a short term lease offering like this.


The 2019 Nissan Qashqai offers fantastic value for $0 down. You can't go wrong. Also following suite to Infiniti's QX80, the Nissan Pathfinder comes well equipped at an extremelly humble price-point. Pinch to zoom
Jason Okolisan from Woodchester Nissan has put together a specials sheet on the deals he recommends for June.
Volvo

Almost, New. With Huge Savings.

If you're considering a new vehicle, but want a shorter term length than what manufacturers are offering, Leasebusters is a great alternative to finding the best new car deals in Ontario. They also offer dedicated support if you're interested in transferring your current lease to someone else! They make posting easy, and help guide you through the process to get you into a new car, with no negative equity or loan carryover!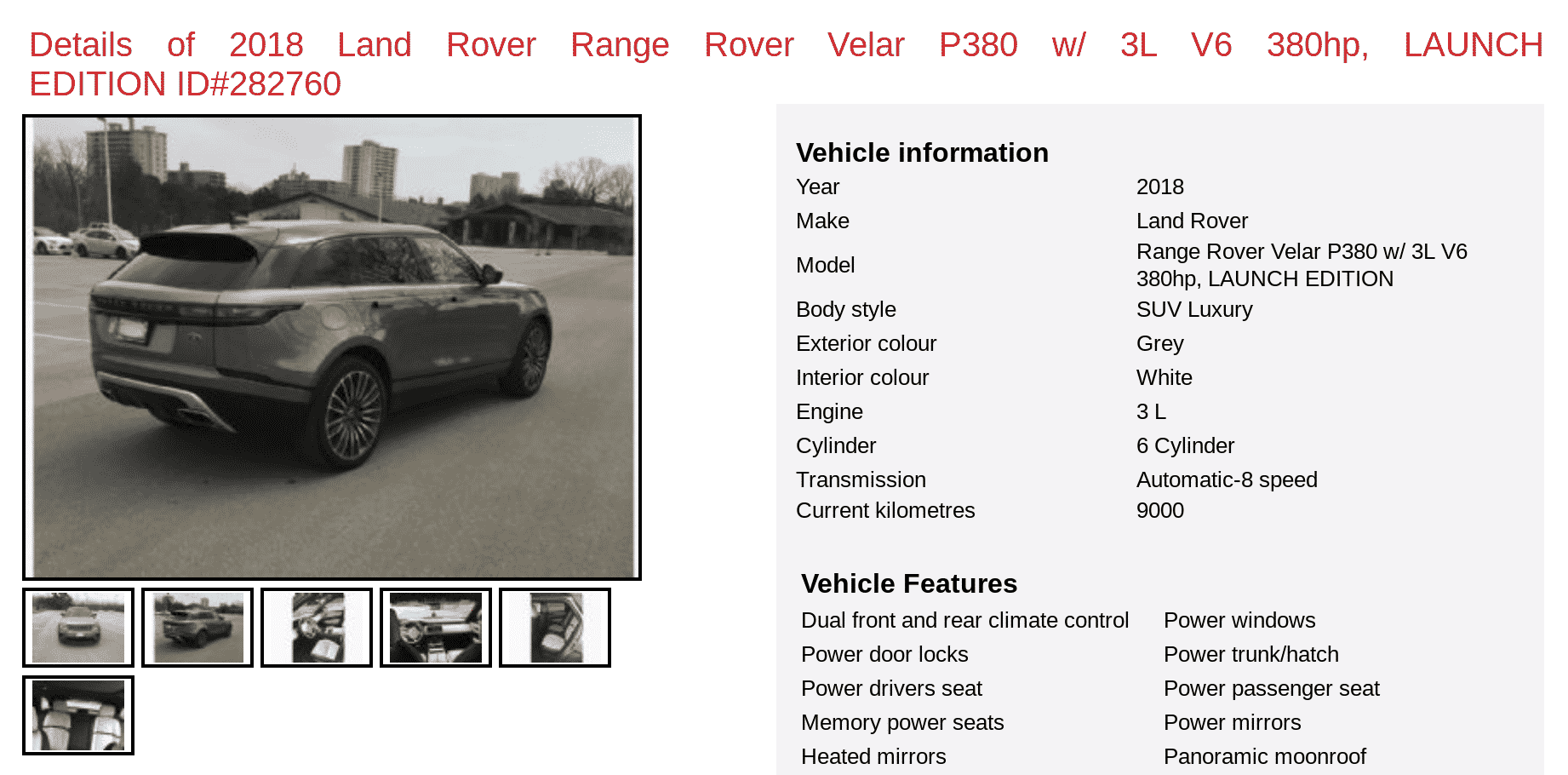 This Range Rover Velar just came online, and it comes with a $4400 cash incentive from the owner for you to take it over with 22 months remaining on the lease! That's a fantastic opportunity that you'd only find on here.
Audi | Volkswagen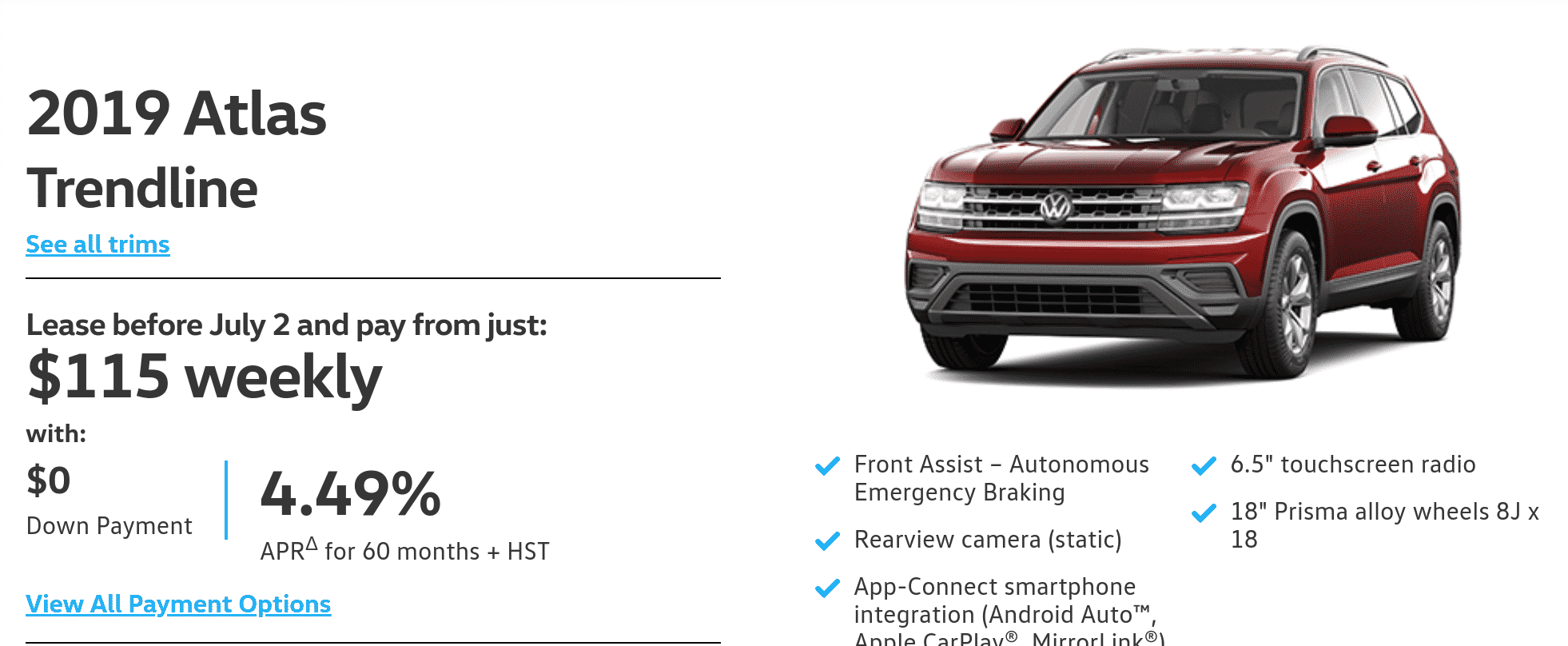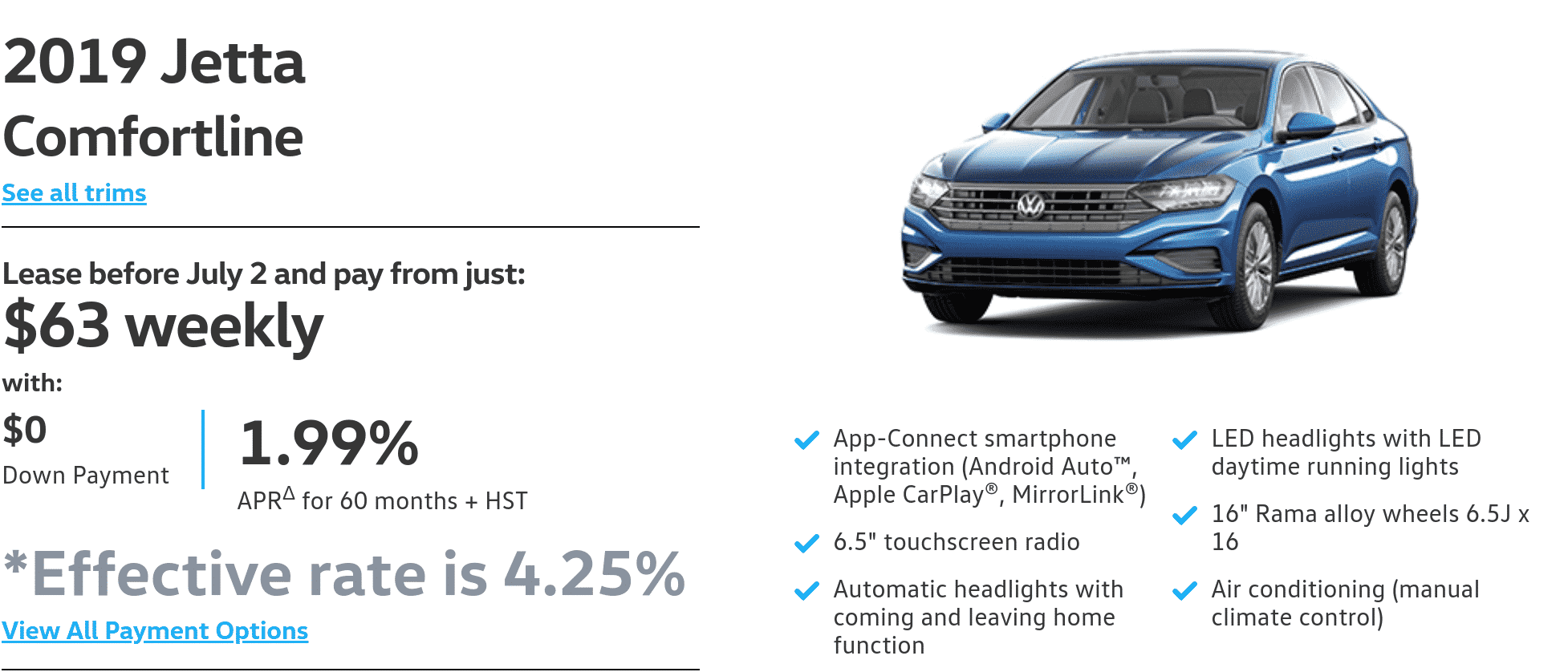 Don't want to pick between a Civic or a Corolla? Go for a Jetta.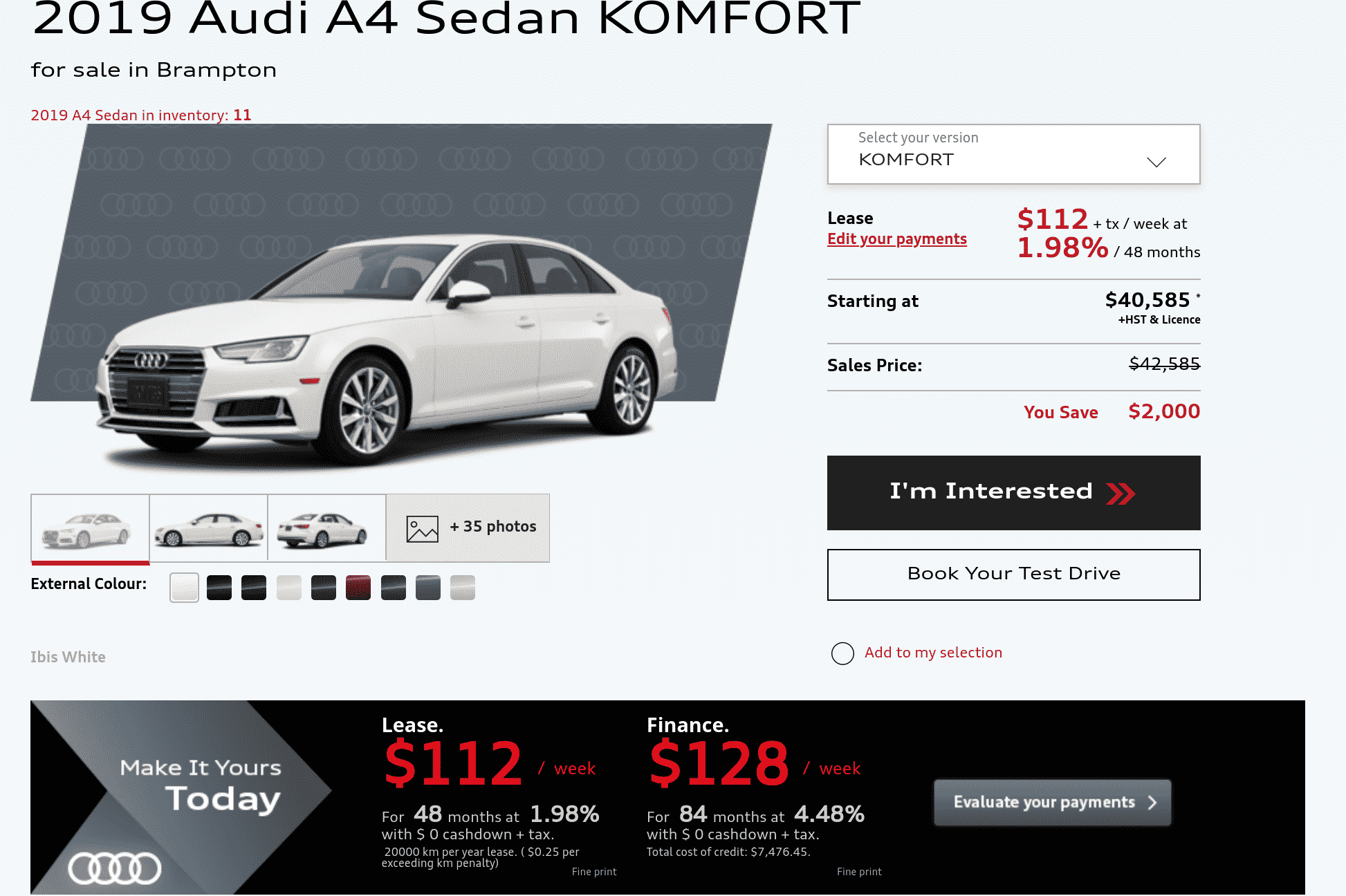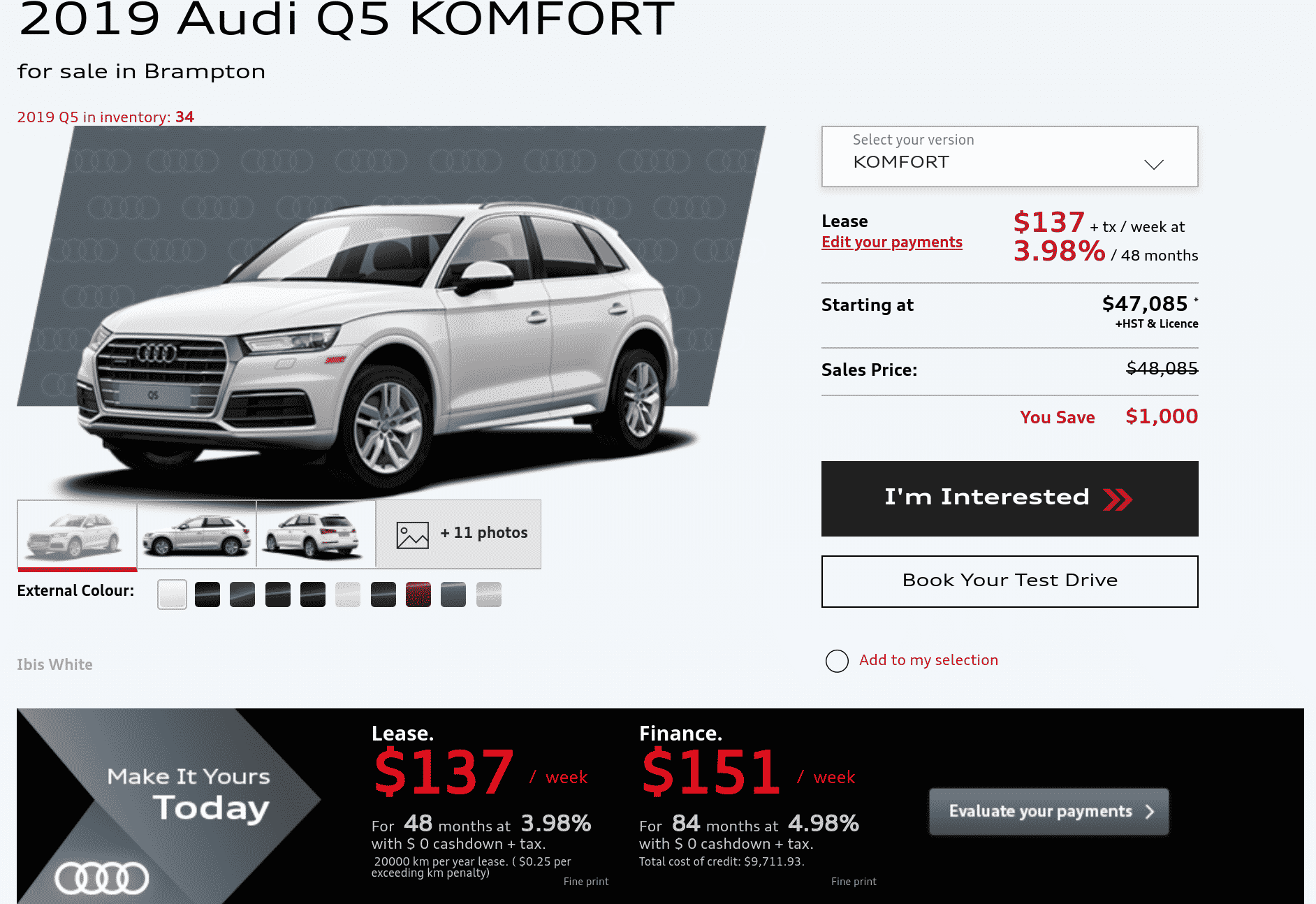 Audi's offerings this month put other luxury manufacturer leases to shame! On both the Q3 and Q5 they offer extremely competitive payments at no money down, with a lease of $20,000 km per year!! They put Acura, Cadillac, Lexus, and Infiniti to shame with their 5 seater SUV's this month
The team at Brampton Audi has a rate reduction from the 12th-19th. Ask for Jennifer Worsley or Chris Vanderwel for all your Audi related questions!
View this post on Instagram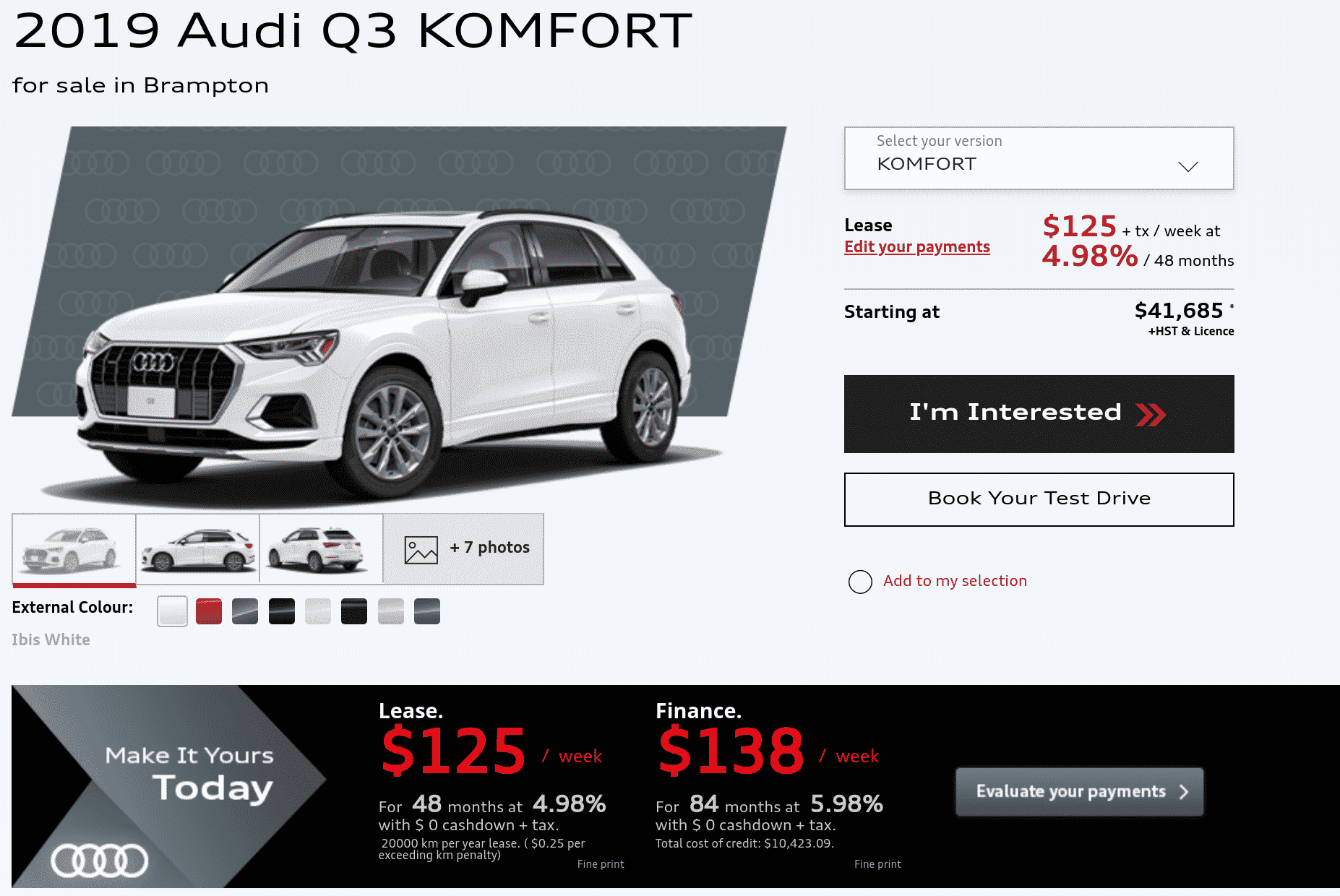 Cadillac | Buick | Chevrolet | GMC
GM is once again offering their % of MSRP off of certain 2019 vehicles. This is the first time ever that GM has made these % off discounts available with a subvented finance rate of 3.99% up to 84 months! That gives way to INSANE savings off higher trim vehicles.
5% OF MSRP CASH CREDIT:
BUICK: ENCLAVE, REGAL, LACROSSE
CHEVROLET: IMPALA, TRAVERSE, COLORADO (EXCL. 2SA), SILVERADO HD
GMC: SIERRA HD, CANYON (EXCL. 2SA)
CADILLAC: XT5
10% OF MSRP CASH CREDIT:
BUICK: ENCORE, ENVISION
CHEVROLET: SPARK (EXCL. 1SA/1SB), CRUZE, EQUINOX, TAHOE, SUBURBAN, EXPRESS
GMC: TERRAIN, ACADIA, YUKON, YUKON XL, SAVANA
CADILLAC: ESCALADE, ESCALADE ESV
15% OF MSRP CASH CREDIT:
CHEVROLET: ALL NEW SILVERADO 1500
GMC: ALL NEW SIERRA 1500
20% OF MSRP CASH CREDIT:
CHEVROLET: SILVERADO LD DOUBLE LIM